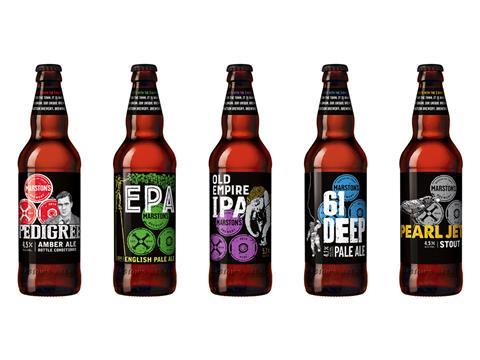 Marston's Brewery has invested in a nano brewery to focus on NPD and given its core beer range a 'radical overhaul', in an effort to resonate with the next generation of drinkers.

Next week will see the opening of a nano brewery named DE14 - inspired by its postcode. Producing 600 pints per brew, the 'innovation hub' follows similar projects by Fuller's, Meantime and Sharp's. It would be where Marston's brewers "let rip", the Burton-based business told The Grocer.

A few test beers had already been created, including Breakfast Imperial Stout and Munich Pale Ale. Marston's would be "finetuning" between now and Christmas with the aim of introducing new beers from DE14 in January, it said.

Marston's updated core range is set to be rolled out from next week featuring more 'modern but heritage-based authentic' packaging designed to rejuvenate the range, which comprises Old Empire, Marston's Pedigree and EPA alongside Oyster Stout - renamed Pearl Jet. The new 61 Deep 3.8% abv fruity pale ale completes the portfolio.

The overhaul marked a "revolutionary departure" from the brand's traditional imagery, according to Marston's marketing manager Lee Williams, adding it had been designed to get the next generation to "consider our beer".

"The harsh reality is that, as a brewer, we're not resonating with the next generation of drinkers who are attracted to the authenticity and simplicity of the new beer scene," said Williams.

Marston's plans to support its updated portfolio with a £1m year-long push centred on pictures shot by photographer Gavin Watson, best known for his book Skins. The campaign will feature the new strapline 'From Burton With Love', designed to depict the brand's Midlands roots.