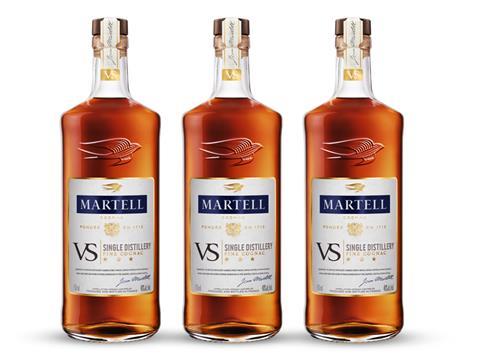 Martell has overhauled its entry-level cognac with a new liquid and modern bottle design in a bid to lure younger shoppers into the category.

Launching in May 2017, Martell VS Single Distillery (rsp: £27.19/litre), will replace the existing VS expression in the brand's lineup as its youngest and most affordable cognac.

Blended from eau-de-vie derived from a single distillation source, Martell VS Single Distillery was "richer and more intense" than the existing VS expression, making it a better blend for cocktails, the brand claimed.

It featured a "contemporary" bottle design inspired by the traditional shape of the cognac 'montre' - the traditional sampling bottle used for cognac - with a cork opener and gold sealing for standout on shelf.

Inspired by the brand's "heritage and craftsmanship", Martell VS Single Distillery was designed to appeal to 30 to 40-year-olds looking to expand their dark spirits repertoire, driving growth in a category traditionally dominated by 55 to 65-year-olds, said Magin Trewhella, head of marketing (dark spirits) at distributor Pernod Ricard UK. "The new liquid is exceptionally rich and fruity, and further highlights the finesse of the Martell distillation style."

The single distillation concept would "mark it out as something different" in a category where there was little differentiation between VS-marked bottles, he added.

The launch will be backed by a "significant" marketing push in September, once the new product is on shelf across all the major retailers.