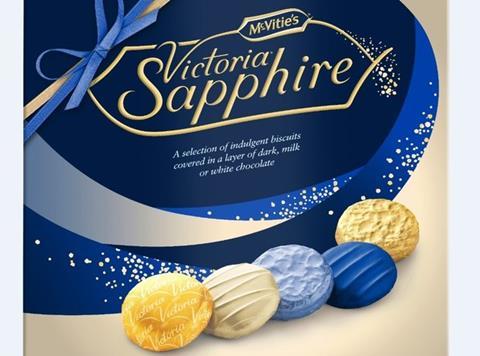 United Biscuits has unveiled new festive cake and biscuit lines under its McVitie's brand.
The supplier is taking McVitie's Chocolate Digestives into the Christmas cake aisle with two flavours of cake slice, Chocolate & Orange and Chocolate & Mint (rsp: £1/six slices). It is also giving its McVitie's Jaffa Cake bars a seasonal makeover, combining the Jaffa flavour with cranberry and giving the packaging a festive revamp.
The McVitie's Victoria biscuits line-up is being extended with Victoria Sapphire; a selection of foil-wrapped shortcake and cream biscuits in milk, white and dark chocolate. Presented in a pack with mirrored-effect finish, the 385g selection has a £6.50 rsp.
Returning to market is the McVitie's Victoria assortment, which will this year also be available in a new 100g format for the impulse market (rsp: £1) ,in addition to the existing 650g (rsp: £8), 300g (rsp: £5) packs. Also back this Christmas is the McVitie's Family Circle biscuit assortment in 720g (rsp: £6) and 360g (rsp: £3) versions, and the McVitie's Jaffa Pole novelty containing 48 Jaffa Cakes (rsp: £6).
Consumers will this year have the chance to buy all three products - Victoria, Family Circle and Jaffa Pole – in personalised versions featuring the names of friends and family by ordering them through the online McVitie's Sweeet Shop.
Among the cake lines returning to market this year are Galaxy Mistletoe Kisses and Penguin Yule Logs (both rsp: £1), alongside biscuit SKUs including McVitie's Festive Faces, the Jacob's Cracker Selection and the Carr's Assortment.
Jacob's Christmas Crackers – a novelty version of Cream Crackers – will again be embossed with yuletide messages including 'Have a Cool Yule' and 'A Very Merry Christmas'. Such messages were first introduced on the brand last Christmas.