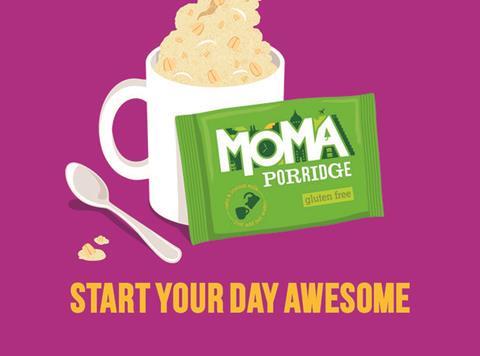 Oat-based breakfast brand Moma is expanding its range with its first gluten-free, dairy-free vegan product.

The Coconut and Chia Porridge Pot (rsp: £1.30/60g) is a blend of oats, chia seeds, coconut pieces and coconut milk powder, and has no added sugar. It will launch in Waitrose at the end of January.

"We are seeing an increasing demand for dairy-free options, as consumers look to cut down on their intake for allergy and health reasons," said Moma Foods founder Tom Mercer. "Our new porridge pot has been designed to tap into this growing trend and provide busy consumers with a healthy and satisfying, free-from breakfast option that's convenient, too."

Moma's porridge pot range also includes Plain, Cranberry and Raisin, Golden Syrup and Super Seeds. The brand has listings for its porridge pots, porridge sachets, bircher muesli and Oatie Shakes in Waitrose, Sainsbury's and Tesco.

Last week, Moma launched London Underground poster push 'Start Your Day Awesome'.