For many, the countdown to Christmas (and the end of 2020) can't come soon enough. Here are the foodie calendars that'll make Advent even more exciting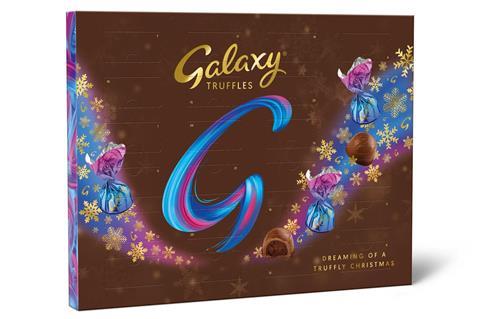 Galaxy Truffles
August this year saw Galaxy Truffles return to shelves in a standalone gift box, eight years after they were removed from Mars Celebrations. This Christmas, the milk chocolate Truffles will feature in their own calendar, with one creamy, foil-wrapped treat for each day of advent (rsp: £9.99).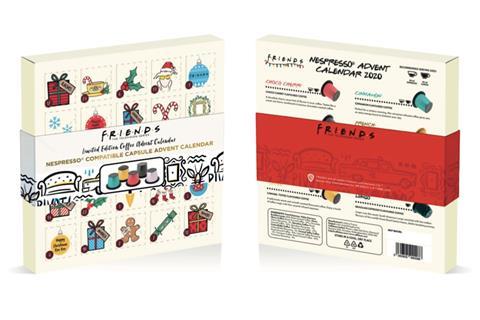 Friends coffee calendar
The titular Friends in the classic sitcom were often seen sharing a brew at their favourite coffee house, Central Perk. Now fans can bring the experience home with this coffee Advent calendar from Cafféluxe. It contains 24 Nespresso-compatible capsules in five festive flavours: Choco Cherry, Speculoos, Creme Brûlée, Caramel Toffee and Cinnamon. Available online from Amazon, Groupon and Cafféluxe (rsp: £19.99).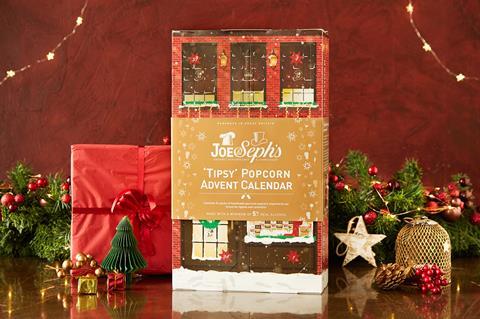 Joe & Seph's
Posh popcorn maker Joe & Seph's is adding two new Advent calendars to its festive offering this year (rsp: £25). The first, a Vegan Gourmet Popcorn Advent Calendar, contains eight vegan flavours, including Vegan Toffee Apple & Cinnamon and the new and exclusive Vegan Olive Oil, Sea Salt & Black Peppercorn. This is joined by the 'Tipsy' Gourmet Popcorn Advent Calendar, which features 12 boozy and cocktail-inspired flavours. Among them are Espresso Martini, Gin & Tonic, Prosecco and Caramel Macchiato & Whisky.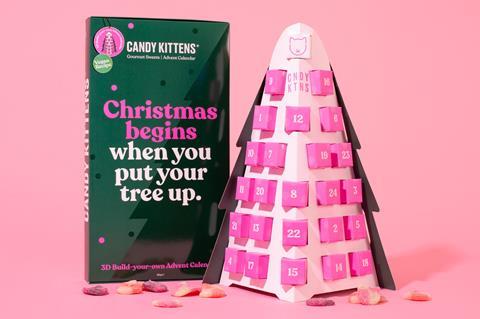 Candy Kittens
Sweet-toothed consumers get a construction project as well as a supply of sweets with Candy Kittens' build-your-own Advent calendar (rsp: £8). The Christmas tree-shaped 3D calendar contains vegan sweets in fruity flavours such as Blueberry Bliss and Tropical Mango.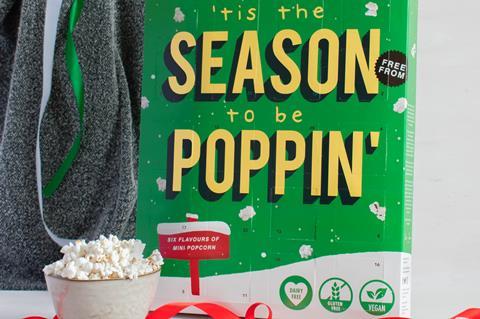 Popcorn Shed
Family-owned snack brand Popcorn Shed is showcasing its Mini Pop range in this vegan and gluten-free calendar (rsp: £18). It contains 24 bags of tender mini popcorn that "melts on your tongue like snowflakes", according to the brand. The calendar features six sweet and savoury flavours, including Smoky Maple, Salt & Vinegar and White Truffle.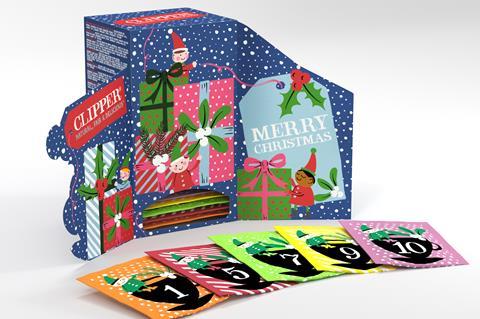 Clipper
Making its UK debut into Advent calendars is organic tea brand Clipper. The colourful calendar contains 24 tea bag sachets in 12 warming flavours, including Orange & Lemon and Liquorice & Peppermint (rsp: £4.99). It can be found in health food shops, Amazon and on the brand's website.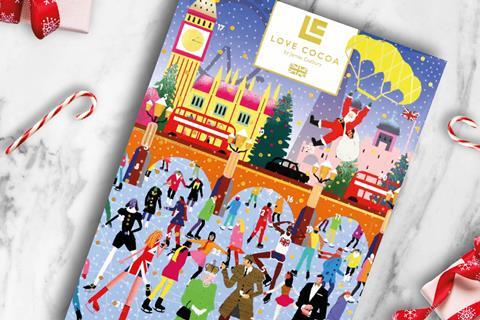 Love Cocoa
Shoppers should be able to spot a few famous faces on this "quintessentially British" calendar, which is the first from ethical chocolate brand Love Cocoa. The confectioner's British Icons calendar contains 24 luxury chocolates and truffles and is illustrated with ice skating icons, from William Shakespeare to Mo Farah and The Queen. It will be available from the Love Cocoa website and Ocado from this month (rsp: £19.95).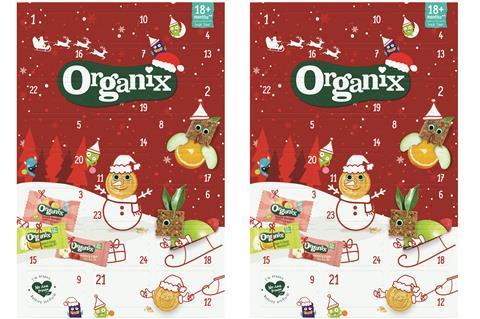 Organix
Little ones aged 18 months and over can get involved in Advent this Christmas with the debut calendar from Organix. It contains 24 snacks in three variants – Jammie Monsters Biscuits, Mini Oaty Bites Raspberry & Apple and Mini Oaty Bites Apple & Orange – and is aimed at parents that don't want to give their kids chocolate every day. It'll be stocked on the brand's website and in Boots, Ocado, Amazon and Love Food (rsp: £8.99).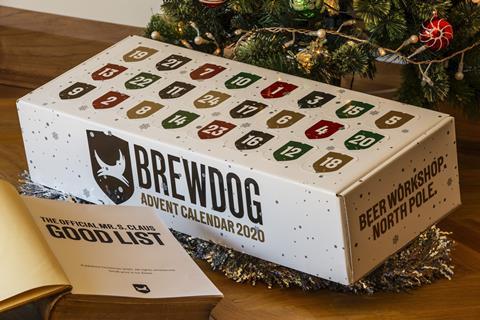 BrewDog
Billed as "the ultimate BrewDog beer sampler", this year's Advent offering from the craft beer giant contains 24 cans of beer, with a different variety for each day of Advent (rsp: £49.95). The brewer's classic lines such as Punk IPA and Hazy Jane appear alongside 15 new beers from 2020, plus a couple of exclusives only available through the calendar. From a chocolate & cranberry sour to a festive IPA, it has everything a beer afficionado could want in the countdown to Christmas.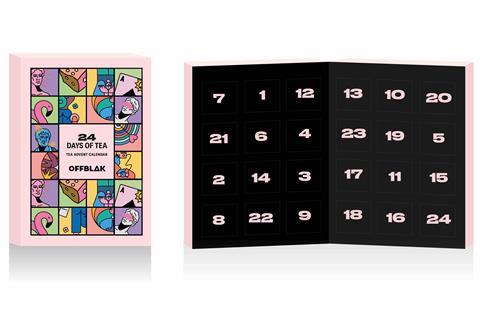 Offblak
Tea lovers can drink their way through Offblak's range of premium blends with this 24 Days of Tea calendar. Behind each door is one of the brand's whole leaf pyramid tea bags, in flavours such as spearmint & chocolate, blueberry & mint and the festive cranberry & cinnamon (rsp: £19.99).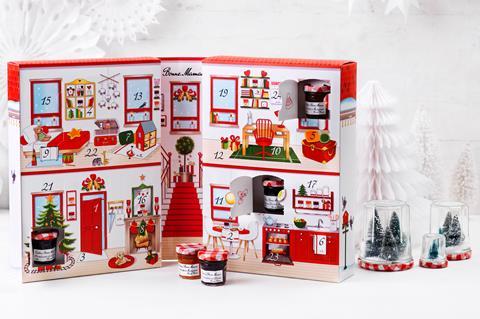 Bonne Maman
Depicting a colourful and cosy home at Christmas, Bonne Maman's calendar features 23 mini jars of jam or marmalade and a surprise gift for Christmas eve. The calendar features a range of preserves not usually available in the UK, such as Cherry & Elderflower Spread, Lemon & Yuzu Marmalade, Fig & Cardamom Jam and Apricot & Lavender Spread. Available online and at Costco (rsp: £23.99).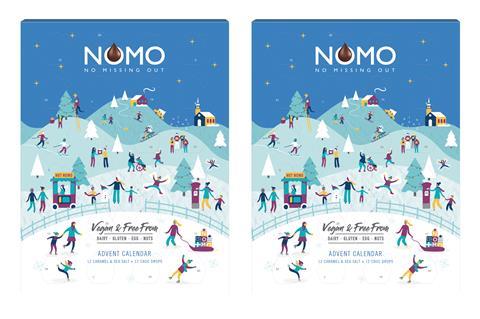 Nomo
Ensuring there will be 'no missing out' for vegan and gluten-intolerant consumers this Christmas, Nomo is launching a free-from chocolate calendar (rsp: £5). Behind each door is a special message, as well as a Caramel & Sea Salt or Creamy Choc Drop. It will be available from Tesco, Sainsbury's, Waitrose and Amazon.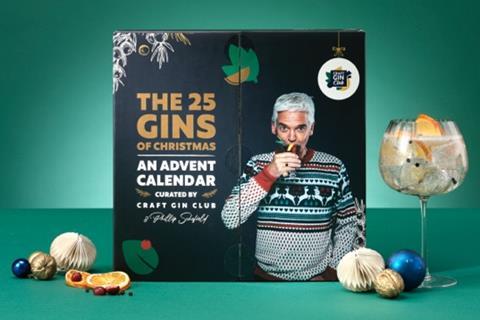 Phillip Schofield Craft Gin Club
Breakfast TV host and gin lover Phillip Schofield is collaborating with Craft Gin Club for his own boozy Advent calendar this Christmas (rsp: £99.95). The first calendar from the subscription service, it contains 25 handpicked miniature bottles of gin from UK craft distillers. One of the doors even hides Schofe's Christmas Gin – a festive tipple created by the celeb himself.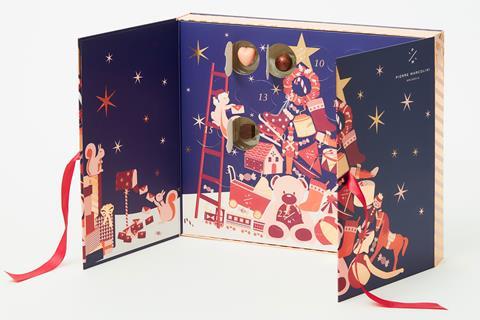 Pierre Marcolini
Illustrated with a 'fairytale' Christmas tree adorned with presents, Pierre Marcolini's 2020 Advent calendar features some of the chocolatier's classic confections alongside a newly-added selection of Petit Câlins. These feature nut brittle, caramel and praline or gianduja in a white or dark chocolate shell and come in a range of flavours (rsp: £49.99).
Stokes
This calendar from sauce maker Stokes provides 23 mini jars of sweet and savoury condiments, ideal for accompaning any Christmas meal. Available in selected farm shops and on the Stokes website, it features classic condiments such as ketchup and mayonnaise alongside relishes, chutneys and preserves. Plus, behind the final door, consumers will find a 215g jar of Cranberry & Orange Sauce with Ruby Port to enjoy with their Christmas turkey (rsp: £35).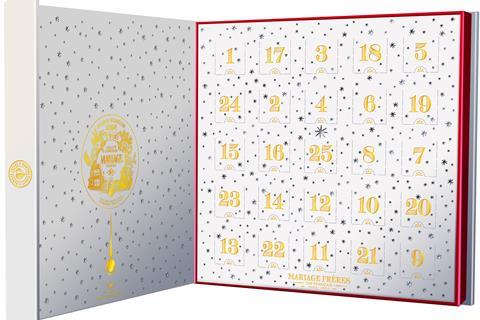 Mariage Frères
France's oldest tea house, Mariage Frères, is offering a premium blend for every day of Advent with its luxury Noël Glamour calendar. It features classic teas such as Earl Grey alongside festive blends like Espirit de Noel, which is bursting with Christmas spices, orange peel and vanilla. Available online and from the brand's Covent Garden store from the end of October (rsp: £45).