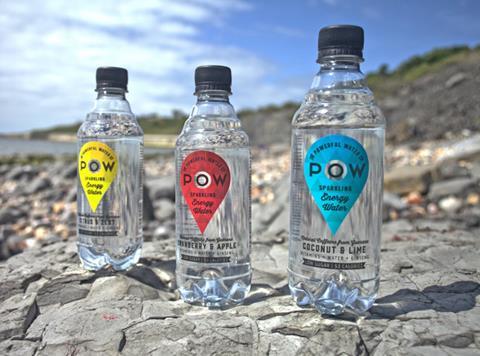 A trio of drinks industry veterans have joined forces to bring a low-sugar energy water to market.
Pow is the brainchild of Ed Woolner, who has held senior positions at Ocean Spray and Monster, and is being backed by investors John Philips, a former Diageo MD, and Jamal Benmiloud, former marketing head at Red Bull.
Rolling into stores from next month, and with a Waitrose listing from August, Pow will be introduced in three flavours: coconut & lime, citrus & zest and cranberry & apple in 440ml bottles (rsp: £1.49). Manufactured in Northern Ireland, distribution is being handled by Refresco Gerber in the UK and C&C Gleesons in Ireland.
The clear liquid contains 10mg of caffeine from guarana per 100ml – below the level to require labelling as having high caffeine content – and Woolner said the drink would have the energising effect of a green tea, rather than "blow someone's head off". Sweetened with stevia, it contains just over two teaspoons of sugar per bottle and less than 60 calories.
"Existing energy drinks are still high in sugar and artificial ingredients so I wanted to create a healthier energy drink that is cool and credible," he added. "We are trying to turn energy drinks on their head. Pow is designed to taste like lightly flavoured sparkling water and, with the exception of added vitamins, all the ingredients are entirely natural."
Aiming the drink at a core audience of consumers aged 25-plus, Woolner said there was a clear gap in the market for a natural alternative to existing drinks.
"Our vision is Pow will become the number one choice of functional drinks for health-conscious young adults," he said.
The launch comes as sales of bottled water are up 13.3% by value [Kantar Worldpanel 52w/e 4 January 2015] and energy drinks up 2% [Kantar Worldpanel 52 w/e 29 March 2015].
"I've been in the industry 14 years and my gut says the timing is right for this," added Woolner. He said the support and advice of business partners Philips and Benmiloud had been invaluable. "They are there primarily in an advisory capacity and I am setting up a small team in Dorset to manage the business," he added.
Marketing for Pow will include a programme called Power to the People that will launch later this year and will give money away to help people "empower their lives". Pow will also send out sampling packs to consumers who engage with the brand through social media and its website.