Veganuary may be over, but those still sticking to a plant-based diet will have plenty of options this Easter. Here's our pick of the best chocolate eggs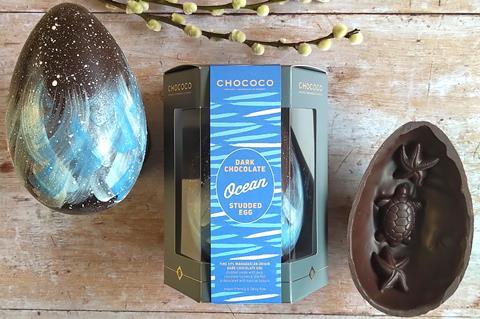 Chococo Studded Eggs
Dorset-based chocolatier Chococo is giving shoppers a hidden surprise this Easter with its pair of 'studded' vegan eggs. The first is a Dark Chocolate Ocean Studded Egg (rsp: £12.50/175g), which conceals chocolate marine creatures inside a decorative, hand-painted shell. The second is a Dark Chocolate Agave Honeycombe Studded Egg (£12.50/175g) which has chunks of agave nectar honeycombe nestling inside.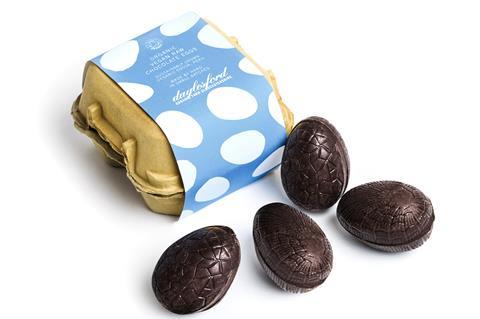 Daylesford Raw Vegan Eggs
This product from organic retailer Daylesford may look like a regular egg box, but vegans needn't steer clear of its contents. The box holds four dark chocolate eggs filled with rich raw chocolate ganache (rsp: £15/140g).
Nomo Easter collection
This trio of Easter eggs is the first from vegan confectioner Nomo. Free from nuts and gluten, the eggs come in three of the brand's most popular chocolate bar flavours: Caramel & Sea Salt (rsp: £6/148g), Fruit & Crunch (rsp: £6/207g) and Creamy Choc (rsp: £6/148g). They are available from Holland & Barrett, Waitrose and the big four supermarkets.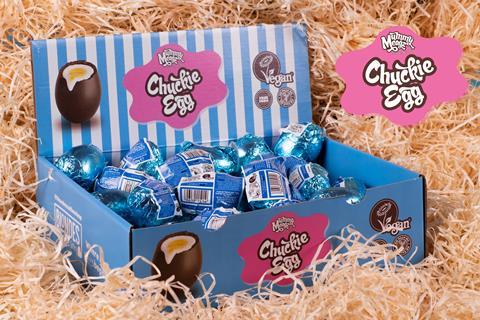 Mummy Meagz Chuckie Egg
Ok, so this vegan version of the classic creme egg isn't exactly new (it's been on sale on the Mummy Meagz website for a few years) but this is the first Easter it will be widely available in stores. The dark chocolate Chuckie Egg (rsp: 99p/40g) was listed by Holland & Barrett at the start of the year.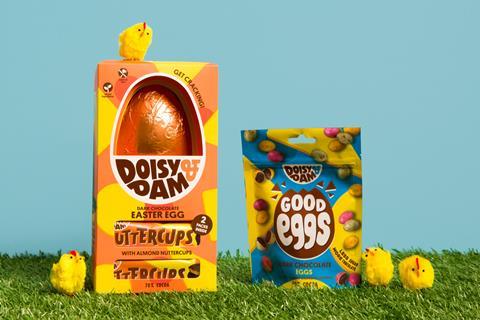 Doisy & Dam
Posh chocolatier Doisy & Dam is making its first foray into seasonal chocolate with this Easter duo. The first product is a Nuttercups egg (rsp: £9/260g), which contains two packs of almond butter cups alongside a dark chocolate shell egg. This is joined by sharing bags of Good Eggs – the brand's take on Mini Eggs – which comprise 70% dark chocolate in crispy, colourful coatings (rsp: £2/80g).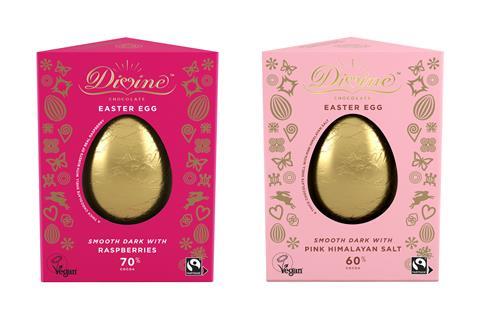 Divine
Fairtrade brand Divine is looking pretty in pink this Easter with two new launches. The first is a 70% Dark Chocolate & Raspberry egg, which is studded with pieces of real raspberry. This is joined by a Pink Himalayan Salt egg, made with 60% dark chocolate. Both eggs (rsp: £5/90g) are free from plastic and palm oil and are available in Ocado, Waitrose and Holland & Barrett.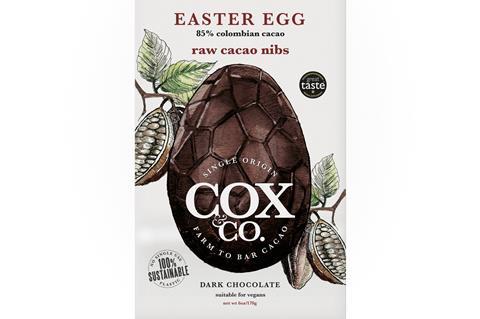 Cox & Co Raw Cacao Nibs Dark Chocolate Egg
It's not just Cox & Co's ethical 'farm to bar' sourcing credentials that make this product '100% sustainable'. Made with 85% Colombian cacao, the egg (rsp: £8.50/170g) is also packaged in recycled cardboard, which is fully compostable thanks to its use of vegetable ink.
Montezuma's
Montezuma's is making a raft of additions to its vegan offering this Easter. These include Peanut Butter Mini Eggs (rsp: £4/150g) in dark chocolate and Absolute Black 100% cocoa. There are also various flavours of Giant Egg (rsp: £20/450g) and Button Egg (rsp: £15/340g) and characters such as Connie Chick (rsp: £6/100g) and Hannah Hen (rsp: £10/275g).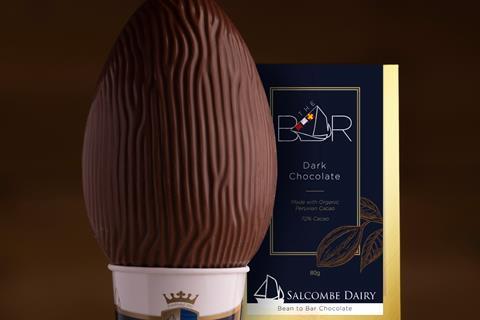 Salcombe Dairy
Devon ice cream maker Salcombe Dairy has added a selection of Easter treats to its bean-to-bar chocolate range, The Bar. As well as milk and white opitions, it offers a vegan dark chocolate egg, made from 72% organic Peruvian cacao. The egg (rsp: £19/160g) comes with two 80g chocolate bars in fully compostable packaging, complete with a rope handle to match the brand's nautical theme.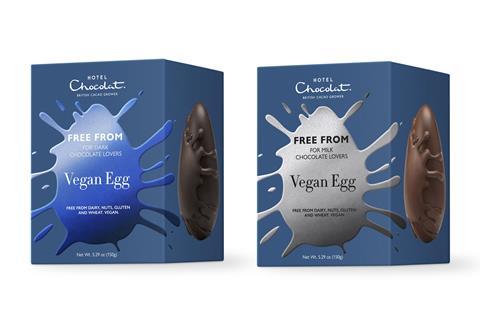 Hotel Chocolat Soft-Boiled Eggs
The premium chocolatier has expanded its Soft-Boiled Eggs offering with two free-from variants. These creamy, 'meltingly delicious' eggs (rsp: £10/150g) come in vegan Milk and Dark variants and feature a striking splattered egg design. Unlike the rest of the Soft-Boiled range, the pair are also gluten free.