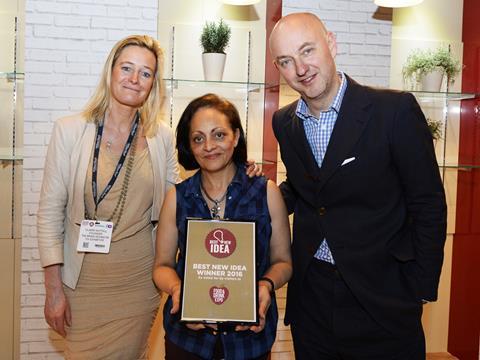 The UK's first range of air-dried vegetable crisps - from Kent supplier Nim's Fruit Crisps - has been hailed the best new idea in food and drink.

The bagged snacks range, featuring air-dried tomato, cucumber, pepper, courgette, mushroom, beetroot and parsnip crisps, was the overall winner of the Best New Idea competition at the Food & Drink Expo in Birmingham this week.

Adam Leyland, editor of The Grocer, who judged the competition with The Brand Incubator's Claire Nuttall, said the crisps were "a real technical achievement".

"When you open the packet the fresh vegetable smell is completely authentic; the colours are vibrant; and they taste great too."

Nim's Fruit Crisps boss Nimisha Raja was "ecstatic". "I've never won anything in my life."

The other finalists were Bruschetta de Sophie, a range of oven-ready bruschetta, which take just six minutes to prepare; Graze's Veggie Protein Power; Thirst Quencher's Mega Chia drinks; and Yumcha Drink's No More Tea Bags range of instant tea and coffee.