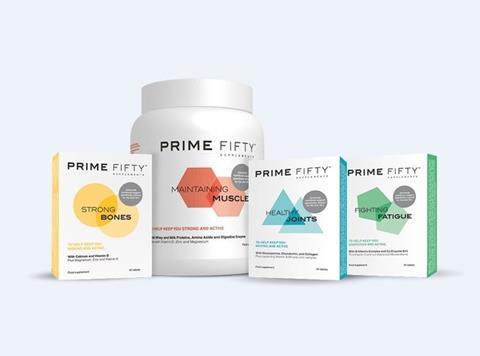 Start-up vitamin business Prime Fifty has secured its first major listing with Tesco for its supplements range.
The brand, launched in March this year, is being rolled into 400 Tesco stores this week in tablet form in three variants - Healthy Joints (rsp: £16.50), Fighting Fatigue (rsp: £8.50) and Strong Bones (rsp: £6.50), alongside a strawberry-flavoured protein, enzyme and multi-vitamin Maintaining Muscle powder supplement (rsp: £23/14 servings).
Developed by British scientist Dr Max Gowland – previously global R&D director at Reckitt Benckiser and chief innovation officer at Jeyes - the Prime Fifty formulations were based on "in-depth research" into diet and nutrient intake and were tailored with a range of relevant ingredients known to be "critical for the ageing metabolism", said the Hull-based business.
Key ingredients include vitamins B, D, E and K, calcium, zinc, glucosamine, collagen, whey protein and co-enzyme Q10, said Gowland.
"The over-50s have been lumped in with the generic supplement market until now, but their needs are distinct, and they need specific product formulations," he said.
Prime Fifty is also available from AAH Pharmaceuticals, CLF, Tree of Life and The Health Store.