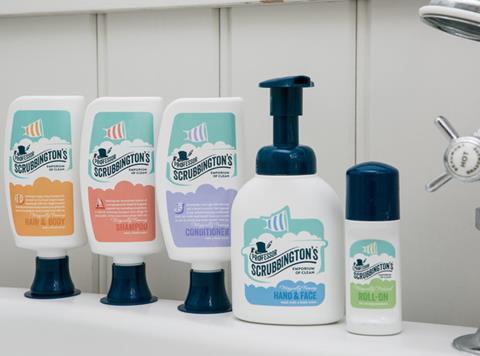 A start-up supplier has launched a foam-based range of natural personal care products.
Professor Scrubbington's initial portfolio comprises hair & body wash, shampoo and conditioner in 150ml format, hand & face wash (200ml) and a roll-on deodorant (all rsp: £4.99).
Targeted at kids aged four to 11, the products are free-from parabens, colourants and SLS and – with the exception of the deodorant – are foam-based to make them "more fun and easier for kids to use," said co-founder Emma Cranstoun.
The newcomer would plug a gap for products that met the need of children wanting to be able to wash themselves, said Cranstoun – a former Diageo and AB InBev marketer. "Our core value is to empower children," she said.
Available online now, privately financed Scrubbington's is hoping to secure listings with the major supermarkets and Boots later this year, said Cranstoun. "The reaction from buyers has been "very good", she said, adding the business was also in talks with health and beauty wholesalers.
A bubble bath, moisturiser and Christmas gift packs will join the portfolio later this year, followed by wipes, lip balm, towels and flannels planned for launch next year.