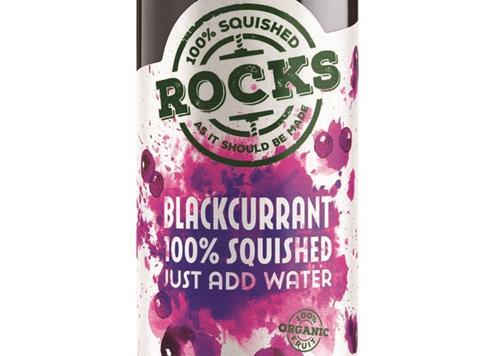 Squash brand Rocks is revamping its range with a new look, revised flavours and the addition of six adult RTDs.
The redesigned bottles feature a predominantly white label with colourful watercolour art, a new logo with a bolder typeface, and the message '100% squished'. The range is relaunching now with lemon, orange, blackcurrant and blueberry & apple flavours, with a second tier of flavours due to roll out in the summer.
The RTD range, which launches this month in 250ml bottles (rsp: £1.99), includes four sparkling flavours – organic ginger & wasabi, organic strawberry & blackcurrant, pink lemonade, and organic raspberry & lime – and two still: organic blackcurrant & elderflower, and organic mango & orange.
"We are known for producing authentic drinks and are totally committed to creating drinks that families can enjoy with total assurance that what they are drinking is made with integrity and only natural ingredients," said Darren Robinson, group sales manager at brand owner 3V Natural Foods.
"We have undertaken research [Syren Strategy] that demonstrates 45% of mums buying squash want drinks that are made with real fruit and 57% of mums buying squash look for drinks with no artificial additives, colourants or sweeteners.
Rocks' products are currently listed in retailers including Tesco, Sainsbury's, Waitrose and Ocado (rsp: from £2.49/735ml).