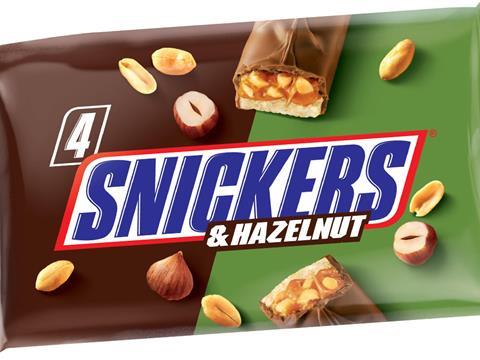 Mars is expanding its Snickers brand with new permanent variant Snickers and Hazelnut.

Rolling out in a single bar (rsp: 55p) and four-bar multipack (rsp: £1.79) from 25 May, the new product features green packaging to help it stand out from the original Snickers. The standard mix of peanuts, caramel and nougat has been given a twist with the addition of hazelnuts to bring "a whole new taste experience".

The launch is being supported by a £2m media investment comprising PoS, TV, and ­outdoor and online ads. The overall brand is also getting a £10.2m media spend in 2015.

Snickers recently rolled out two new digital initiatives as part of its ongoing You're Not You When You're Hungry campaign. The first is Hungry Streetview, in which iconic monuments are shown behaving out of character - such as a bored Statue of Liberty texting. The second is I-Voice, a voice-activated personal assistant that, rather than providing a helpful response, is sarcastic and bored.

Mars will be looking to revive the fortunes of the brand, which fell 9.3% last year to £88.5m [Nielsen 52 w/e 3 January 2015].