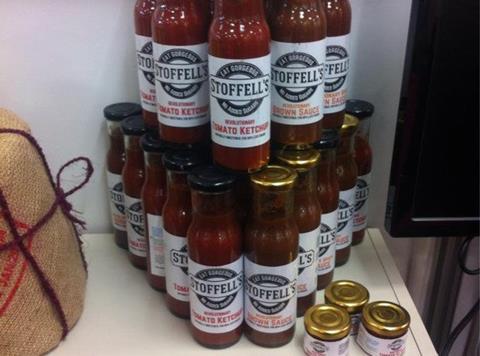 A business consultant who has launched what he says is the UK's first ketchup with no added sugar is among a group of entrepreneurs who have benefited from being part of retail food incubator Kitchen Table Projects (KTP).
The business support initiative for food and drink start-ups is operating a pop-up shop in Great Portland Street in central London, which opened in October and continues until 27 December - one of a range of services aimed at helping young businesses get off the ground.
Among the brands available to buy at the shop is Stoffell's, founded last year by Tony Peck, and named after his great uncle Claude Stoffell, a well-known grocer in Bath in the first half of the 20th century.
Peck produces a range of sauces including ketchup, brown sauce and BBQ sauce (all rsp: £3/250g), which are sweetened only with stevia. Although similar products are available in other countries, Peck said he had been unable to find another in the UK.
KTP offers training programmes to its participants, with the first having run this summer and the next beginning in March. The retail component is an essential part KTP's offer, said its founder, former chef Tara Sundramoorthi. "With the springboard that we ran over the summer, the programme was designed so that you had to be actively a part of what was happening, to promote the product as well as understand how the consumer was interacting with it," she said.
The Great Portland Street pop-up is the second, after a stint at Old Street in the summer. Besides offering access to consumers, the shop is intended to give producers market insight - by allowing them to experiment with pack design, display methods and positioning in the shop.
"Producers often make great relationships with the retailers, send off all their products, sometimes they sell amazingly and other times they don't, and often they just don't know why," said Sundramoorthi.
Peck originally expected the Stoffell's brand to appeal mostly to parents seeking healthier options for their kids - but found it was actually health-driven young adults buying it for themselves. As a result, he changed the packaging from a colourful, cartoony design to the cleaner one seen now.
Other brands featuring in Great Portland Street include Hot Chiu, a range of Asian-inspired table sauces such as Jazzy Ginger Miso and Soy Sesame Sensation; Funky Nut Company, which offers macadamia, pistachio and tiger nut butters; Monty Bojangles, whose confectionery range includes Popping Candy Chocolate Truffles; and biltong producer Hunt & Stride.
KTP is running a series of Christmas market events, giving shoppers the chance to meet the producers. The third and last of these takes place next week on Friday 18 and Saturday 19 December, from 4pm to 8pm.