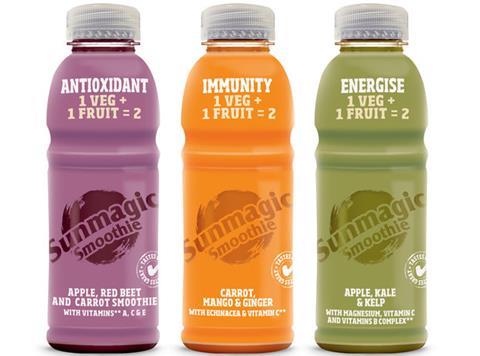 Multiple Marketing has extended its Sunmagic brand with a 'functional' smoothies range.
The Sunmagic Smoothie trio, available from this week, comprises Antioxidant with apple, red beet & carrot; Energise with apple, kale & kelp; and Immunity with carrot, mango & ginger.
Made from 100% vegetable and fruit juice with added vitamins, each 330ml PET bottle (rsp: £2.39) contains two of the recommended 5 a day - one fruit and one vegetable portion. Sugar content per serving ranges from 21.1g to 29.6g.
The drinks, which have a four-month shelf life when kept chilled, would tap an emerging trend for smoothies that contain vegetables and fruit, said brand manager Razin Ali, adding the contemporary packaging would appeal to Sunmagic's "increasingly discerning" target audience.
"Consumers are on the lookout for premium soft drinks that deliver on taste but which also contain added health benefits, such as added vitamins and minerals."
Multiple Marketing is part of a group of companies that includes snack bar brand Eat Natural; nut and dried fruit importer and packer RM Curtis; and juice packer Fielding Dairies. It expanded Sunmagic with two new ranges last month - its first not-from-concentrate juices and two cold-pressed juices.