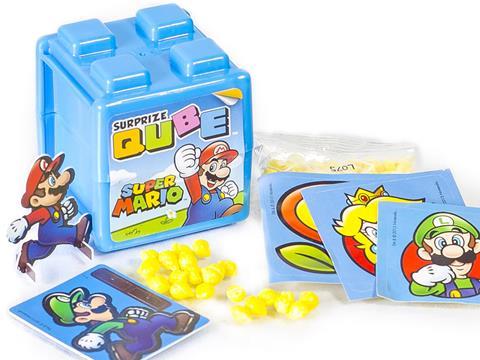 Licensed character confectionery specialist Bon Bon Buddies is bringing a Kinder Surprise-style product to the sugar ­confectionery market.

Rolling into stores next month, Surprize Qubes are sold as individual building blocks (rsp:99p) that contain a 10g pack of strawberry-flavoured chewy sweets, three character stickers and two push-out-and-build character standees. They will be available in three ranges - pink blocks featuring Barbie, blue with Super Mario and yellow with Despicable Me. Each range will contain 24 stickers and 12 standees to collect.

The patent-pending blocks can be attached to each other, and Bon Bon Buddies hopes children will combine them with the stickers and standees.

"We wanted to create a new product children would enjoy but that also has buy-in from parents too," said Bon Bon Buddies MD Chris Howarth. "Building blocks are proven to stimulate children's ­creative thinking."

He added that no ­elements of the products were thrown away once opened. "From the product packaging to the contents inside, all components of the Qube contribute to the surprise experience."

The Qubes join Bon Bon Buddies' Surprize range, which includes Surprize Bags, Eggs and Cones and is sold across Europe and the Middle East.

Bon Bon Buddies produces other lines under the Barbie, Super Mario and Despicable Me licences, and plans to extend the Surprize Qubes range with new brands later this year.