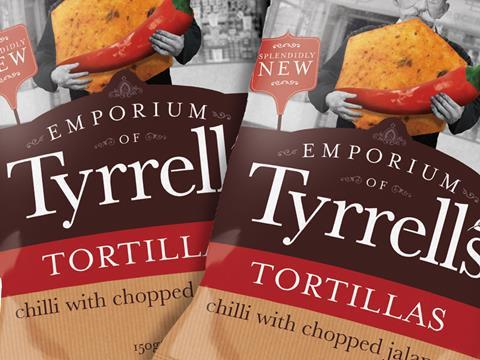 Tyrrells has launched a new brand, Emporium of Tyrrells, to offer products other than potato crisps.
The range makes its debut this month with two flavours of tortillas - Chilli with Chopped Jalapeño and Sour Cream with Poppy Seeds (rsp: £2.19/150g) - that are rolling out to The Co-op, Whole Foods Market and independents. Featuring hexagonal-shaped chips, the new products will replace Tyrrells' existing tortilla range, which was axed a few months ago.
Marketing director Jocelyn McNulty said the company would use the Emporium branding to develop non-potato crisp snacks. Tyrrells is not bringing its popcorn - rebranded earlier this year as Poshcorn - under the Emporium banner, stating the range had its own personality.
"We know Tyrrells is a brand that can stretch and we can take our values and expand them beyond crisps and popcorn," McNulty added. "This is the launch of a new platform for snacking that will be agile and that we can be inventive with. We intend to have lots of fun finding things for the range in future."
McNulty added there was a big opportunity to produce an adult, premium natural tortilla. The rollout of Emporium follows Kellogg's taking Pringles into the tortilla market in March, pitting it head-to-head with Doritos.
"We know the scale of the mainstream tortilla brands and have seen plenty of activity there," she said. "We want to make sure there is clear blue water between us and the competition."
Tyrrells insisted the launch was not a reaction to changes in the snacking market that have seen take-home sales of crisps overtaken by non-potato snacks such as savoury biscuits for the first time [Kantar Worldpanel 52 w/e 1 February 2015].
"We are seeing demand for premium hand-cooked crisps growing," said McNulty. "This is not about capitalising on a shift in the market, this is about us saying 'where can the Tyrrells brand go?'."
News of the launch comes in the week Tyrrells made its first international acquisition, buying Australian snacks company Yarra Valley Snack Foods which makes a wide range of snacks including corn chips.
McNulty said it was too early to say whether Yarra Valley products could appear in the UK under the Emporium brand. "They have a lot of expertise and we are excited to be working with them but it is very early days," she added.
Tyrrells also announced this week it has extended its multipack range as it looks to take a greater share of the adult packed lunch market. Relaunching this month in rebranded packs are the mixed bag multipack and Lightly Sea Salted multipack. A new Sea Salt & Cider Vinegar multipack has gone on sale in Sainsbury's.
"Packed lunches have become much more premium in recent years, with more and more foodie consumers choosing to make gourmet lunches at home and bring them into work," said McNulty.