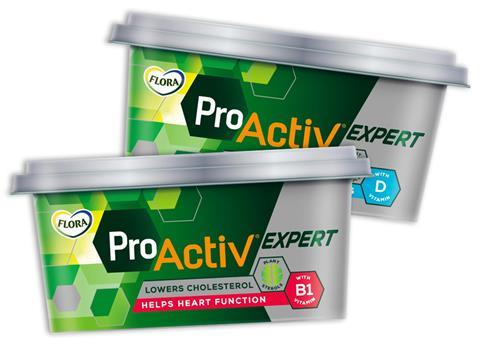 Unilever has unveiled two new Flora ProActiv Expert spreads, less than two weeks after confirming its intention to sell its spreads division.

The NPD represented the first innovation in the cholesterol-lowering spreads category in a number of years, said Unilever, with the newcomers consisting of a 'bones' variant, containing vitamin D, and a 'heart' variant containing vitamin B1 (rsp: £3.90/450g). Both products contain plant sterols, which help lower cholesterol, according to Unilever.

The products began rolling out nationally earlier this month, with listings in Asda, Tesco and Waitrose. The launch will be supported by a £1.2m marketing investment, and partnerships with Heart UK and Boots WebMD.

"We know consumers are always seeking food products with added health benefits," said Giulia Russo, Flora ProActiv brand manager at Unilever. "Flora ProActiv is a trusted brand that people know and love and so we expect our new Expert variants, backed by Heart UK, will be a big hit."

The launch comes at the same time as Unilever bosses are seriously considering 'Sprexit' - the so-called £6bn disposal of its underperforming spreads division.

Earlier this month, Unilever announced a series of measures aimed at increasing investor returns in the wake of its aborted £115bn takeover by US food giant Kraft Heinz, with CEO Paul Polman stating the group would "accelerate the active management of our portfolio through bolt-on acquisitions and disposals".

This included launching a process to "either sell or demerge spreads" as the overall category "remains challenged", Polman said.

Alongside the division of the spreads portfolio, Unilever is also proposing to combine its food and refreshment brands and simplify its structure to create a "more focused business".