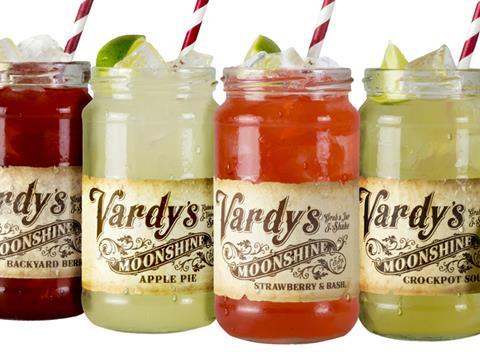 An Irish RTD brand inspired by nineteenth century American moonshiners is launching in the UK off trade.

Vardy's Moonshine is named after the town of Vardy, Tennessee, the home of famous moonshiner Mahala "Big Haley" Mullins. The drink is packaged in a 355ml jam jar (rsp: £2.50), with enough space at the top for ice to be added, after which the lid is screwed on and the jar shaken. The range includes four flavours: Strawberry & Basil, Apple Pie, Backyard Berry and Crockpot Sour.

The brand was founded by experienced industry figures Flor Prendergast and Joey Shore, who noticed a lack of innovative brands in the lower-mid ABV area. The challenge of filling jars with an alcoholic drink, rather than a food product, meant the business had to develop its own production line.

Since launching in Ireland in January, it has gained listings in retailers including Tesco, Spar, Mace and Londis, with Dunnes and Supervalu to follow in the coming months. The business has secured several on trade listings in the UK, and Prendergast said it was in discussion with major retailers and hoped to have the product on shelves here soon.

"We felt there were lots of interesting spirit brands but very little true innovation in session-able drinks," said Prendergast. "Drinking in jars is a big trend at the moment but it was always a vessel that people used to drink moonshine from.

"After lots of testing we found that filling the jar to a 355ml gives the consumer good value while also giving us the perfect head room to add ice. The shake brings theatre and ritual into the home drinking experience but is functional as it cools Vardy's down for a drink you can have anywhere, anytime. Vardy's is real innovation that will bring incremental business to retailers looking for a bar experience, at home."

"Big Haley" Mullins, one of nineteenth century America's most notorious moonshiners, weighed between 400 and 650 pounds when she died in 1898 at the age of 75, according to newspaper reports. It is believed that she evaded arrest her entire life because officers were unable to carry her large frame down from her mountain home.