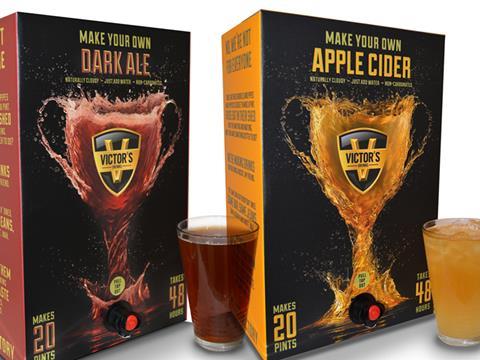 Homebrew kit supplier Victor's Drinks has launched what it says is the world's first 48-hour beer & cider kits.
The business, which won investment from Duncan Bannatyne on Dragons' Den last year, has started replacing its existing 10-day brewing kits with the quicker version. The drinks are made by adding water and yeast to the box, which contains a syrup mixture. After two days, it will have fermented into a beer or cider of roughly 4.5% alcohol.
Rolling out this week, stockists will include Wilko and Debenhams. The kits are available in 10-pint (rsp: £15.99) and 20-pint (rsp: £24.99) sizes in six ale and cider variants: apple cider, pear cider, mixed fruit cider, mulled cider, pale ale and dark ale.
Victor's Drinks co-founder Ralph Broadbent said development of the 48-hour product had taken a huge amount of time and effort. "We worked closely with industry experts, trialling new yeast and syrup combinations which led to the new product on offer today," he said. "Our 48-hour kits are designed to provide a new solution for consumers who are looking for more than a standard RTD product but don't have the patience or time to commit to home-brewing kits."
Broadbent and business partner Alex Dixon appeared on Dragons' Den last year, winning the investment of Duncan Bannatyne, who offered £40,000 for 25% of the business. "Consumers want to have more involvement in their food and drink and Victor's Drinks provides a step in this direction," added Broadbent. "The recent trend for craft beer has exposed people to a range of different brands and ways to drink. We're adding to the offering with a product that isn't prohibitively expensive yet allows consumers to have a direct connection by making it themselves."