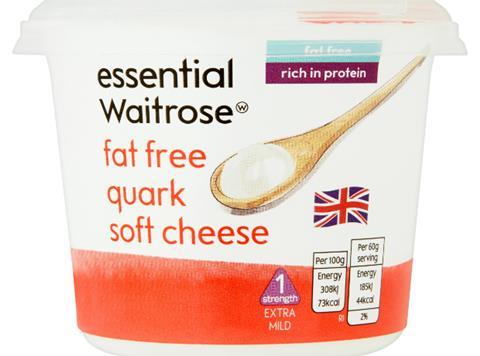 Waitrose has launched an own label quark in response to high consumer demand for the soft cheese.

Year on year sales of quark are up 109% at the supermarket thanks to high protein and low fat levels in the product, Waitrose said.

The own label Essential Waitrose quark is fat-free, with 73% protein, and 73 calories per 100g, or 44 calories per person (rsp: 90p/205g and £1.60/500g).

"This versatile soft cheese is a great ingredient swap for many recipes using higher-fat cheese, yoghurt or cream," said Chris Dawson, Waitrose cheese buyer. "My favourite ways to use quark are in desserts such as cheesecake and to liven up mashed potato without adding lots of calories."

It follows the launch of a yoghurt and quark pouch called Pro-Yo by The Collective last month. The blended product secured listings in Waitrose, as well as Ocado and Boots.

Various other brands have also jumped on the quark bandwagon over the past year, including Graham's the Family Dairy, Arla and Fuel10K.