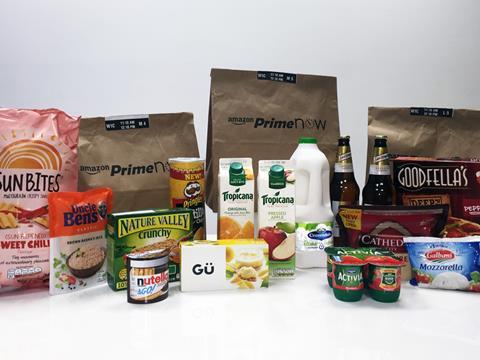 Amazon extended trials of its nascent chilled and frozen offer to London this week - but the service to date has been mixed.
In a trial of the service conducted by The Grocer on Tuesday morning, the online giant delivered a Grocer 33 mystery shop from order to delivery in a stunning 46 minutes.
But on Wednesday afternoon Amazon suspended deliveries and asked potential shoppers to "check back soon for updates".
The service resumed by 7am on Thursday morning, though the app warned deliveries were "limited". By 9am it was operating normally.
"You're always going to get teething problems," said David Jinks, head of publications at couriers ParcelHero.com. "Overall it's been a pretty good launch."
The first chilled and frozen deliveries went out in select Birmingham postcodes on Wednesday 30 September as the latest iteration of its Amazon Prime Now service. On Thursday this week chilled and frozen grocery rolled out to London in selected postcodes.
The Grocer placed its Amazon order- comprising chilled, frozen, ambient and household lines, plus alcohol and soft drinks - at 9.02am on 6 October. The order arrived at 9.48am - 46 minutes after tapping 'Buy Now' on the Amazon Prime Now app. It was delivered by a contracted driver rather than a full-time Amazon employee, and arrived in pristine condition with no substitutions. An e-delivery note arrived at 10.02am.
The order was fulfilled from Amazon's small fulfilment centre dedicated to Prime Now, based in Erdington, five miles from the centre of Birmingham.
The order included Danone, Cathedral City and Ben & Jerry's, Goodfella's, Andrex, Fairy Liquid and San Miguel. The total cost of the order was £46.68 after a £10 first-time discount was applied. This included a £6.99 premium to receive the goods within an hour (it would have been free in under two hours), plus a £2 tip for the driver (the default setting) and £79 for the required Amazon Prime membership .
The news will "push up expectations among consumers and put more pressure on existing grocery players," said Conlumino MD Neil Saunders. "Arguably it's the last thing they need." In response, rival grocers may introduce "faster deliveries for a fee. But the key to success in online grocery isn't how fast you deliver, but how much money you make. Here I think Amazon's model will come unstuck. Amazon is likely not covering its costs in what it charges for Prime Now, and rapid delivery is limited in terms of how many orders you can fulfil, and which geographies you can operate in."