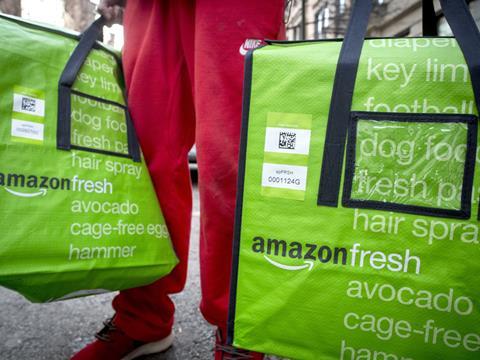 It looks like a September launch of Amazon Fresh is on the cards – with Hackney the most likely postcode for trials.
According to a leading online grocery retail source, a number of retailers, suppliers and other businesses in the Hackney area have been approached. "Hackney would be a good starting place because of the demographics. Hackney hipsters are up for new stuff. They embrace change. And it would give Amazon a good hearing in a way other stalwarts of retailing might not."
Amazon launched its first one-hour delivery service, Amazon Prime Now, in 57 London postcodes two weeks ago – including the 12 postcodes of Hackney. It also has a depot in East London.
One-hour delivery slots would deliver a step-change in customer service, though even same-day delivery (SDD) – a standard feature Amazon Fresh offers in the US – would give it an advantage over most UK-based rivals, with only Ocado and Morrisons offering SDD except via click & collect.
Since unconfirmed reports of the launch first emerged in The Times last Friday, the rumour mill has gone into overdrive. Amazon has refused to comment. And many suppliers contacted by The Grocer clammed up amid fears over non-disclosure agreements. However, a leading supplier source suggested Amazon's plans had been two years in the making. "You would be surprised at the scale of its ambitions, and the step change it is planning to deliver in terms of customer service," he said.
Another surprise is the imminent timing of the Amazon Fresh launch. Germany was expected to be the first country outside the US in which Amazon Fresh would launch. But the CEO of a leading grocery retailer said Amazon loved to keep the market guessing.
"Amazon like to spring surprises," he said. "No one saw their Amazon Prime day coming. I expect Amazon Fresh to be no different." Adding to the speculation over Amazon's approach is the fact there are several variants of the Amazon Fresh model in the US. The only constant is the $299 membership fee. Similarly it is understood Amazon Fresh in the UK will have an annual membership fee of £299. One area of conjecture is over the logistics operation needed to support Amazon Fresh, with speculation Amazon will partner with a grocery distributor or wholesaler to fulfil demand and to deliver scale at speed. There are even rumours it will team up with Aldi to deliver the own-label fresh and chilled lines online now demands.
But a senior online grocery source believes a joint venture is unlikely. "I don't think it will be going that big to begin with, in terms of logistics. I imagine that it will start by using its existing ambient supply chain and simply put chilled boxes into its vans rather than kicking off with a full multi-temp fleet as it has done in some US cities. It would look to develop this as the business and therefore demand grows."
A grocery retail CEO agrees: "They already have distribution centres. They tend to build their own infrastructure. It will be fully invested but done at their scale and their pace, rather than needing to buy or partner with a third party."
The other area of speculation surrounds sourcing. In the US, Amazon Fresh delivers up to 500 fresh items and 30,000 grocery products in total. While Amazon has relationships with most of the leading fmcg suppliers, one possible area of innovation in the US has been around different pack sizes. On the question of fresh produce, very few of the leading suppliers had been approached. However, another possibility is that Amazon will work with restaurants, bakers, butchers and other foodservice providers, delivering for lunches and special occasions. "In the US they've been quite innovative, the way they've put together an offer with local delis, restaurants and shops. My hunch is they want to do it on a smaller scale. It provides a level of control," the grocery retail CEO added.
"It's even possible they will work with major foodservice chain like Pret a Manger, who have found it difficult to offer delivery," the online grocery retail source added.