As supermarkets figure out how best to tackle the 'last mile', takeaway delivery firms are a potential threat – but also a potential opportunity
In mid-May, not for the first time, Amazon ruffled a few feathers. The online giant announced it had made a multimillion-dollar investment in Deliveroo, as part of a $575m (£456m) funding round in the takeaway delivery platform. Having failed to make their own restaurant delivery service work in the UK, Amazon said it was attracted by Deliveroo's "innovative technology services".

It isn't hard to see why. The rise of takeaway delivery off the back of Deliveroo and other platforms like Just Eat and Uber Eats has been meteoric. Overall, consumers spend £9.9bn on takeaways every year in the UK, according to the Centre for Economics and Business Research, a figure expected to hit £11.2bn by 2021.

Takeways delivered to the door now make up the majority of that, worth £8.1bn in 2018 - an increase of 13.4% year on year - and 8% of the foodservice market overall, according to the latest MCA Foodservice Delivery Report. It's a market that will likely be worth £9.8bn by 2021, they add.

Deliveroo et al have fuelled this growth by transforming the expectations and breadth of a takeaway meal. Slick back-office technology delivered via quick and convenient mobile apps now links digitally savvy consumers to a huge volume of local restaurants at the click of a button.

For the restaurant sector it's a goldmine. Analysis by Capital Economics found Deliveroo's operations had increased the revenue of their partner restaurants and supply chain by £1bn in the year to November 2018.

But for the take-home sector it's less clear-cut. In particular as these fast-growing platforms slowly encroach on eating occasions supermarkets once dominated.

"Increasingly there's a blurring between what people do in-home and what they do out-of-home," says Dominic Allport, insight director at The NPD Group. "Both delivery and the ready meals that a customer purchases after work fall into an occasion I would call 'dinner crisis', when a busy parent doesn't necessarily plan what they're going to eat that evening.

"Food delivery companies and retail overlap in that they both play into that mindset."

So who are these guys? How much of a threat do delivery companies really pose? Or can the mults use their scale and success as an opportunity for their own e-commerce operations instead?
The rise of tech-enabled takeaway
Takeaway delivery in the UK is now dominated by three key players.

Taking the biggest slice is Just Eat, a company that started out in Denmark in 2001, before coming to the UK in 2006. One reason for its dominance is a business model that outsources the hard bit, the delivery, to the restaurants it works with, rather than building its own logistics network of drivers as some rivals have opted to. This has enabled the platform to exist in more markets than its rivals - it currently covers 95% of postcodes and has partnerships with around 30,000 restaurants in the UK and 100,000 globally.

In fact, Just Eat has grown at such a rate that its share price has risen 180% since it listed on the stock exchange in 2014. In 2017, it was widely reported that Just Eat had overtaken Sainsbury's, when it was valued at £5.5bn. (Today its market capitalisation is £4.3bn versus Sainsbury's £4.4bn). In the past year, it has also launched its own delivery service, and hopes to target a wider range of restaurants as a result.

Next is Deliveroo. Since it was founded in 2013 the British company has expanded across the globe, working with around 80,000 restaurants and takeaways (20,000 in the UK) across 500 towns and cities in 14 markets. Its rapid expansion has been largely driven by the capital investment it's raised of more than $1.5bn (£1.2bn), including the latest injection of funds from Amazon. According to Bloomberg, Deliveroo's ambition is to reach half the UK's population of 66 million by the end of the year. Currently 33% can use its mobile app to order food to their home.
Not wanting to be left behind, Uber launched its own food delivery arm - Uber Eats - in 2017, with plans to expand across more than 40 UK towns and cities. It is now active in 29 countries, and in the UK counts Leon, Chilango, Ping Pong and Itsu among its menu log. It also recently launched its 'Pied Off Shop', offering Love Island fans free limited-edition pies on its app.

For all the hype that surrounds them, though, these online platforms don't have the takeaway market to themselves.

In-person and telephone orders still remain the go-to option for consumers, with 46% of delivery still handled by phone, according to NPD. "While these newer types of companies are growing fast, they are still very much the 10%, not the 90%, of the market," says PA Consulting retail expert James Taylor.

But online is catching up, responsible for 38% of orders, while apps make up the remaining 16%. And the retail consultancy expects app orders to race ahead - in two years they have increased threefold. Not least as the tech grows ever more sophisticated.
"If you hark back 10 or 15 years ago, ordering a takeaway was always a bit difficult - you're trying to phone a restaurant at a busy time when it's loud and so it can sometimes not get the right information," says Robin Clark, business partnerships director for Just Eat. "It's just easier to order on an app. We brought the opportunity to the restaurants to have world-leading technology to power their online ordering systems. That's enabled not just them to grow, but the whole takeaway industry to grow."

This convenience is changing behaviours, agrees Taylor, with consumers starting to consider takeaways for other occasions besides a Friday or Saturday evening meal. "It's still small but it's growing fast," he says. Orders to Deliveroo, for example, grew by 650% in 2016, a figure that included 20% more lunch orders and 20% more deliveries on a Monday. "Supermarkets should consider these guys a threat because that's the direction things are going."

It's a threat that Amazon's involvement, through its stake in Deliveroo, only heightens. On the other hand, last week the Competition & Markets Authority launched an enquiry to determine whether Amazon and Deliveroo have 'ceased to be distinct', and whether it's likely they'll merge in the future.

As it stands, it is unclear exactly what Amazon's intentions are for the investment. It's certainly "one to watch", says Allport. But the combination of Deliveroo's rapid growth and delivery platform and Amazon's "logistical might" - and growing roster of grocery products - could create a force to be reckoned with.

"How long will this remain a partnership?" adds Allport. " Could it be that eventually Amazon increases its share in Deliveroo? That's just speculation, but I think they see it as an extension of, for example, Amazon Grocery, where they partnered with Morrisons. It's definitely a deal that will shake up the market."

So how can the supers defend their market share against these innovative invaders? Or is it a case of 'if you can't beat them, join them'?

Perhaps, as the line blurs between 'in-home' and 'out of home' dining, retailers can play these platforms at their own game. 'Whilst people describe this as a transition from grocery to restaurants, it is rather the reverse: when you order home delivery from a restaurant, you are literally getting your 'food at home'' says Bernstein in its research into the sector. 'This is more than just a pedantic wordplay point: our terminology and industry definitions are based upon the logistical options of a century ago.'
"The consumer does not care whether the pizza they eat at home is delivered from a local pizza restaurant or a Morrisons hot oven"
'E-commerce and new logistical platforms are ripping away those industry barriers' it adds. 'It is just one big food market: the consumer does not care whether the pizza they eat at home is delivered from a local pizza restaurant or a Morrisons hot oven in their nearby supermarket. It's just a pizza.'

On the one hand, that blurring of the lines has seen retailers dip their toe in the takeaway market via these platforms. Asda, which in November 2018 announced a trial with Just Eat to deliver pizzas from four of its stores, last week rolled out the trial to Asda stores in 50 cities. Just Eat makes no secret of the fact that it's using these trials to learn about how the grocery market works. As it continues to roll out its own delivery capabilities in the UK, these learnings could prove invaluable.

Morrisons, too, is looking at potential tie-ups with takeaway delivery firms. In 2017, it partnered with Just Eat to offer a Bombay Bites Express concession at its Victoria Shopping Centre store in Bradford.

In loosening its ties with Ocado, CEO David Potts has promised to tie up with companies engaged in "the last mile of food fulfilment and ultrafast delivery", which could offer "very short timescales between an order and the receipt of the goods".
In its Q1 trading update in May, Morrisons said it wanted to 'leverage its capability as a food-maker, as well as a shopkeeper in this area that consumers are increasingly involved with', according to analysts Bernstein, an indication that it wants to use its food-making capability to enter the food delivery market.

Even Ocado has started to muscle into the space, using its existing grocery e-commerce network to offer prepared food delivery. It recently bought its first meal-assembling robot and took a stake in the company that builds them.

The DK-One robot prepares meals in less than two minutes which, coupled with the Ocado Zoom platform, allows for a personalised meal to arrive with the customer in less than an hour. Bernstein analysts suggest this means Ocado might soon be ahead in combining robotics and e-commerce to take labour costs out of the food industry.

Aside from hot pizza and meals for tonight, though, these burgeoning delivery platforms could also be used to make online delivery of a wider range of groceries faster and more viable.

Supermarkets are already trialling same-day delivery, but the failure of Tesco Now (and slow progress of Sainsbury's Chop Chop service) is another reminder of how tough it is. "Grocery is a c£180bn market and in large part, that's a £75 a week two to three-hour push a trolley around mission," says Clark.
The one-hour delivery challenge
"What's becoming apparent is that the convenience grocery market, which is about £40bn of that £180bn, doesn't really have an under one-hour delivery opportunity. Customers are looking to solve that mission."

And while the mults are grappling with this challenge, Just Eat is fulfilling an average of 2.4 million orders a week. "There are thousands and thousands of drivers driving around high streets next to 42,000 convenience stores, and there's a natural adjacency."

One retailer starting to take advantage of this opportunity is the Co-op, which announced a tie-up with Deliveroo in 2018 to deliver food to customers in Manchester. The trial has since extended to cover parts of London, Milton Keynes and Brighton, with plans to expand to Edinburgh in the next few months. Co-op's head of e-commerce - retail, Chris Conway, says the company is exploring "a number" of different home delivery schemes, one of which is the Deliveroo trial. "We are keen to understand if our customers want access to our great products via an on-demand services, and chose to partner with Deliveroo due to their reach and because they were able to move quickly and share learnings."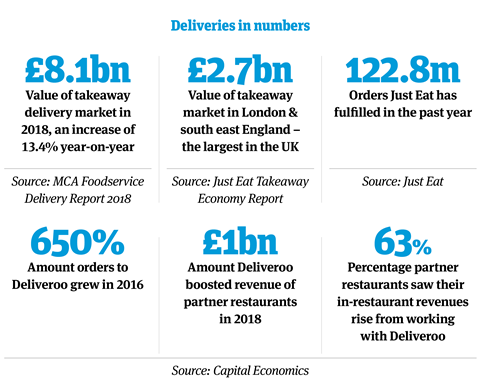 Asda, too, has taken its first steps in the same direction. Last week it announced a partnership with Just Eat to offer delivery of 100 'essential lines' within 30 minutes from two stores. Orders will be made on the Just Eat platform from an Asda-branded 'store', picked by Asda colleagues and delivered by Just Eat. A spokeswoman says: "This is a trial to see if there is appetite for people who want a small number of essential items delivered in the same timeframe as they would expect from their local takeaway." Vincent Billings, partner at SA Law insists consumers have a need for "speedy groceries", as opposed to the current delivery methods. "If successful, we would assume that competitors will follow suit in the near future," he suggests.
Supermarkets have "realised that [takeaway delivery companies] are a threat and they need to respond to the Amazon expectation of very rapid delivery timeframes" to compete, says Taylor. Their current form of online delivery only works for a large weekly shop, with customers having to spend a minimum of £40 and book their delivery slot days in advance.

At the same time they're starting to recognise the potential opportunities in the success of the tech-enabled takeaway network - both to deliver their own takeaway-style food, and also as a cost-effective alternative to delivering groceries in this under an hour timeframe.
Bernstein expects the convergence between grocery and takeaway delivery to become one of the 'most important strategic moves by supermarkets in coming years'. They have 'by far the best sourcing costs on all ingredients', it says. Supermarkets also have kitchens in their stores, as well as lots of space, in good locations, close to where consumers live. And people tend to trust the brands where they buy food, which are usually mass-market. 'The reach of the brand and trust in the brand is an asset to go into food delivery' says Bernstein. 'It is easier for a supermarket to create a food brand, which encompasses all aspects of food, than for a restaurant.'
There are numerous reasons, then, why supermarkets should be capitalising on the success of takeaway delivery. And there's no time like the present to make a move.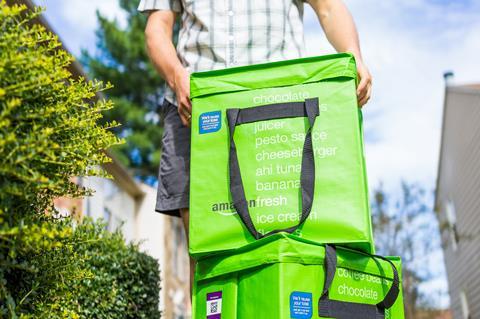 Why have grocers struggled with online?
Grocery e-commerce is a 'logistical nightmare', say analysts at Bernstein, which suggests there are four essential ingredients to grocery e-commerce:
Grocers must have a store network. 'Groceries are 50x heavier and 100x bulkier than non-food, with a third of the profit margins of non-food,' found its study. 'Logistics costs are much more important in the grocery value chain than in non-food retail and it is essential to have a network of logistics nodes, close to where customers live.' Analysts suggest the lack of such a network is probably the 'single-most important reason why Amazon (and other pureplays) have struggled to penetrate grocery e-commerce for mass-market groceries'.
They must also offer a complete range. The average family spends two to three hours every week on food shopping, and there tends to be a preference for one-stop shops. So retailers must offer a range that covers brands, private label and fresh food. To recreate a range across those three segments is very difficult.
They must also be able to offer an affordable food brand with mass appeal. And that takes time. Bernstein suggests part of the reason Amazon/Whole Foods struggle to appeal to the masses is that the two brands are at opposite ends of the scale in terms of price.
Finally, a grocer must have scale to offset sourcing costs.