Click & collect is coming to Crawley. That's what I discovered when I noticed a new click & collect Doddle shop being kitted out with purple branding at Three Bridges station, not far from The Grocer's HQ.
I suppose I'd describe myself a typical modern shopper. I buy most of my groceries from my nearest Sainsbury's Local in London; do the occasional top-up shop at my local Spar; and, because I don't have the time (or the inclination) to tackle Oxford Street on a Saturday, I tend to buy almost all of my clothes online. Sometimes I'm not in when my order is delivered, which usually ends in a free-of-charge repeat delivery (slightly inconvenient for me, and an expensive challenge for the supplier).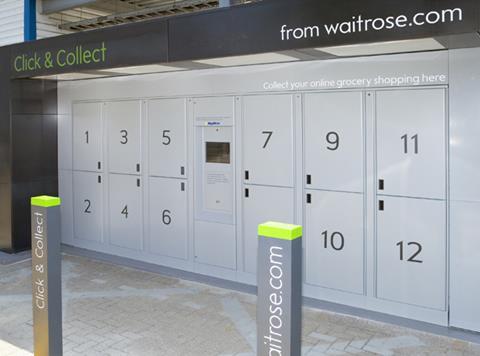 While I've embraced shopping online for general merchandise, I don't buy my groceries on the web. Instead I find it much easier to pop in to a store on my way home. But if there was an option to collect my order on the way home, I'd be quite likely to give it a go.
And fortunately, I suspect I won't have long to wait. For the age of click & collect is well and truly upon us: figures from Planet Retail suggest the number of shoppers using click & collect will more than double from 35% to 76% by 2017, and it seems almost every week there's a new development.
Waitrose announced yesterday it would launch a temperature-controlled click & collect service at Gatwick Airport's long-stay car parks from this autumn, along with four more London Underground stations (adding to the six it already served), plus three more as-yet unconfirmed transport hubs. Asda and Tesco, likewise, offer click & collect at a handful of Tube stations (albeit ones in the outer boroughs with car parks).
Also this week, Royal Mail and the Post Office created the UK's biggest click & collect network by opening its local collect service to 20,000 SME contract customers across its estate of more than 10,000 Post Offices. It's available to retailers in the grocery space and accepts items including alcohol, fresh fruit & veg and frozen food, and could provide independents with the breakthrough they need to get a piece of the click & collect action.
And that's not forgetting the sizeable c&c networks for general merchandise (InPost, Doddle and Local Letterbox are notable names); few of these currently offer a temperature-controlled service, although Doddle is looking into adding refrigerated units and is in talks with a "major" grocer, the identity of which is being kept under wraps.
Retailers, it seems, love click & collect – but I can't help but wonder: will they love the added costs of running it as their networks grow and grow? Especially while also fulfilling home delivery orders and keeping the lights on in their stores?