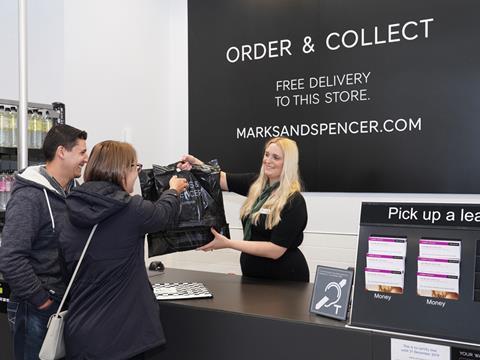 M&S has partnered with Doddle to enable M&S.com returns at 280 Simply Food stores, with more installations planned before the end of the year.

The upmarket retailer will be using Doddle's retail technology on existing devices in its stores for more straightforward and convenient returns. Before this link up, customers could only return items ordered online at larger M&S branches and collect orders from Simply Food stores.

Customers will also have access to Doddle features such as communications and tracking platforms, which Doddle said offer "seamless online to offline experience and drive incremental sales from increased store footfall".
This format was trialled at seven M&S stores from June 2017, with positive customer feedback. For instance, 90% of customers said they were extremely satisfied with the in-store experience, 85% confirmed the ability to return online purchases at Simply Food locations would encourage them to order more frequently, and 97% said they would use the service again.

"We've responded to increasing demand from our customers for more choice and convenience when it comes to collecting and returning their online orders. Providing customers with a consistent customer experience, regardless of which store they're in, is key to making every moment special," said Richard Pugh, head of M&S.com logistics and returns. "We are now better equipped to provide customers with quick and easy returns and refunds."

Doddle chief technology officer Gary O'Connor said; "M&S was looking to find a way to efficiently handle returns in its Simply Food network. We worked collaboratively to quickly launch the solution - enabling a rapid rollout across the M&S Simply Food estate."