Considering its size, Amazon moves very quietly. Yet that very size means it can't avoid leaving footprints, and therefore clues, of where it's headed. And although piecing those clues together means speculation, from a grocery perspective Amazon's intentions are clear. It fancies taking a big bite.

Amazon has dabbled in the grocery space for years (see box, over) but not in the same way as online players like Ocado. But that is about to change.

Amazon's grocery delivery service Amazon Fresh operates exactly like Ocado, only faster. It's up and running in the US, imminent in Germany and the UK is the next logical destination. So what are its chances of success when it gets here? And when is it likely to happen?

There is no sign of its bright green trucks in the UK (yet) but Amazon Fresh is the first of the three elements that make up Amazon's plans to conquer grocery. Fresh launched in Seattle in 2007 and has expanded to LA, San Francisco, San Diego, NYC, Philadelphia and most recently New Jersey (in May 2015).

Slow progress perhaps, but Amazon can afford to be patient. Throughout its short life (it turned 21 on 6 July) Amazon has put long-term vision before short-term profits, content to let its mammoth global sales (£15bn in Q1 2015) propel it along. And in March 2014, Amazon Fresh idled its way across the Atlantic and began preparing for a rollout in Germany.

Amazon chose Germany as its first overseas destination for Fresh because sales-wise it's Amazon's second-biggest market (£8bn) after the US (£34bn). In third place, with sales of £5bn, comes the UK.

Logistics

The second element is Amazon Logistics. Amazon chose the UK to launch a trial in the UK in 2012. It cuts out third party providers (like the Royal Mail) in favour of using two sorting centres, in Hemel Hempstead and Manchester, and 13 delivery hubs dotted across the UK. Each processes orders then hands the parcels to local couriers, which deliver them to their final destination.

"Amazon Logistics empowers local delivery companies to deliver Amazon packages to customers seven days a week," says Amazon.

"It complements our current delivery partners and provides additional capacity as more customers enjoy Amazon Prime."

Taking this trial model global would also save Amazon £121m in the UK and $3bn worldwide every year, according to a report from Parcelhero.com. And ByBox CEO Stuart Miller argues Amazon has always been a logistics company ("It's moving other people's stuff to consumers") rather than the technology company it's perceived to be and says it's likely Amazon will combine this existing non-food logistics operation with grocery, rather than set up a dedicated grocery logistics arm. Logistics is all about critical mass and if you don't have that volume you lose money," he says. "Amazon does have critical mass in non-food, so it will be interesting to see to what extent they can piggyback grocery on top of non-grocery and adopt a hybrid model. They would be the first people to do that."

The final piece in the jigsaw is Amazon Prime. If Amazon Fresh gives customers the opportunity to order groceries and Amazon Logistics ensures they receive them, it's Amazon Prime that will keep them coming back for more.

In the UK, joining Amazon Prime costs £79 per year. For that, Amazon shoppers receive unlimited free next-day deliveries, Netflix-style streaming TV and video, unlimited cloud-based photo storage and thousands of free Kindle books.

According to a report by Chicago-based Consumer Intelligence Research Partners, 45% of Amazon customers in the US had signed up to Prime by the end of 2014. And they are relatively big spenders, splashing out $1,500 per year, compared with $625 per year for non-members. Oh, and they shopped 50% more frequently. In the US, in order to use Amazon Fresh, shoppers have to sign up to a modified version of Prime called Prime Fresh. It costs $299 rather than $99 for standard Prime, but it offers unlimited same-day grocery delivery (something no UK online grocer offers). And if you live in one of 11 zip codes in Manhattan you can pay $7.99 and get your groceries inside an hour.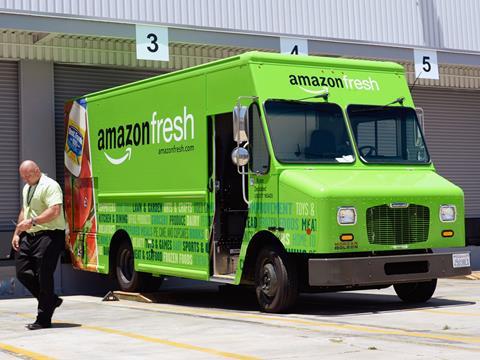 Prime problems

So far so good. "From a consumer perspective Prime is fabulous," says Miller. "But there is a huge amount of margin erosion for Amazon. It reminds me of their first mission statement: to deliver the best customer service on the planet. I'm sure they do, but it must be losing them money."

The appeal to Amazon is the "customer acquisition and retention" that it delivers, he adds. "You have to admire their long-term planning, but if you were being unkind you might describe it as an elaborate Ponzi scheme. Eventually the growth stops and somebody has to pay."

Indeed, Prime may already be proving a little too popular with customers for Amazon.

"Recently we have seen some very telling changes that hint at problems within," says Stuart Higgins, retail partner at LCP consulting.

Because Prime offers every customer next-day delivery, the usual ebb and flow of customers opting to pay for speedy delivery and those prepared to wait for days has been replaced by a fulfilment centre forced to work flat out 24/7.

To counter this demand, Amazon has pulled cut-off times for next-day delivery "as early as 5pm" and introduced a "no-rush" option, which rewards Prime customers who forgo next-day delivery with a £1 Amazon credit for digital purchases.

"It's the biggest hint that they have got their numbers wrong on next-day volumes and costs," says Higgins. "Amazon is trying to influence Prime customers away from the promised next day on to a longer lead time to lessen the impact on the fulfilment centres."

Final frontier

Another challenge for Amazon is that UK supermarkets are no slouches when it comes to online.

"The UK grocers have made substantial investment over the last 10 years to create highly efficient, large-scale distribution operations," says Craig Sears-Black, UK MD of Manhattan Associates, an omnichannel specialist that counts Asda among its clients. "British grocers have some of the most efficient distribution operations in the world."

Indeed, the UK has "established players with established capability that have been entrenched for years," says Higgins. And new entrants find it "hard going".

"Ocado took a long time to become profitable even though it partnered with Waitrose," he says. "And from what we see Morrisons is not gaining traction because the market is saturated.

"If an established grocer like Morrisons finds it hard to gain volume, someone not associated with grocery, like Amazon, will struggle. And their fulfilment centres aren't built for chilled and frozen food and it would need a different fleet, so the infrastructure costs would be huge."

It's hard to see Amazon being put off by the prospect of a challenge, however.

"My best guess is they might trial something on a local level in London, but they certainly won't offer a national offer at launch," says Higgins.

Time-wise, he says "acquiring a facility, setting up supplier relationships and bringing a fleet on board could be done in 18 months. Amazon could fast-track it quicker, but 12 to 18 months is probably the time horizon you are looking at."

Though set-up costs would be huge, the long-term benefits could be equally large, argues Professor David Grant, logistics professor at Hull University Business School.

He details plenty of challenges that lie in wait for Amazon, but also points out there will "be significant benefits from increased marketing opportunities to customers for Amazon's entire portfolio. Consumers usually buy groceries every week, as opposed to infrequent purchases of non-food products, so there is real potential to reach more customers on a more frequent and regular basis."

"To get to Walmart levels" Amazon needs the "enormous volumes" grocery offers, adds Miller.

"Grocery is one of the final frontiers for Amazon.

"It's an attempt to leverage the infrastructure they have, and their vast customer base. Ultimately asking themselves: what else can I sell these people?"
A brief history of Amazon and food
Last week, it was revealed Amazon plans to expand its nascent 'Elements' own-label range to include coffee, soup, pasta, dogfood and cleaning products.
Amazon has offered food in the UK since 2003, when niche cheeses, meats and chocolates were made available for shoppers.
It took a strategic step in 2006, offering bulk buys from 10,000 SKUs from brands including Kellogg's and Kraft and took a leap forward in 2010 when it launched an official grocery store (which is still in beta testing mode).
Today, Amazon shoppers can choose from more than 450,000 grocery SKUs, an incredible array that makes a vast Tesco Extra look like a compact corner shop, but while bulk buys of individual items can represent bargains, ordering a mixed grocery basket means using third party sellers, leading to high postage costs and multiple deliveries, which neuters the low price points on offer and makes a traditional weekly shop a no-no. That remains the case today.