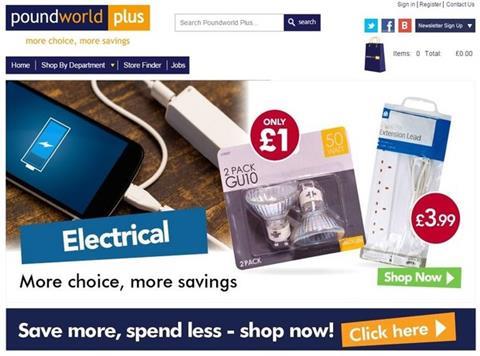 Poundworld has launched its new ecommerce website – Poundworld Plus.
The launch of the site, www.poundworldplus.co.uk, comes eight months after the discounter pulled out of the website Poundshop.com after just six months.
Poundworld said Poundworld Plus would offer its customers over 4,000 products at £1 as well as over 1,000 multi-price deals for more than £1.
Delivery will initially be £3.95 to the UK, with plans for EU-wide delivery in the summer. There will also be a next-day delivery option for £5.95.
"Value and convenience are top priorities for the UK shopper," said Poundworld trading director Chris Edwards Junior. "There is a huge consumer demand for an online store that delivers good, transparent value and consistent prices that the shopper can trust.
"As a retailer it's important for us to constantly progress and evolve with the times and so we've had a dedicated team working on the site for over one year to ensure that the shopping experience we are offering is easy to use," he added.
"No other online discounter on the market can offer the same amazing product range and value and we're excited to expand in to Europe later in the year."