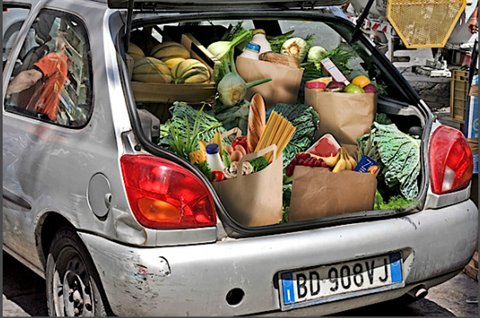 Uber, the world's biggest taxi company, doesn't own a single cab or employ a single driver. Instead, it has created a virtual taxi fleet out of cars people are already driving, using a virtual workforce. And it's taken the business world by storm - a round of funding in December valued the six-year-old company at £43.4bn.
Along the way, Uber has become a byword for disruptive future-thinking business strategy and the poster child for the so-called 'gig economy' - the army of independent casual workers who accept jobs, or 'gigs', on a purely temporary basis.
It's a growing phenomenon, with applications far beyond taxis. Other examples include TaskRabbit and - on the takeaway food side - Deliveroo. So what are the chances of the phenomenon shaking up grocery?
In the US it already is. Amazon, the biggest retailer in the world, has launched a scheme called Amazon Flex, which enables gig workers to sign up to become a member of Amazon's Prime Now delivery team, which delivers "tens of thousands" of products, including a wide range of grocery, inside an hour.
The Flex scheme is currently available in 14 US states, with workers selecting the length of time they wish to work for in two, four or eight-hour blocks, and delivering direct to homes using their own cars.
(The Prime Now service is also now available in five British cities, too - London, Birmingham, Manchester, Newcastle and Manchester - though it doesn't currently use gig workers).
It's easy to see the attraction for online retailers - and not just Amazon. The last mile is always the hardest and the most costly, and the high operational costs involved in picking and delivering groceries, combined with the lower gross margins, make online grocery doubly difficult.
Logistical pressures
Indeed the existing grocery e-commerce delivery model is creaking under the pressure of growing online sales and customer expectations.
Last July, John Lewis MD Andy Street said: "There's a huge logistical operation behind this system and, quite frankly, it's unsustainable." Sainsbury's director of online Robbie Feather echoed those thoughts at the IGD digital summit last November, saying UK grocery had created "the world's best online grocery industry" but had also "destroyed most of the value in that channel by removing the charge for the work we do, which is picking the product and delivering it".
Essentially, "people want deliveries for nothing, but there's no such thing as a free delivery" says David Jinks of logistics experts ParcelHero.
Yet it only takes a quick look at the furore Tesco's customers are still kicking up on Twitter to see what happens when you try and charge them.

Last August, when Tesco upped the size of the minimum basket spend required for free deliveries from £25 to £40 (anything lower would incur a £4 delivery charge), customers blasted Tesco on social media for being "greedy" and "discriminating".
So how would the gig economy ease the pressure? They would immediately save "around 30% by hiring an independent contractor in place of an employee," claims Shivali Chaudhry, solicitor at Hamlins law firm. "Plus they have the benefit of not having to guarantee work for them, which, during uncertain economic times, is particularly attractive."
Customer service levels are not up to the same high standards offered by UK supermarkets. Like Uber, Amazon carries out a background check, but beyond that little other human intervention is required, let alone management or training.
"I don't think people will be sticking thermometers into things, but equally I don't think people would settle for frozen food that's not frozen"

David Jinks, ParcelHero
In one YouTube video posted by tech blog Ars Technica, undercover journalist Sam Machkovech signed up for Amazon Flex and was told "we can't tell you what order to deliver the parcels in, or even to deliver them on time". It's rough and ready, but a business electing to use this method for delivery would leapfrog the problems of logistical infrastructure, and reduce delivery outlay to a simple hourly payment to a casual employee of about £15.
Drive fast
Delivering groceries also presents particular issues when it comes to food safety. The solution is primitive to say the least. Rather than using multi-temperature refrigerated trucks, Machkovech says Flex contractors were told to "drive fast". The gig drivers also accept responsibility for any delivery problems.
So would consumers turn a blind eye to less-than-pristine deliveries if costs were kept to a minimum?
"I don't think people will be sticking thermometers into things, but equally I don't think people would settle for frozen food that's not frozen," says Jinks.
And it's surely significant that Amazon Fresh uses the same refrigerated vehicles we've come to expect from the UK's major grocers, and doesn't hire gig economy workers. Amazon has refused to comment on any plans to introduce Flex in the UK (as with any plans for Amazon Fresh), but that doesn't mean the gig economy is not used by Amazon here. Amazon says Prime Now is "fulfilled entirely using independent delivery companies ranging from local to regional to national providers". It's therefore entirely possible one of these companies might use contractors rather than employees. One ad, specifically for an Amazon logistics job, working through a company called One Motion Logistics, suggests employees can choose from '1-6 working days per week' and must 'supply your own small van'.
So while Amazon does not specifically use the gig economy directly, ads like this suggest it's flirting with it. Who knows where this may lead?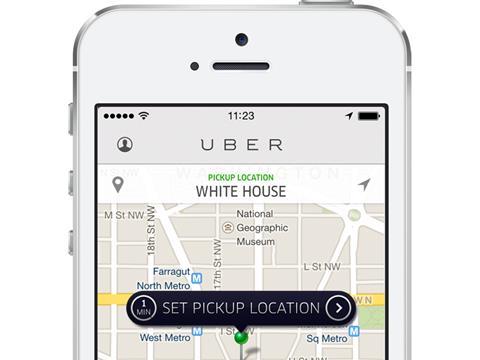 Employee rights
In the meantime, Uber has plans of its own for food. Like Amazon, Uber had nothing to do with food when it started. But now it's also getting peckish. UberEats, which is already up and running in Paris, offers delivery from local restaurants using gig economy workers. ParcelHero suspects a UK launch will take place this summer.
As to the big UK supermarkets, for the time being at least, they appear to have no plans when it comes to embracing gigging. Having spent so much money building up their online capabilities the general consensus is that UK online grocery is efficient and offers genuine value (losses notwithstanding) and that the major multiples are unlikely to risk letting their standards slip. A Tesco spokesman admits that using the gig economy isn't even on its radar.
"For many customers the delivery assistant is the only Tesco colleague they encounter, so we work extremely hard to make sure their number one priority is providing fantastic service at the doorstep.
"Our assistants undergo comprehensive training to make sure they can adapt to individual customers' needs. Our delivery vans are also designed to make sure food and fresh produce arrives in fantastic, store-fresh condition."
The fact that Uber is currently on the receiving end of myriad lawsuits concerned with everything from employee rights to passenger safety won't do anything to ease the nerves of a major multiple considering using the gig economy. As Chaudry says: "Many businesses will need to retain a certain level of control over the way workers conduct their duties. And often dependability is essential."
But for fringe grocery players at least, like a small high street grocer looking to offer deliveries in the local area quickly and simply, the gig economy and grocery could be looking at a future together. Even if it's an Uber driver who delivers it for them.