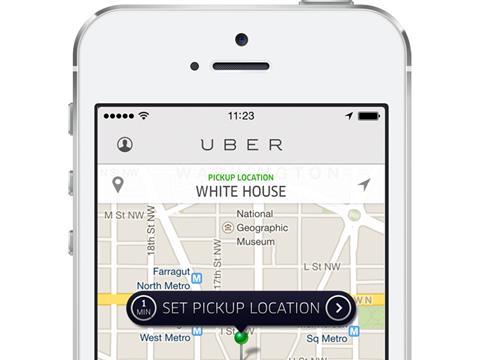 To Washington DC, where taxi app service Uber has caused a stir with an unexpected swerve into grocery delivery.
Launched on Tuesday, Uber's same-day service delivers a basket of goods by courier to residents in two areas of the city - provided they have registered with the company first.
"No need to race to the store after a long day at the office," San Francisco-based Uber says. "Now you can request allergy medicine, diapers, toothpaste and over 100 other items through the Uber app. This limited-time-only experiment will run for a few weeks – but the more you love it, the more likely it will last."
The strapline of the service - dubbed 'Corner Store' - is: "the convenience you love, the products you need now."
The hours of operation are Monday – Friday, 9am – 9pm, and there is no delivery charge or minimum order. Payment is made through the user's Uber account, which means there is no need to pay the courier cash or even a tip. Uber's experiment does not extend to fresh food; the items on offer range from bars of soap to soft drinks.
Uber of course is best known in the UK for its controversial taxi service, which uses GPS to calculate fares like a taxi meter. Licensed taxicab drivers say that only they can use taxi meters, and that Uber's operation breaches legislation that defines the two-tier system between black cabs and private hire cars. In June, taxi drivers brought central London to a standstill in protest. The company's offshore tax arrangements have also been questioned.
But Uber remains undeterred: since launching in 2009, it has set up taxi services in 70 cities worldwide; its investors include Goldman Sachs and Google Ventures; and it has been valued at a mere $17bn. Yesterday, it revealed it would open up its software to partner companies including Starbucks and United Airlines for the first time - which means you could end up ordering an Uber car through those partner apps. "Our mission is to bring transportation as reliable as running water to everyone, everywhere," Uber says.
Running a taxi service is one thing (even if said service seems like it may just take over the world). Groceries, as we know, are a different level of challenge.
Uber is merely the latest entrant in the US's fizzing grocery delivery market. There is Amazon Fresh and Amazon Pantry; Google Shopping Express; and personal shopping service Instacart. Most of these services are limited to a handful of cities for now, and all of them are grappling in different ways with the problem of getting food to people's doorsteps as quickly and cheaply as possible.
Uber describes its Washington DC effort as an experiment, and it seems to be just that; an attempt to disrupt and alarm the bigger players, as there's no way yet to see how its business model could actually turn a profit (unless it thinks its 'riders' can comfortably drop off groceries in between ferrying fares around town). Cracking the fresh food element is another significant challenge that I don't expect Uber to solve this time around.
But it's an ambitious company, and unafraid to fight hard (as its battles with regulators across Europe testify). Should it consider trying such a move in the UK, I wonder if we'll see Ocado drivers out on the road in protest.