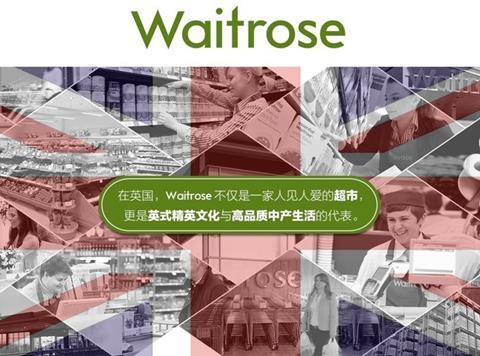 Waitrose has begun exporting to China through a solely e-commerce platform boasting a potential of more than 300 million customers.

The supermarket has predicted its China market will grow rapidly to become its biggest international business within three to five years.

Its China venture began today with just 30 initial products including iconic British favourites such as Earl Grey tea and Duchy Organic Shortbread biscuits.

But the retailer said it expected the range to grow rapidly within the next few months with more favourites from its premier organic Duchy range, Essential Waitrose and Waitrose 1 brands following.

"The potential for Waitrose in China is huge and, although it's a relatively modest start, it's our ambition to see it become our biggest international business in the next three to five years," said commercial director Mark Williamson. "We are proud that Waitrose is recognised around the world for quality, and are excited to be reaching new markets."

The China platform is the first time Waitrose has exported via a web platform only. Goods will be sold exclusively through Tmall Global, an online marketplace operated by the Alibaba group and claiming to be China's largest third-party online platform, with a 47% market share and more than 307 million buyers.

Within Tmall, Waitrose products will be in the Royal Mail store and handled by Avenue51, which will pick, pack and deliver them to customers.

As well as Earl Grey tea and Duchy shortbread biscuits, the opening Waitrose range includes coffee, cereals and nut, beauty, baby and organic ranges, notably the big-selling own-label Baby Bottom Butter.

"Avenue51 is proud that Waitrose has chosen to partner with us to drive the expansion of Waitrose's business into China via e-commerce," commented Chao Liu, chief commercial officer of Avenue51 .

"The Chinese market presents the world's greatest opportunity for retailers such as Waitrose and businesses like Royal Mail, which are seen as desirable and aspirational brands by hundreds of millions of Chinese consumers."

From today Waitrose will be exporting to 59 countries although it declined to give sales figures. It said 2014 research by e-retail analysts Interactive Media in Retail Group (IMRG) highlighted the potential of the Chinese online sector.

The IMRG report estimated that less than half of China's population of 1.4 billion was using the internet, although it was already the world's largest e-commerce market. The number of mobile internet users grew more than eight times in the last five years and was expected to surpass 700 million this year.

Richard Snowdon, international director at Royal Mail, said it was delighted to welcome Waitrose to the Royal Mail to join its distinctive range of quality British products, while Amee Chande, managing director, UK/Ireland & Nordics, from Alibaba Group, said Chinese consumers were seeking out high quality British goods.

Meanwhile, Waitrose confirmed it was no longer paying its staff premium payments but denied the changes were anything to do with the national living wage.

"We're owned by our partners who share in our profits - this year's bonus was 10% of pay," a spokeswoman said. "Changes were made by the John Lewis Partnership as a whole, to bring us in line with competitors.

"The Partnership assesses market rates and then we pay as much above that as performance deserves - this is why we have broad pay ranges, rather than spot rates."

Waitrose said its pay ranges typically extend further than many competitors with an average supermarket assistant rate currently being around £7.80ph, rising to £8.91ph and more in London.