A new study shows Amazon undercutting mults' prices by 12.5% on average. But will it remain too small a player to matter?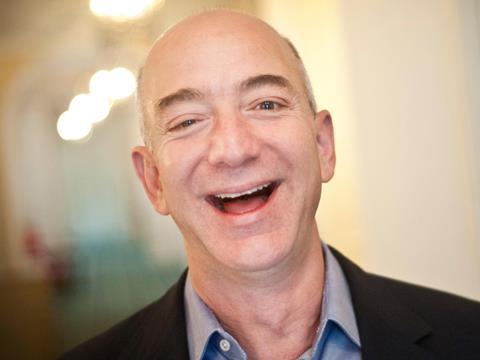 Jeff Bezos is famous for his maniacal laugh - and no wonder. Not only is he now the world's richest man (ever); new research from global management consultants Oliver Wyman show its fledgling AmazonFresh continuing to take a menacing price position against its rivals.

Based on a sample of 50 products, including fresh, ambient and household, Amazon is undercutting Tesco, Sainsbury's, Morrisons and Ocado by 12.5% on average, even offering Morrisons own label at up to 17% less than Morrisons itself.
Amazon vs supermarket prices
Milk (4 pints) 10% cheaper (£1 vs average £1.10)
Free-range eggs (six) 17% cheaper (£1 vs average £1.20)
Lurpak butter (500g) 16% cheaper (£3 vs average £3.56)
Cathedral City cheese (350g) 36% cheaper (£2 vs average £3.13)
Fillet steak 16% cheaper (£5.40 vs average £6.43)
Chicken breast 15% cheaper (£1.99 vs average £2.34)
Tyrrells salt & vinegar crisps (150g) 43% cheaper (£0.99 vs average £1.72)
Cadbury Dairy Milk (200g) 20% cheaper (£1.60 vs average £2.00)
Napolina extra virgin olive oil (500g) 29% cheaper (£2.50 vs average £3.54)
Napolina Spaghetti (500g) 27% cheaper (£0.80 vs average £1.10)
Coke Zero (8 x 330ml) 12% cheaper (£3 vs average £3.39)
Pantene Classic Care Shampoo (400ml) 32% cheaper (£2 vs average £2.93)
Methodology: Prices were collected on 3-4 January for 50 SKUs, comprising own-label and brands, across fresh (21) ambient (23) and household (6). Supermarket prices included all promos. Where a product wasn't available, the nearest equivalent was selected (only the case for two SKUs in two supermarkets).
Standout examples include savings of up to 43% on basics like cheese, crisps, chocolate, chicken and Coke (see box). On average, Amazon was equally priced or cheaper on at least 70% of the basket. "We were quite surprised," says Nick Harrison, global co-leader for retail at Oliver Wyman. "It's just one quick check, and Amazon change prices quickly, in fact some have changed since prices were checked on 3 and 4 January. So it's not particularly scientific, but it's an interesting challenge for the multiples."

Amazon may be deploying "keen pricing while they build penetration, so I wouldn't say for sure this is how they are going to end up. But it's an interesting indication of how flexible Amazon is if they are testing prices far below the standard price at the supermarkets, even if they don't end up settling there."

It's not that much of a surprise to see Amazon coming in cheaper, says retail analyst Nick Bubb. "On this basis Amazon will clearly be losing a lot of money, but that doesn't matter to them in the short term. It's all about growing long-term market share and customer loyalty."

It's "fortunate" for the supermarkets that "not everybody is an Amazon Prime customer or even wants to be," he adds.

It's true the initial up-front cost of doing the grocery shop on Amazon may be offputting to some. There are two options: pay £79 for Prime, plus a £6.99 monthly subscription (a Fresh add-on) to access its low grocery prices. Or a shopper could split the cost monthly, paying £14.98 per month for a 'Prime & Fresh Bundle' (£179.76 a year).
Bundle
On the surface that looks expensive, so despite Amazon's "unrivalled assortment and ultra-fast delivery, no shopper in their right mind would shell out £15 a month for access to prices you could find at Tesco," says Natalie Berg, global research director at Planet Retail. But Prime and Fresh can be trialled for free for 30 days. And Prime includes speedy one-day delivery, Netflix-rivalling streaming video and Spotify-rivalling Prime Music, the Prime Reading library, unlimited cloud photo storage, and much more.

If the £79 for Prime is put aside as paying for all the other benefits, a shopper would pay £6.99 a month for Fresh (delivery is free on orders over £40), which is roughly in line with the supermarkets. It's why Bubb says the supermarkets would be "unwise to rely on that advantage for ever. Amazon is bound to make its overwhelming presence in online non-food translate into online food eventually."

"That's the crucial thing," says Harrison. "Amazon is thinking about the economics of its customers across its businesses, across Fresh, what they spend on books, music… it's a different model that takes a more holistic perspective," says Harrison. "And if your customers are spending across a whole bunch of areas you can be more selective over where you make more margin."
Whole foods
When you add in Pantry and Dash, initiatives like Subscribe and Save (set up monthly orders for regular but dull purchases like toothpaste and save 15%), its £10.7bn purchase of Whole Foods, rumours of a rollout of tech-heavy UK c-stores, and its sheer popularity with the next generation of shoppers, Amazon is unquestionably progressing with intent.

"Like in non-food, Amazon groceries won't always be the cheapest, but they will be competitive and ultra-convenient, and that's a compelling enough proposition for many shoppers," says Berg.

And shoppers are responding. UK grocery sales at Amazon sites are on the up, hitting £25m in Q1 2017, an increase of £5.8m (or 30%). But for context, Ocado, Amazon's closest rival in terms of rival pure-play online, recorded sales nudging £1.3bn in 2016. And even that only gives it a market share of 1.3% [Kantar Worldpanel this week.

"Amazon is growing rapidly, but currently accounts for just over 1% of online fmcg in the UK," says Fraser McKevitt, head of retail and consumer insight at Kantar Worldpanel. "The e-tailer has already seen success in higher-value items including toiletries, nappies and electric toothbrushes, but it is yet to have a marked impact on wider grocery. So far, Amazon's primary impact on the wider market has been to focus the minds of consumers and competitors on price, but this is yet to be followed by any notable market share increases.

He also highlights "fairly low own-label availability" in a "nation where nearly half of most people's shopping baskets is made up of own-label lines. Shoppers are also much more loyal to their online grocer than one they might visit in person.

And "Most Prime members still do their online grocery elsewhere. To overcome these obstacles and accelerate its growth, Amazon needs to think carefully about how it can persuade shoppers to associate it with a straightforward weekly shop."