Everyone is on social media nowadays. Brands and retailers are no exception. So who's doing it best? So what are those at the top of the leaderboard doing right to take advantage of this evolving digital environment, and are the laggards missing a trick?
Irn-Bru and Aldi topped their respective tables, according to specially commissioned research by The Grocer. Sales at both also happen to be rocketing right now. Coincidence? Probably, but in a becalmed grocery market, knowing how to grow and engage your digital following to amplify your marketing can help move the needle on market share.
Social is becoming ever more central to the brand's marketing efforts as millennials spend ever more time on their phones, and older consumers embrace digital devices in greater numbers too, says Steve Sponder, MD of content marketing and social agency Headstream, which carried out the research.
Pay to play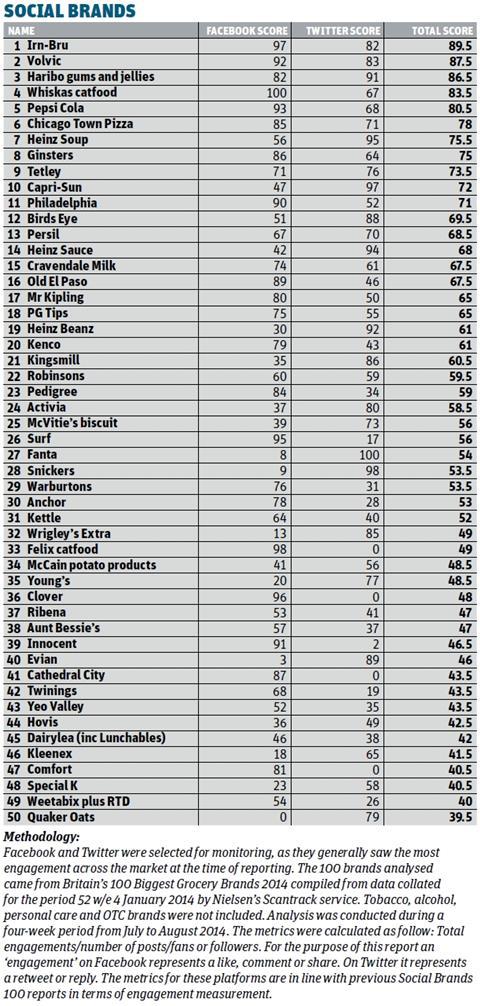 "Social media budgets are increasing and brands are carving out cash from budgets to support real-time marketing," says Sponder. "All the brands have said social media plays such an important part in their plans because that's where everyone spends their time now. And all the top-performing brands have expressed their happiness with the results social is delivering."
A common feature of many brands that performed well in Headstream's survey (based on social media data taken from four weeks in July and August) is their successful embrace of Facebook's new 'pay to play' approach, where brands and retailers pay to inject their content into the news feeds of their ideal target demographic.
"They test the water with different content by seeing what response it gets organically and then broadcast the most successful posts more widely through paid promotion," says Sponder.
Many of the brands that appear lower down the table are producing useful or engaging content but it is not getting seen by consumers on their newsfeeds, which suggests not all brands are supporting it by paying for it, he adds.
Spreading and sharing
While this paid-for approach may be unwelcome compared with the free ride brands once enjoyed on Facebook, the value of this paid content is that it can also be highly targeted. Sponder points to a "growing use of brands targeting similar people to their Facebook fans via Facebook's lookalike feature."
There is also a greater emphasis on the quality of the content the brands are producing. "The focus before was on doing something every day," he adds. "Now it's better to post nothing than something average. You now have to assess every piece of content and ask: 'What does it offer? Will it get spread and shared?' Everything has to have social currency, either useful or entertaining information or monetary, such as competitions, coupons or freebies."
Engagement and advocacy are the key aims, says Ian McCarthy, marketing controller for Heinz, which had three brands in the top 20 Social Brands 100 fmcg Ranking (for sauce, soup and baked beans.) He says Heinz uses social media as a 'test and learn' platform for advertisements, uses monthly content calendars to look for opportunities to be topical, and deploys monitoring tools to track brand mentions.
When allocating paid media in social, Heinz dedicates the most funds to key brand campaigns, like its Heinz Tomato Ketchup Grow Your Own campaign, which reached 11 million people.
Nimbleness
For Pepsi Max, ongoing engagement has become more important than growing its following per se. That might be easy for Pepsi Max to say, given it has the largest Facebook community in the ranking's top 25, but increasingly just having a huge amount of likes on a Facebook page means nothing if the page owner doesn't interact with them.
"The ethos is, if we're able to engage with fans at mass scale, then our social footprint will grow as a result," says Aman Matharu, digital marketing manager of beverages at PepsiCo. He adds that flexibility and nimbleness are also becoming seen as more important now.
To this end, included in Pepsi's budget is an 'always on' pot, which allows funds to be reserved for boosting content in real time, aside from the budget already assigned for the big campaign pushes.
Like PepsiCo, the other leaders in the rankings have dedicated time to try and understand their customers and seek to engage them in conversations about the content they put out there, rather than simply trying to broadcast sales messages.
It is a contributing factor towards the Whiskas brand having the highest engagement score out of all the brands on Facebook, says Anthony Dean, Mars Petcare's premium cat portfolio manager, who points out that the "vast majority of the images on our Facebook and Twitter feeds have been shared with us by our fans."
All are excellent examples of how to be social in 2014, but what about the brands at the bottom of the rankings? Are the laggards making mistakes? Not necessarily, says Sponder.
He points out that the table is a "snapshot" of the brands' performance over time, and those who may not be getting high levels of engagement may simply be going through a quiet campaign period.
The results also reflect - to an extent - the different qualities and potential of Facebook and Twitter. Some types of engagement on Twitter may not always be reflected in the rankings, Sponder adds.
Innocent, for example, aims to reply to most tweets it receives but gets little credit for this in the rankings as this kind of activity doesn't necessarily spark sharing activity.
Twitter training
This may do a disservice to Twitter, whose most useful proposition for brands and particularly the grocers, is as a customer service tool, says MD of Diffusion PR Daljit Bhurji. "The use of social media as a customer service channel has come to the fore a lot recently. People want to ask questions or make a comment and they expect a faster response these days. It's something fmcg and retailers are having to respond to and we are seeing restructuring in their teams now. A lot of time and effort is going into training customer service teams [to use Twitter]."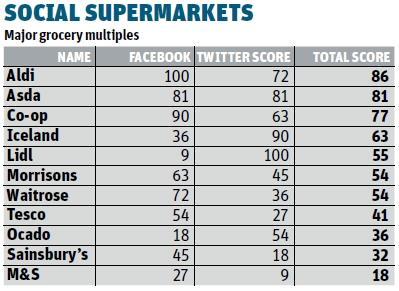 They are wise to. Social media has opened up a whole new channel for brands and retailers to advertise through - and for some to sell through, too. As far back as March 2011, Heinz pioneered sales through Facebook, becoming the first fmcg company to combine grocery sales with social media when it offered 3,000 bottles of a special edition ketchup with balsamic vinegar to its Facebook fans weeks before the flavour variant hit supermarket shelves.
Facebook meltdown
However, arm in arm with that advertising and sales potential comes the potential for things to go drastically wrong. Nestlé suffered an infamous Facebook meltdown when its page was hijacked by eco-warriors furious about the use of palm oil from deforested areas of Indonesia in 2010.
That means fmcg has to understand how to take the rough with the smooth. And more recent scandals have proved that Facebook can equally be an invaluable way of communicating directly with customers as Aldi - the number-one retailer in our survey - demonstrated so convincingly during Horsegate. After being dragged into the scandal, Aldi used Facebook to launch an attack on its rogue suppliers and came in for praise from the majority of its Facebook fans.
It might not just be Facebook and Twitter they need to get to grips with, however. Other social media platforms are showing a great deal of promise for certain categories of product.
"Pinterest is certainly one to watch," says John Barton, managing partner and co-founder at Testify Digital. "There are some crazy click-through rates on fmcg and food brands on Pinterest [a social media site that allows users to post and build up a collection of images]. Strong imagery is attracting foodies and housewives as it works well with food and clothes in particular."
A similar, but more established image-based website is Instagram, which Barton says will be "the other interesting one to watch. Instagram has a nice user experience and will be going live with advertisements in the coming weeks."
Given the success of Facebook and Twitter, both of those could prove to be valuable additions to brands and retailers. Especially those who understand how to do business, social-style.

The brands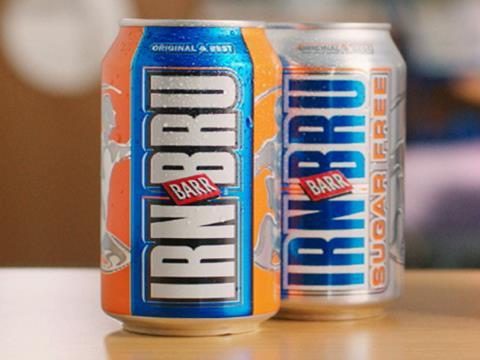 Irn-Bru (1)
Bold, irreverent and outspoken in tone, top performer Irn-Bru's ranking was probably also helped by the afterglow of its most recent social campaign Irn-Bru Gets You Through, supporting this summer's Commonwealth Games in Glasgow.
Irn-Bru uses video extensively across social platforms that receive high engagement levels. A lot of its branded content is unrelated to the beverage industry and instead draws on wider cultural issues, and references timely news and events.
Whiskas (4)
The top scoring brand on Facebook, Whiskas' aim in its social activity is to share useful feline-related information. Most content includes visuals of cats, which isn't seasonal or campaign-related, so it invites consistent engagement all year round from cat lovers, helping create a loyal community of brand advocates. These users are keen to share their photos of their pets with the brand and this is then shared by Whiskas on social channels.
Pepsi (5)
Pepsi Max has changed its social media objectives in the last couple of years, no longer chasing fans but instead focusing on quality of content. It receives high engagement rates through content that its community finds valuable, such as competitions where the community is asked to follow/retweet in order to enter or through monetary gain (sports or music tickets for example) in turn for engaging with content.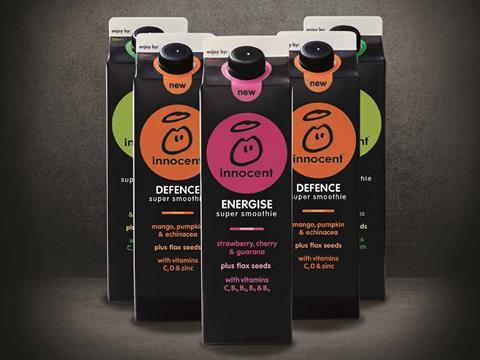 Innocent (39)
The smoothie brand is informal and chatty in manner, and this may be one of the contributing factors to its low engagement rates. On Twitter, for example, the brand offers great customer service by replying via @mentions to the majority of users who actively engage with it. It is these interactions that may have brought the brand's engagement score down. This raises the question as to whether engagement is the best metric for which to rank brands, now that the social media landscape is changing.
Red Bull (84)
The energy drink brand fared much the same as Coca-Cola in the engagement-focused ranking, for similar reasons. As Facebook has now reduced brand organic reach (which means how many fans see their content in their newsfeeds) to a minimal percentage, Red Bull's content still receives high levels of engagement in the form of likes, comments and shares, but this is not proportional to the significant sizes of its Facebook or Twitter communities (44 million and 12,000 respectively).
the supermarkets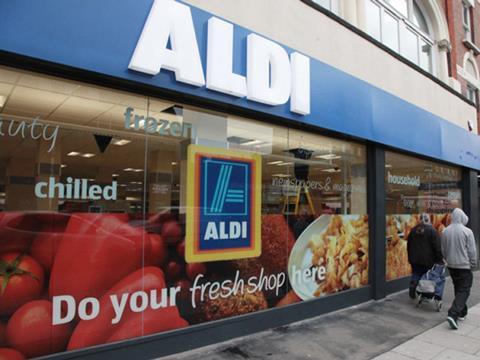 Aldi (1)
Perhaps surprisingly, Aldi came out on top in the rankings. After all it has half as many followers on Facebook compared with M&S, and a third as many as M&S on Twitter. Yet Aldi scooped top spot while M&S was last. So what's going on?
It shows you still have to engage your fans and probably reflects the new Facebook reality, says Sponder.
M&S (11)
M&S has gained good results from some of its social media activity; indeed it has appeared at the top of other social media rankings in the past. It has been generating engaging shareable content, such as pictures of übermodel David Gandy looking moody in his pants.
"It's generating thousands of likes for every photo," says Bhurji. "It's obviously shareable content that a female audience can engage with."
So why the low score? "You can't fault what M&S is doing in terms of content," says Sponder. "They are creating a nice variety of it and getting high engagement levels. However, for M&S to garner top results, they have to pay for getting content out to people. If you want to get involved you have to pay to be big players in social media now. There is no point having millions of Facebook fans unless you support your campaign with paid media to make sure it ends up in the news feeds of the right people."
Asda (2)
Conversely, Asda seems to be reaping the benefits from its content strategy, notably its YouTube channel Mum's Eye View, which features vloggers (video bloggers) including vlogger megastar Zoella talking about cooking and shopping featuring Asda products.
"It's appealing to an audience of young mums and doing really well," says Sponder. At last count, the channel has over 57,000 subscribers and its videos, which are effectively Asda advertisements, have been viewed more than two million times.