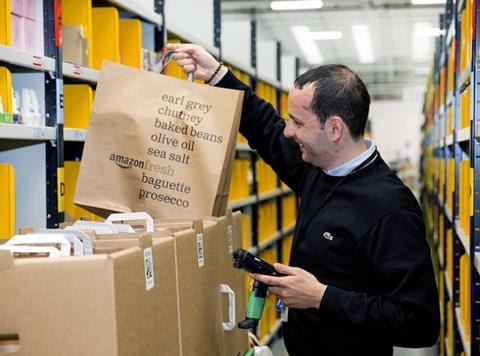 The Eagle has landed. A new era has dawned. It's a watershed moment. The end of the world.

Hyperbole (and hypertension) was inevitable as the world's biggest retailer chose London in which to launch the first international outpost of Amazon Fresh this week. Yet I'm puzzled as to why Amazon would bother with bothersome online groceries in the UK. Its dominance in non-food has prompted Sainsbury's into a risky liaison with Home Retail Group. Tesco is making a decent fist of its recovery but, as its ailing share price attests, it is weighed down with debt and pension obligations. Asda is meanwhile rumoured to be 'going nuclear' on price as its share declines at an alarming rate. Morrisons, too, is in retrenchment mode.

Then there's UK online grocery. Consumers love the fantastic service. So it's hardly surprising sales are growing. As Amazon says: "The bar is exceptionally high." On the other hand the big four's online operations are struggling to make economic sense and have arguably proved a massive distraction. And Ocado is like a mini Amazon. Lots of growth. Great service. Little profit.

It's not that I'm writing off Amazon's chances. It will unquestionably bring innovation to the market, whether through its novel curation of local shop produce or its simply enormous range. And its policy on substitutions will only enhance its reputation for service. It's also clearly going to compete on price, as our Grocer 33 analysis attests.

But Ocado and Tesco already do same-day delivery. And Amazon Fresh will not offer the same astonishing speed of service our trials of Prime Now promised. Even enabling customers to see for how long products will be fresh is not unlike a service Ocado offers. And one wonders just how high Amazon's food waste levels will be (and what it plans to do with it, not least given our Waste Not Want Not campaign!).

Make no mistake. Amazon Fresh will raise the bar still further. But it's not competing with little local bookshops here. It's muscling in on a fiercely competitive, unprofitable niche. Where even if the market doubles, the total pot from which it will share the spoils will be £17bn, less than 10% of the market.