Morrisons is launching a new vegan-friendly range called Plant Revolution. The lineup features a host of whole meal and ready to eat offers, and will eventually subsume the retailer's existing V Taste range, which centres on staples and ingredients such as sauces and cheese alternatives.
The new range features colourful packaging, designed to stand out and make plant-based food more appealing to consumers.
"We want our customers to enjoy eating well, no matter what diet they choose to follow," says Emily Bell, Plant Revolution brand manager at Morrisons. "For part-time plant eaters, fully fledged flexitarians and the purely plant-based, our new Plant Revolution range delivers the bold and exciting flavours we know they're looking for"
Caramelised Onion Arancini Bites
£2.50
These frozen balls are coated in a gluten-free crispy red pepper crumb and filled with caramelised onion to make for a "gooey centre".
Meat Free Hotdogs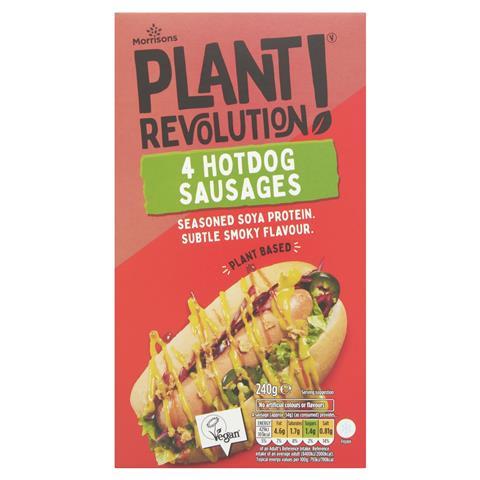 £1.75
Well ahead of the summer season, it's lucky these hotdogs are frozen. They're made from seasoned soya and wheat proteins, with "subtle smoky flavour", says Morrisons.
Penang Curry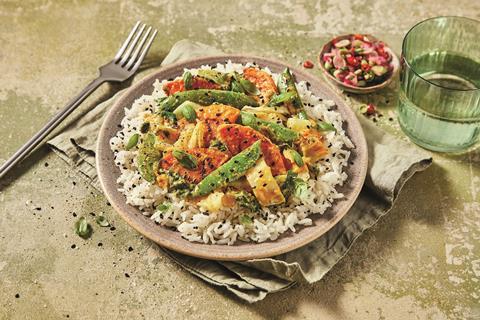 £3.50
This microwaveable ready meal is described by Morrisons as an aromatic red Thai-style curry sauce with butternut squash, sugar snap peas and nigella seeds on a bed of jasmine rice.
Other ready meals in the range include:
Veg paella (£3)
Spinach ravioli (£3)
Mushroom bolognese (£3)
Sweet & Sour No Chick'n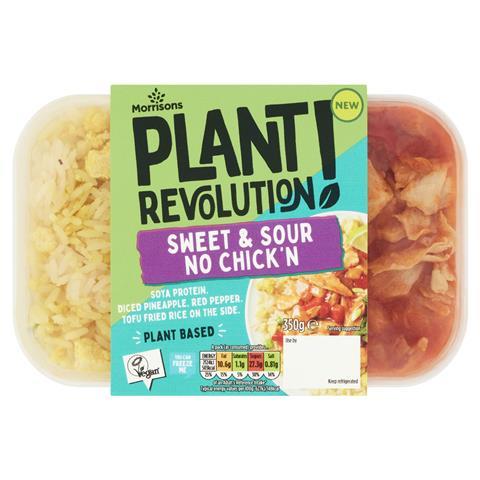 £3
Morrisons has replaced takeaway staple egg fried rice with tofu fried rice to go with its soya-based faux chicken pieces in a sweet and sour sauce with pineapple and red pepper.
Firecracker udon cauliflower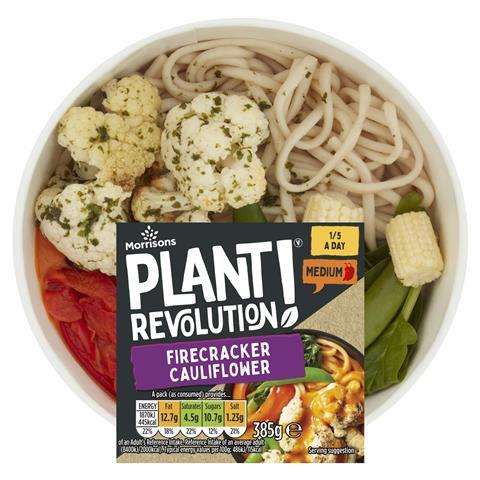 £3.50
With a medum spice rating, this bowl contains udon noodles, baby corn and a fiery sauce, adding up to one of the recommended five portions of fruit & veg per day.
Beefless Wellington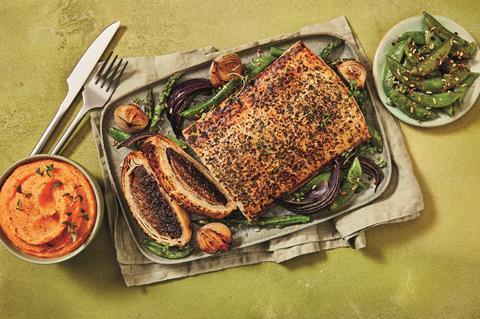 £3
This product was previously in the V Taste range, but moves into Plant Revolution. It features seasoned soya protein to make up the beefless element and a mushroom duxelle made with amontillado sherry, all wrapped in a flaky puff pastry.
Chorizo-style sausages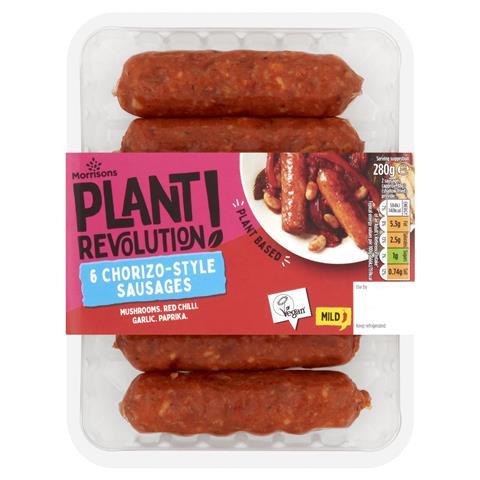 £3
Made with mushrooms, these sausages are flavoured with red chilli, garlic and paprika to emulate the signature chorizo flavour.
No Chicken Shawarma Flatbread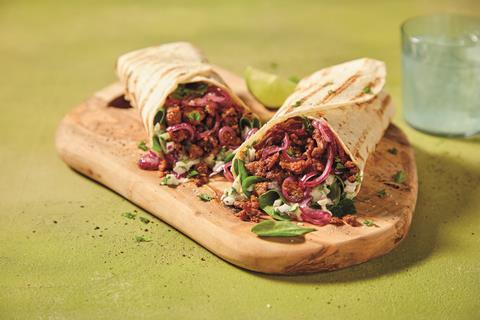 £2.75
This wrap will become part of the food-to-go range. It contains wheat protein pieces, with spinach, pink pickled onions, mint and vegan mayo.
Shredded hoisin no-duck pancakes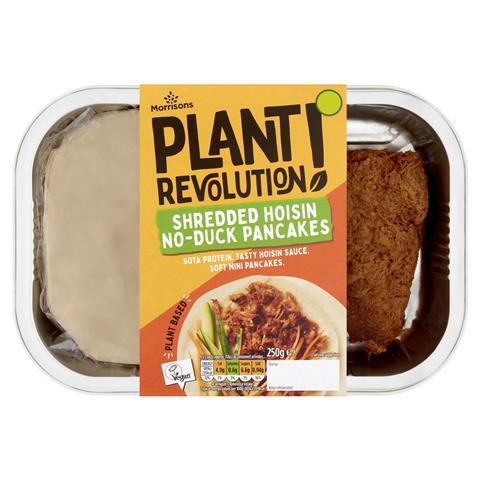 £3.50
The king of fakeaway, these mock duck pieces aim to replicate everyone's favourite starter to a Chinese feast. The soya protein pieces come complete with soft mini pancakes.
Chocolate vegan cupcake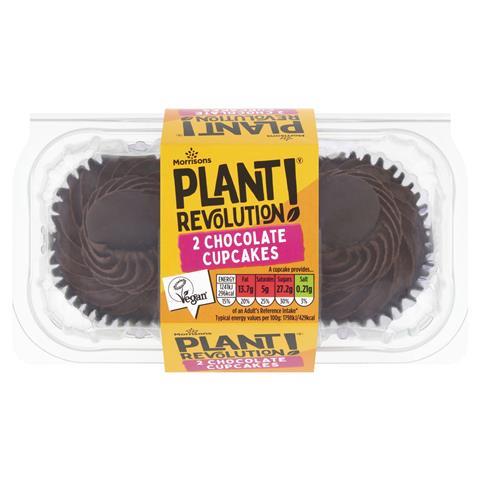 £TBC
Another SKU migrating over from the V Taste range is this two-pack of chocolate cupcakes. They're a triple threat with chocolate sponge, chocolate sauce filling and a dark chocolate frosting.
Pumpkin falafels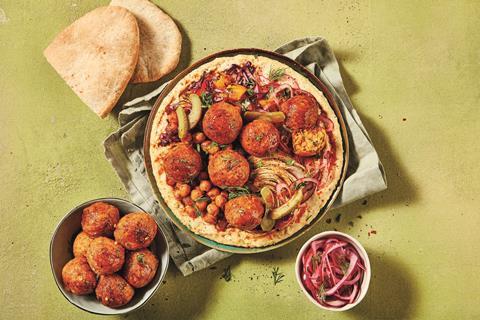 £2.50
The retailer is aiming to take street food to a healthier next level with these pumpkin, crushed chickpea and tahini falafels.
Vegan stuffing roast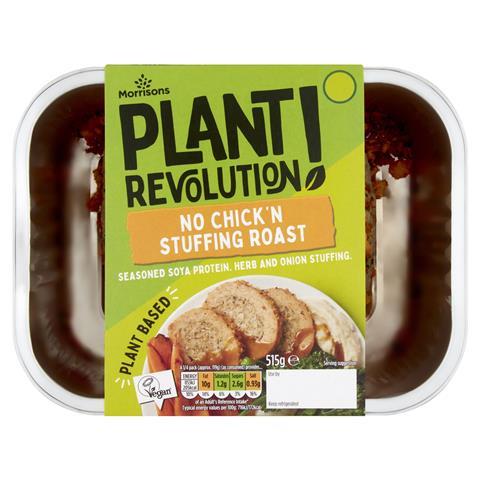 £3.50
For the Veganuary Sunday roast, Morrisons presents this seasoned soya protein and mushroom loaf filled with a herb and onion stuffing.
Ceasar-style dressing
£1.25
No parmesan or anchovies here. Morrisons' "rich and savoury" condiment features yeast flakes with a hint of garlic to replicate the flavour.
Tomato & herb pasta sauce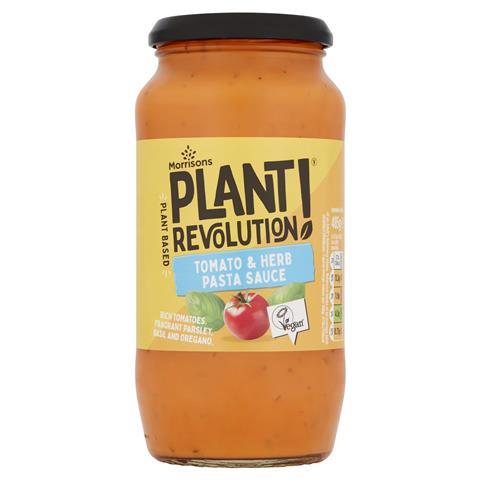 £1
The retailer is moving the Plant Revolution label on to some of its existing own label products to empahsise their vegan credentials. This pasta sauce contains tomatoes, parsley, basil and oregano as the main ingredients.