The convenience retailer is erring on the traditional side for its Christmas offer this year, taking festive favourites such as salmon, pies and pigs in blankets and elevating them with innovative flavour combinations and formats. We take a closer look at some standout products from the range.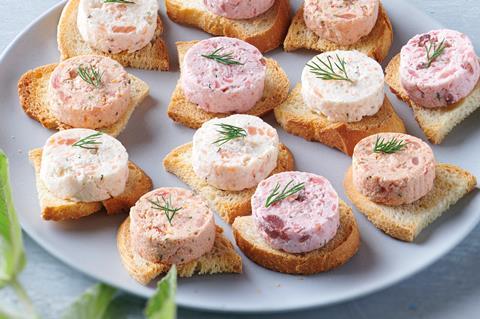 Smoked Salmon Appetisers
Rsp: £3/nine-pack
This selection of creamy appetisers features discs of Scottish smoked salmon combined with cream cheese, tomato, lemon and dill.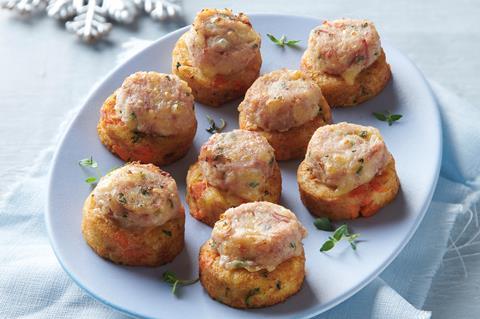 Melting Cheddar & Ham Hock Bites
Rsp: £3/eight-pack
Featuring a base made from bubble & squeak, these bitesize nibbles are topped with a melting mixture of ham hock and cheddar cheese.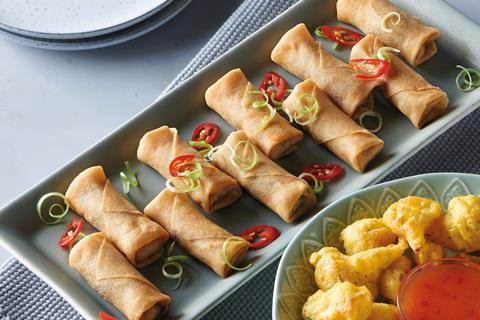 Gro No Duck Spring Rolls
Rsp: £2.25/10-pack
A new addition to the retailer's Gro vegan range, these spring rolls contain a mixture of seasoned vegetables, jackfruit and oyster mushrooms wrapped in crisp filo pastry.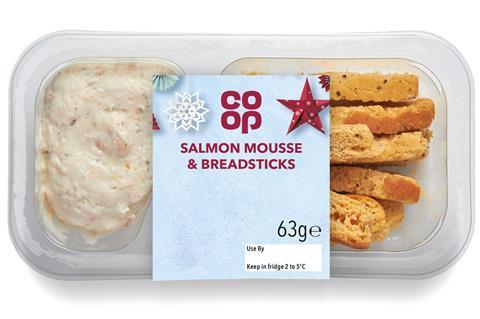 Smoked Salmon Dipper with Breadsticks
Rsp: £2/63g
For a festive flavour hit on the move, this snack pack contains a creamy smoked salmon mousse alongside salt and black pepper baked breadsticks for dipping.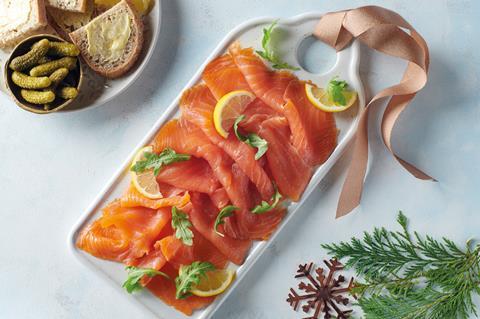 Irresistible Scottish Smoked Loch Trout with Whisky & Honey
Rsp: £4/100g
This sweet and smoky Scottish trout has been kiln-smoked over oak and infused with honey and single malt whisky.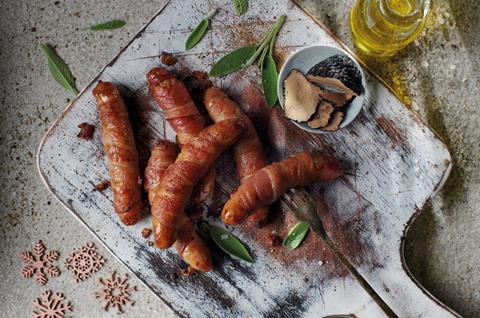 Irresistible Posh Chipolatas in Blankets
Rsp: £3.30/six-pack
The Co-op has elevated the humble pig in blanket by adding truffle oil and chestnut to these British chipolatas, which are wrapped in oak-smoked streaky bacon.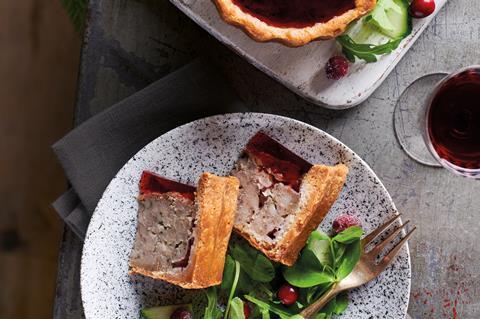 Irresistible Cranberry & Port Flooded Pork Pie
Rsp: £4/440g
Encased in traditional hot water crust pastry, this hand-finished pie contains cuts of British pork seasoned with herbs and spices, topped with a rich red jelly of sweet cranberry and port.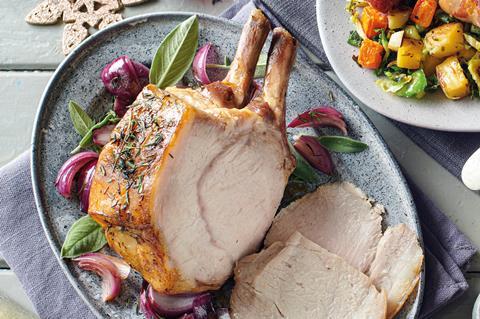 Irresistible Pork Rib Rack Joint
Rsp: £12/kg
One of the Co-op's standout centrepieces this Christmas is a French-trimmed pork rib rack joint, which is seasoned with rosemary, thyme and Cornish sea salt.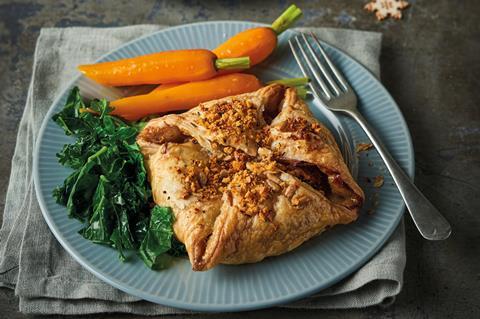 Gro Root Veg En Croute
Rsp: £4/384g
This plant-based parcel from the retailer's Gro range features a root vegetable, orange zest and cranberry sauce filling encased in vegan puff pastry.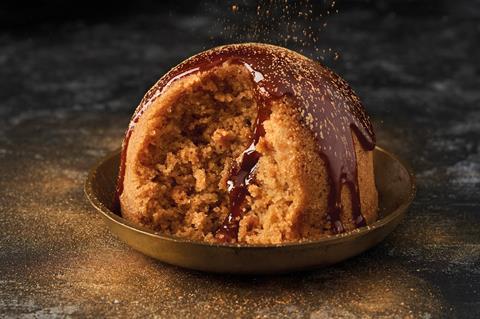 Free From Irresistible Burnt Caramel Sponge
Rsp: £4.50/400g
It may be free from gluten, but this indulgent pudding is certainly full of flavour. It comprises a moist fudge sponge topped with rich burnt caramel sauce and finished with a dusting of gold shimmer.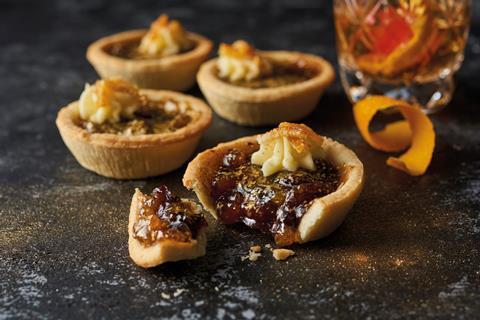 Irresistible Old Fashioned Clementine Buttercream Mince Pies
Rsp: £2
Inspired by the whiskey cocktail, these boozy mince pies feature all the flavours of a classic Old Fashioned. The all-butter pastry cases are filled with a bourbon and bitter orange mincemeat, topped with clementine buttercream, caramelised orange strands and gold lustre.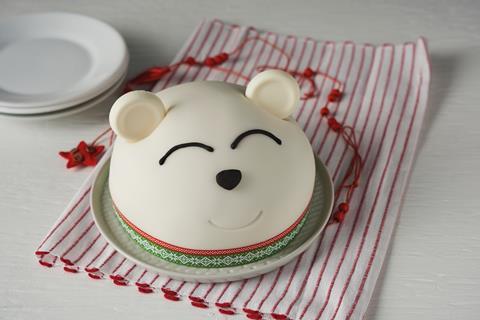 Polar Bear Celebration Cake
Rsp: £7
Complete with ears and a friendly looking polar bear face, this festive cake features layers of sponge, sandwiched with raspberry jam and frosting and encased in soft white icing.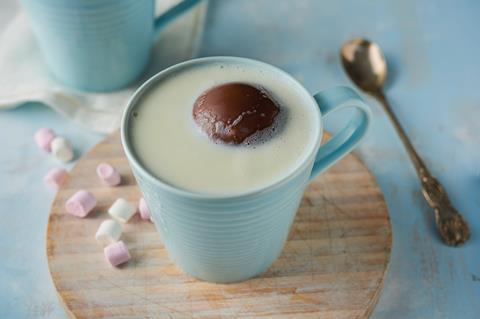 Melting Hot Chocolate Bombe
Rsp: £1.50
Drop this milk chocolate bombe into a mug of hot milk and it'll melt in minutes, creating a creamy hot chocolate packed with mini marshmallows.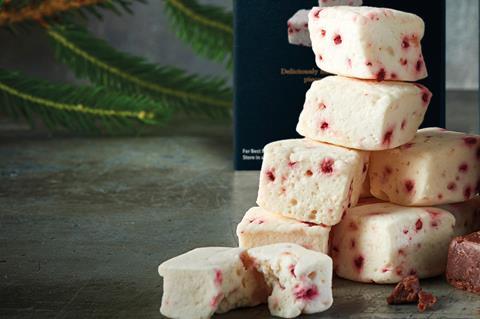 Handmade Sour Cherry Marshmallows
Rsp: £2
Soft, sweet and sour all at once, these fluffy handmade marshmallows from Co-op's Irresistible range are studded with pieces of tangy cherry.