From stocking fillers to luxury items, upmarket retailer Fortnum & Mason has a number of new products to tempt shoppers this Christmas. These include world-exclusive confectionery and a never-before-seen hamper.
Beluga 000 caviar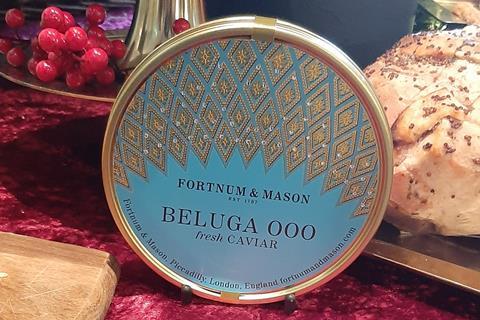 Consumers looking for pure decadence on their Christmas canapés should look no further than Fortnum's Beluga 000 caviar. The name comes from the grading of the hand-selected Huso Huso sturgeon eggs, which have been given 'zero' for egg size, colour and flavour. Described as the 'pinnacle of quality' for caviar, the product is available in 50g (rsp: £370) and 125g tins (rsp: £850).
Pickled Clementines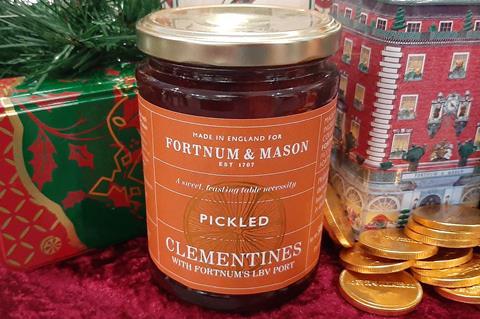 Forget a simple clementine in your Christmas stocking. Fortnum's is going a few steps further, tapping the pickling trend with these Pickled Clementines with LBV Port (rsp: £9.95/500g). Bold red in colour and intensely sweet, they can be enjoyed as a dessert or as an accompaniment to salty cheese, says the retailer.
Christmas Tea Biscuits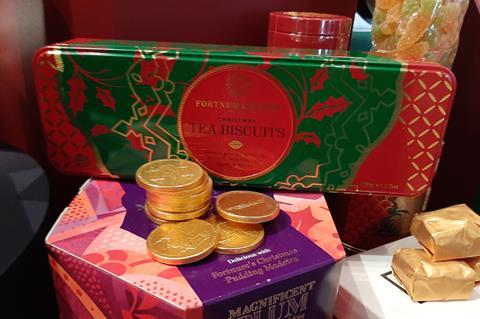 Fortnum & Mason is famous for its tea and biscuits and recently combined the two with the launch of its Tea Biscuits range. It is now launching a festive version, infused with the flavour of its signature Christmas tea (rsp: £9.95/120g).
Chocolate Orange Biscuits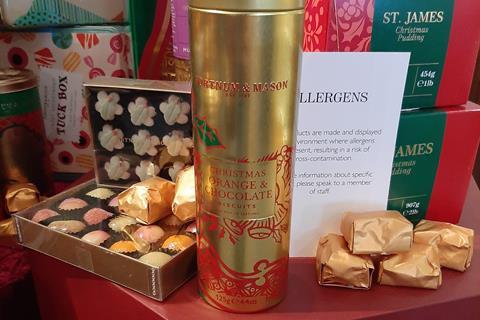 Joining Fortnum's range of iconic cylindrical biscuit tins this year are these Christmas Orange & Dark Chocolate Biscuits (rsp: £5.95/125g). The product's stocking-friendly size and price point make it ideal for a final top-up gift, says the retailer.
Glacé Kea Plums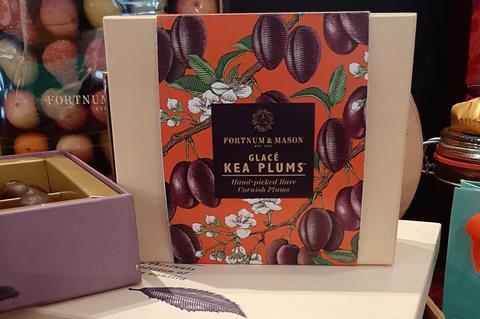 Shoppers looking for a truly unique treat this Christmas may be tempted by Fortnum & Mason's Glacé Kea Plums and their interesting provenance. Once native to Portugal, the plums were eaten by sailors on board a Portuguese ship to ward off scurvy as they sailed the English Channel. The stones were thrown overboard and washed up on the Cornish coast. Now extinct in Portugal, the plums grow exclusively on the Trogthnan estate in Cornwall, where Fortnum's tea is sourced. For this world-exclusive product, the fruit is glacéd and coated in dark chocolate.
Rosé Prosecco and English Sparkling Rosé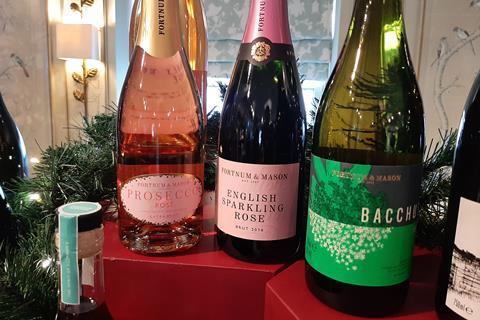 Two new sparkling rosés have landed at Fortnum's in time for the festive season. The first, a dry Prosecco Rosé, hit shelves in August (rsp: £16.50/75cl) while an English Sparkling Brut Vintage Rosé launched earlier in the year (rsp: £35/75cl). The latter, which is made from a blend of chardonnay, pinot noir and pinot meunier grapes, is produced exclusively for the retailer by Kent and Sussex vineyard Gusbourne Estate.
Figgy Pudding Liqueur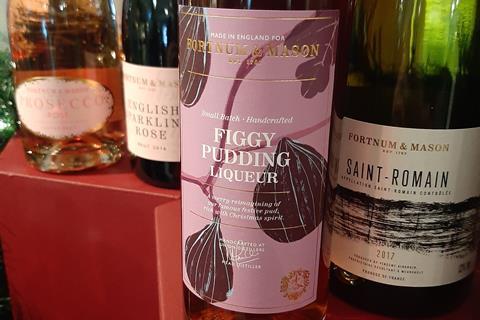 Aiming to emulate the flavour of the traditional Christmas dessert, this sweet Figgy Pudding Liqueur is handmade in small batches (rsp: £25/50cl).
Bottled Cocktails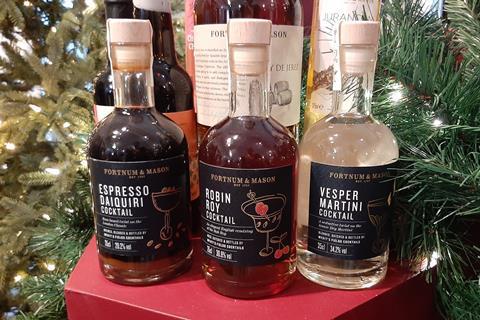 Don't bother with the cocktail shaker. These bottled cocktails are designed to be simply chilled and poured for a fuss-free festive tipple. They are available in Espresso Daiquiri, Robin Roy and Vesper Martini variants (rsp: £28.50/35cl).
Christmas Collection Hamper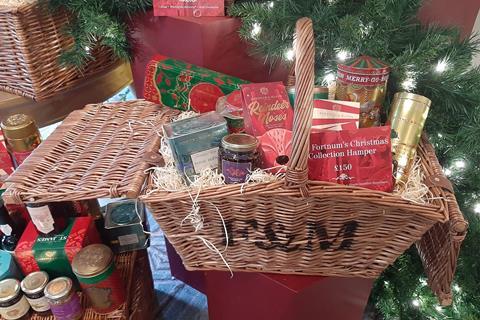 Fortnum's is renowned for its decadent hampers, especially around the festive season. But the new Christmas Collection (rsp: £150) is a novelty for the retailer, as it is the first to appear in a huntsman-style wicker basket. The hamper is filled with Fortnum's classics such as its musical carousel biscuit tin and Christmas tea, as well as two new products: Chocolate Orange Biscuits and Christmas Tea Biscuits. The hamper is completely 'dry', featuring no alcohol, so works as a gift for all ages, according to the retailer.