Don't jinx it, but we may be on the cusp of a somewhat normal summer. To prepare for the surge in social gatherings, park picnics and even the drizzly barbecues we're longing for, Sainsbury's has launched its biggest-ever range of summer products rolling out over the next couple of months. Here's our pick of what's to come
BBQ and outdoor dining
Summer Edition Pigs in Beach Towels
£4.50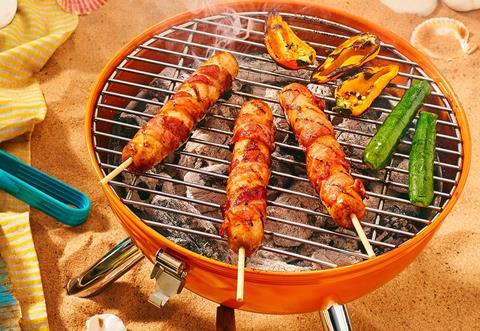 For many, the humble pig in blanket is the highlight of the Christmas period, so why not spread the joy through barbecue season too? That's Sainsbury's plan, with these cleverly rebranded Pigs in Beach Towels. Just like the winter version, they're made up of British pork sausages wrapped in bacon but these ones have been popped on a skewer for easier outdoor eating.
Summer Edition Katsu Butternut Burgers
£2.00
Typically katsu curries have chicken in the starring role, but this new launch allows veggies to get in on the fun. The crispy-coated burger is made up of butternut squash and promises to bring "all the flavour of a katsu curry to customers in an exciting new barbecue format". It reccommends serving it with iceberg lettuce and spring onions.
Taste the Difference New York Top Dogs
£3.00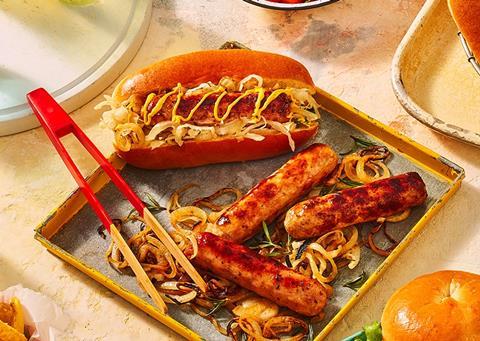 No one does hot dogs like the New Yorkers. These dogs are inspired by the delis of the big apple and are flavoured with American-style mustard, emmental cheese and a hint of dill.
Summer Edition Salt & Chilli Chicken Sizzlers
£3.50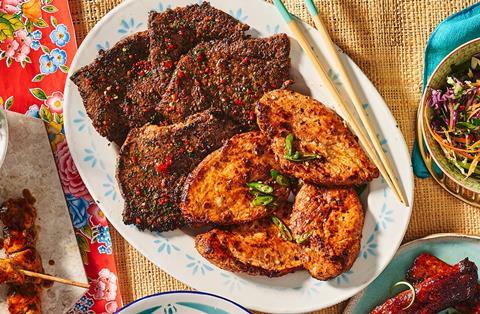 A massive flavour trend thanks to shoppers' love affair with takeaways this year: salt & chilli. The Chicken Sizzlers are pictured here alongside the Japanese-inspired Teriyaki Sizzler Steaks – both are said to pair brilliantly with rice or noodles.
Taste the Difference Teriyaki Beef Steak Burgers
£2.50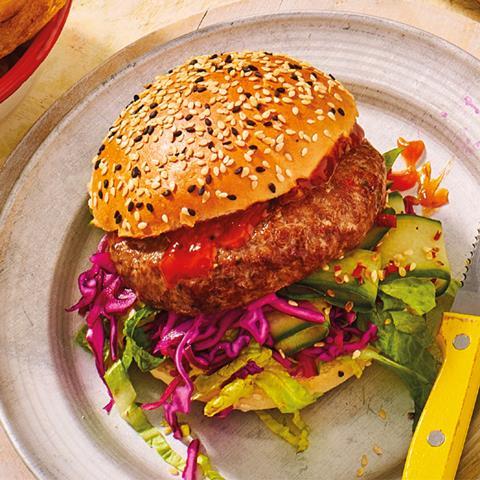 As far-flung travel looks like it's off the menu this year, we're seeing more globally inspired creations on the grill. Ginger, spring onion, soy sauce and a hint of chilli give the classic beef burger a Japanese twist. It's pictured here inside another Japanese-inspired product: Sesame Milk Bread Burger Buns which are made with milk and butter "for an exceptionally soft texture" says Sainsbury's.
Treats and desserts
by Sainsbury's Summer Berry Layered Dessert
£3.50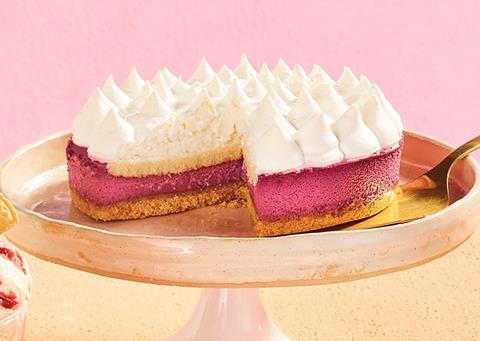 A smack of colour makes this dessert perfect for afternoon tea get-togethers in the garden. Inspired by the flavours of Eton mess, this centrepiece layers a biscuit base, summer berry cheesecake and a piped meringue top.
Taste the Difference Orange and Passion Fruit Curd
£1.90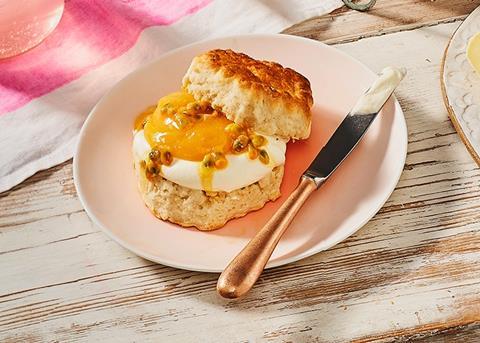 If a Solero and lemon curd had a baby, it would probably be a lot like this. The new preserve was developed to be used for a variety of summer dining occasions from a breakfast waffle topping to the finishing drizzle on a pavlova.
by Sainsbury's Summer Edition Chocolate Slabs
£3.20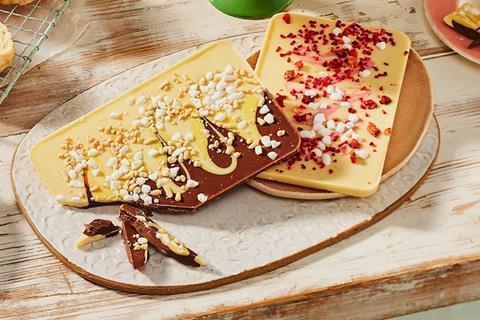 Available in two nostalgic flavours. Eton Mess is a while chocolate slab with a strawberry swirl, hand finished with mini meringues and berry pieces, while Lemon Meringue Pie blends white and milk chocolate, with a lemon flavoured swirl, topped with mini meringues and biscuit pieces.
by Sainsbury's Raspberry and Elderflower Dome
£3.00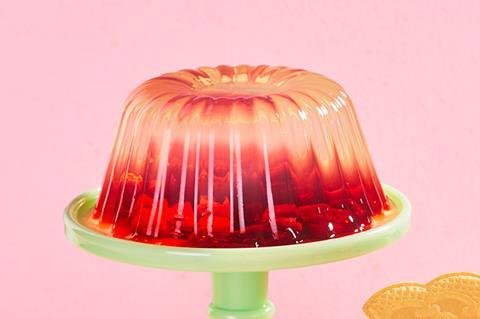 Gloriously retro, Sainsbury's says this nostalgic summer showstopper will remind shoppers of summers gone by, but the modern flavour combination of elderflower and raspberry makes it a refreshing dessert for a warm day.
Picnic and food to go
Taste the Difference Sparkling Chicken Pie
£3.00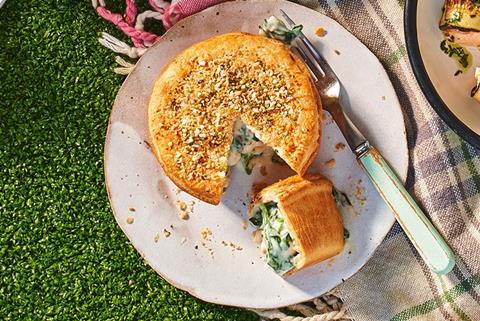 Pop a bottle because the first-ever hot pie containing prosecco has arrived. It combines British chicken breast in a cream sauce, parmesan cheese, spinach and a glug of prosecco inside a butter-enriched puff pastry.
by Sainsbury's Jalapeño Cornbread Muffins
£2.50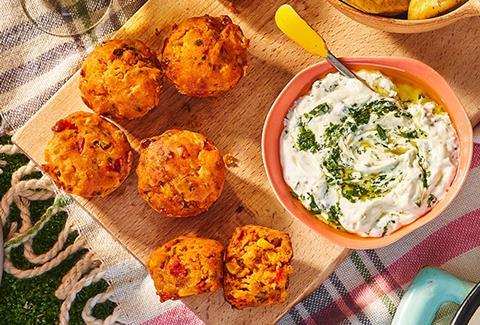 Created to pair with the new American BBQ inspired dishes, these cornbread muffins combine a blend of fresh sweetcorn, red pepper, monteray jack cheese, chipotle and jalapeño chilli.
by Sainsbury's Summer Edition Maple Bacon Pretzels
£1.20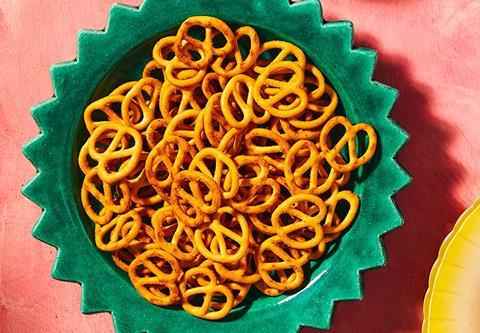 When Sainsbury's took the Christmas version of these pretzels off the shelves, there was "uproar" from shoppers – so they're bringing them back for the summer season.
by Sainsbury's Korean Style Chicken Sandwich
£2.50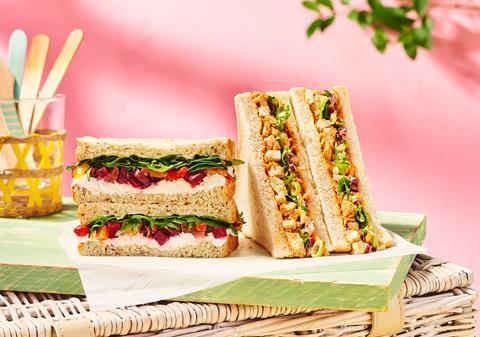 Food to go is set to pick up as Brits hit the streets and parks this summer, and retailers have been cooking up new products to catch their eyes. This launch takes inspiration from Korean buldak (aka fire chicken). It's pictured here alongside the Taste the Difference Beetroot & Whipped Feta Sandwich, which is filled with chargrilled balsamic beetroot, red onion, red and yellow peppers and salty whipped feta.
Summer Edition Gunpowder Potatoes
£1.75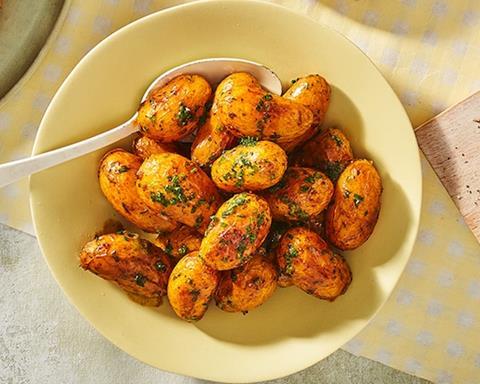 Dishoom eat your heart out, these Indian street food spiced baby potatoes come with a green chutney butter to melt over the top.
by Sainsbury's Pesto Baking Feta
£2.50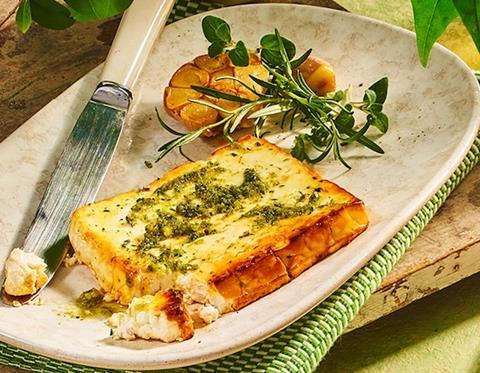 Just a few months ago a viral TikTok recipe of baked feta pasta led to shoppers stripping shelves bare of the salty Greek cheese. The latest launch, which has been marinated in pesto, is not only perfect for baking into pasta but also makes a great summer dip, says Sainsbury's.


Ellis looks after the day-to-day running of thegrocer.co.uk and The Grocer's social media channels, alongside creating and co-ordinating digital content.
Ellis joined The Grocer and moved south in 2015 after working as a local news reporter in her home town of Glasgow. Ellis doesn't work on a particular patch, and you'll find her writing about a vast range of topics across the universe of food and drink, but she specialises in own-label, culinary trends and internet food culture.
Follow Ellis on Twitter: @ellishawthorne
Supermarket spring and summer ranges 2021
1

2

3

4

Currently reading

Range preview: Sainsbury's spring and summer food 2021