As The Grocer revealed last month, Sainsbury's has just kicked off a design and recipe overhaul of its premium own label range, Taste The Difference. The rollout of the new look has started with the now 36-strong ready meal range, which has seen at least 10 new lines and several reformulated products added. To provide an in-depth look at the range, we've chosen a selection of the new products and enlisted an expert to share their thoughts. This time, analysis is from 1HQ design strategy director Andy Kirk.
This showcase is part of a new series of articles examining key trends and developments in own-label and has been introduced to support The Grocer Own-Label Accreditation Scheme. Under this new scheme, all the products we review can apply for accreditation at any time, through a programme of continuous consumer testing and approval, developed to help retailers and suppliers promote the best own-label products. You can find out more about The Grocer Own-Label Accreditation Scheme here.

You might be interested in our other own-label showcases – we've analysed M&S's vegan range Plant Kitchen, Amazon's private-label brands, Waitrose's Cooks' Ingredients lineup and Spar's convenience-led wine range.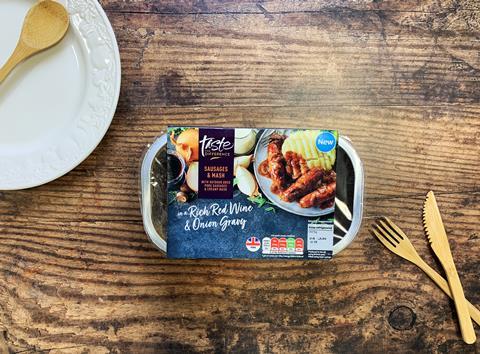 Sausages & Mash
Rsp: £5
Sainsbury's says: 'We make this Great British classic with succulent outdoor-bred pork sausages seasoned with sea salt, pepper and a dash of nutmeg and sage. Served with velvety mashed potato, enriched with butter and double cream, and our savoury onion gravy laced with fruity red wine.'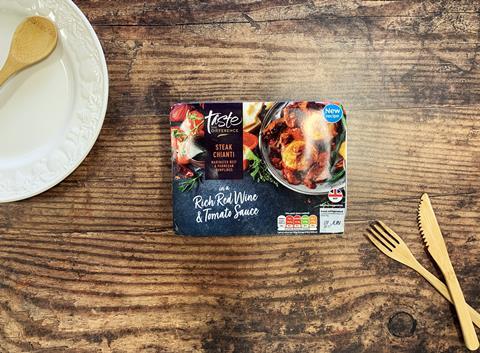 Steak Chianti
Rsp: £3.50
Sainsbury's says: 'A hearty Italian-style stew with succulent British beef steak slow cooked and served in a rich chianti wine and tomato sauce. Topped with red peppers, sweet red onions and two savoury parmesan dumplings, it's comfort food with an Italian twist.'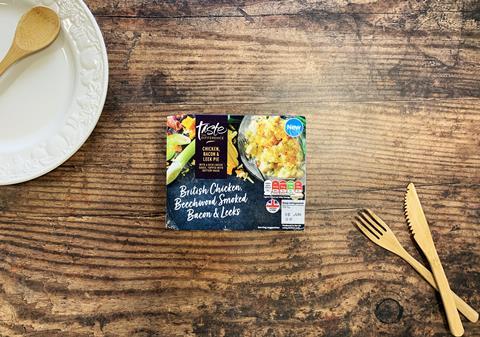 Chicken, Bacon & Leek Pie
Rsp: £3.50
Sainsbury's says: 'Succulent pieces of British chicken breast, beechwood-smoked bacon and tender leeks in a velvety cheddar and red leicester sauce: this pie has it all. And it's topped off with our luxury mash made with butter and a generous splash of double cream. It's comfort food at its very best.'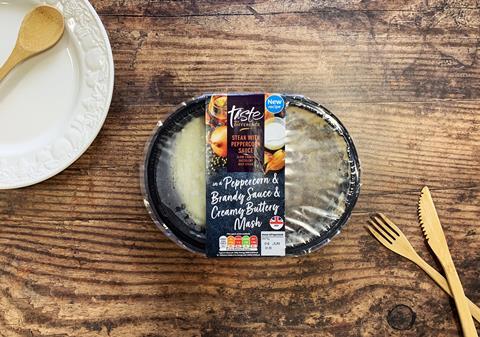 Steak with Peppercorn Sauce
Rsp: £3.50
Sainsbury's says: 'We choose richly flavoured British steak for this French bistro favourite. We slow cook it until it's meltingly tender, then finished with a velvety peppercorn sauce laced with brandy. Perfect with our creamy buttery mash.'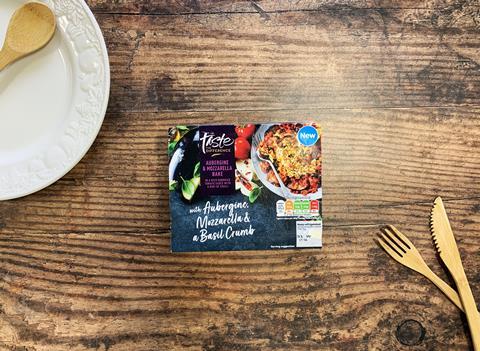 Aubergine & Mozzarella Bake
Rsp: £3
Sainsbury's says: 'This luscious bake layers aubergine and creamy mozzarella with a vibrant sun-dried tomato sauce, laced with herbs and a hint of chilli. Brimming with flavour and texture, its crowning glory is our basil crumb topping, which toasts to crisp, cheesy perfection. Also great as a side!'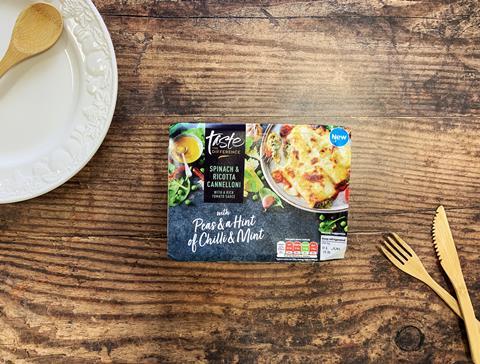 Spinach & Ricotta Cannelloni
Rsp: £3
Sainsbury's says: 'These indulgent rolls of free-range egg pasta stuffed with a creamy spinach, ricotta and pea filling with a hint of mint are perfect for meat-free meals. They're served in our rich tomato, basil and chilli sauce, and topped with cheese béchamel and a sprinkling of extra mature cheddar.'
Expert verdict on Sainsbury's Taste the Difference ready meals
From 1HQ design strategy director Andy Kirk
What do you think?
Sainsbury's have warmed up their design system for premium and I'm pleased to see that they have kept to their signature deep purple. Overall it seems less formal than before and much less about needing the consumer's seal of approval and the Sainsbury's brand, but more about taste.
Is the range interesting?
I'm not sure that it is. Individual products will be appealing, of course, but this feels very understated and even a little underwhelming. It would have been nice to see the use of more expressive and delicious language (we get the odd 'rich' or 'succulent' but not much else). There should be something that shows me the character, the idea behind these products and I'm not sure that saying 'taste' is enough by itself. I'm not being seduced.
What will be interesting is to see how it rolls out across multiple products. Design ideas like this can run out of steam as the system becomes less workable as different categories try to stretch it beyond its capabilities.
What does this tell us about the wider own-label strategy?
This new look is about seeming mainstream, rather than premium. The aim is to make it very accessible and avoid pretentiousness and being saved only for special occasions. Sainsbury's seem to be very aware that the world of premium own label has moved on from using the same simple semiotic codes we see elsewhere. We're in a world where consumers expect every product to deliver regardless of the price point, so being premium is much more than trying to be luxury. I'm just not sure they've nailed it with this range.
How does it stack up against other own-label premium ranges?
Sainsbury's, to its credit, has sidestepped like-for-like comparisons with any of its competitors. This new design does make more of product ingredients and displays photography on a variation of the default slate background, which is now a well-worn signifier for premium. You only need to take a look at Tesco's Finest to see deep slate and filigrees that punch premiumness home, or Aldi's pale imitation of this style for its Specially Selected range. Morrisons have also pulled out all the design stops with The Best, but this only goes to prove just how difficult it is to feel unique using the standard quality cues and this style stretches well beyond the major retailers. Asda's Extra Special also plays with purple, but this only demonstrates that premium can be defined in so many ways. It's all about in-store context and the lower-tier own-label products around them.
I would say that Waitrose, the doyennes of premium, play a more confident game with black and white, drops of colour and characterful scribbles demonstrating that consumers know that the food is great before they try it. Waitrose is also confident enough to mix up designs to suit each category, rather than force one system on everything tagged premium, so they don't need to rely on generic design codes and instead can add charm and important touches of brand personality.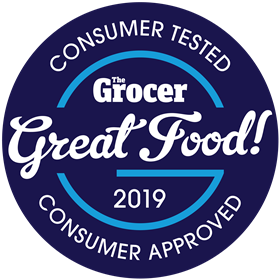 Interested in own label? The Grocer Own-Label Accreditation Scheme allows UK retailers to gain independent consumer approval of their products and a robust, objective analysis of their quality and purchase intent.
The accreditation scheme is unique and offers continuous review by consumers for consumers. It also delivers quick results to optimise sales during key seasons as well as promote trial of new and exciting lines.


Ellis looks after the day-to-day running of thegrocer.co.uk and The Grocer's social media channels, alongside creating and co-ordinating digital content.
Ellis joined The Grocer and moved south in 2015 after working as a local news reporter in her home town of Glasgow. Ellis doesn't work on a particular patch, and you'll find her writing about a vast range of topics across the universe of food and drink, but she specialises in own-label, culinary trends and internet food culture.
Follow Ellis on Twitter: @ellishawthorne