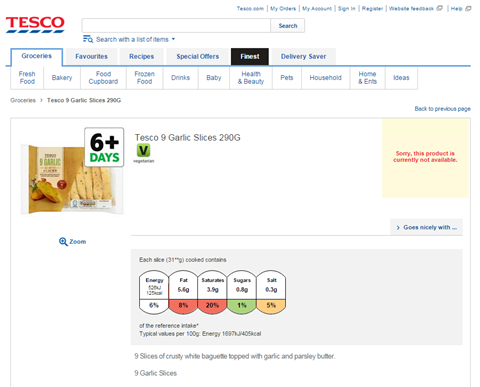 Tesco has withdrawn almost 70,000 packs of garlic bread slices from sale, after some were found to be underweight by as much as 21%.

The packs, manufactured by Bakkavor in Cheshire, were found by Aberdeenshire Council's trading standards during a routine check. A number of 290g packs of Tesco own-label garlic bread slices were found to be under the declared weight, with one pack having a net weight of 229.8g. As a result, the retailer withdrew batches worth £93,000 from branches across the UK in August, it emerged earlier this week, and the product is still not available on Tesco's website.

The council's team had also found one underweight pack produced by Bakkavor in another multiple retailer, but was not able to say which at present, said Aberdeenshire trading standards manager Wilma Urquhart.

Following the discovery, Bakkavor said it had taken steps to ensure nothing similar happened in the future, but that it was unable to provide further details.

"We confirm that a bakery product made on behalf of a customer has been recalled due to an error with product weight," said a spokesman for the supplier. "Bakkavor takes such incidents seriously and sincerely apologises for this error. We have put in place a number of measures to prevent a similar incident arising in the future."

A Tesco spokesman said the retailer was "disappointed" by the incident, adding it had worked with the supplier to ensure there was no repeat of the issue.

"We take great care to deliver clear information for our customers so they can make informed decisions on the products they buy and to ensure that customers receive the stated quantity of product," he said.

Urquhart said that looking out for underweight products could be like "looking for a needle in a haystack", and called for greater resources for routine weight checks.

"We do still carry out these occasional weight checks but a lot less than we used to given the lack of resources in Trading Standards these days," she said.