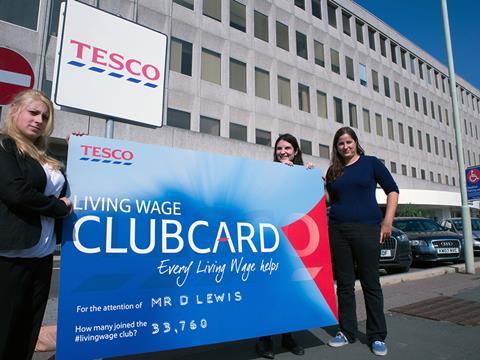 "My supermarket wage is so low I use a food bank", screamed the full-page headline in the Daily Mirror today. Angela, 52 (unlike the Mirror, I won't give her full name, in case her "well-known supermarket" employer identifies her), says that even with a 10% staff discount she can't afford to shop at the store where she works.
There are an estimated 5.2 million people like Angela paid below the recommended £7.65/hour Living Wage in the UK, as calculated by the Low Wage Commission (it recommends £8.80/hour in London). On Saturday, the TUC will stage 'Britain Needs A Pay Rise' rallies in London and Glasgow to highlight their plight.
The timing couldn't be more apt. ONS figures today revealed that, despite a record 6% fall in unemployment between June and August, pay is still lagging far behind inflation, with wages including bonuses up just 0.7% year-on-year, while inflation in August stood at 1.5%.
In this climate, it's inevitable that bad press such as Angela's story will begin to gather around the grocery industry like stormclouds.
Two weeks ago, Janice Turner wrote in The Times that benefits for people in work cost the UK taxpayer £28bn a year. Citing a survey by Unite last year that suggested one quarter of Sainsbury's staff relied on tax credits to top up their pay, Turner wrote: "Who could begrudge Sainsbury's new CEO Mike Coupe his £900,000 basic salary, if only he paid all his 157,000 retail staff enough to live on without you and me chipping in? But he doesn't and, bizarrely, no one is inclined to make him."
Fierce competition among grocers distracted from the fact that "they are vastly wealthy", Turner added, pointing to Sainsbury's £758m profits last year.
It's not just Sainsbury's in the crosshairs, of course. Campaign group ShareAction has been hounding Tesco for months in its bid to make the UK's largest private-sector employer pay the Living Wage. Questions on the issue have been tabled at both Sainsbury's and Tesco's AGMs. And last November, Ed Miliband called on supermarkets, among others, to battle the UK's "low pay emergency".
Such pressure is not new; in 2012, a report from the Fair Pay Network railed against the "chronic unfairness and inequality within these retailing giants"; its research suggested supermarket workers were paid an average of £6.83/hr (the minimum wage for people over 21 in 2012 was £6.19). The report was met with disdain by think tank the Adam Smith Institute, which argued pay rises in the sector would inevitably lead to layoffs: "They're not being serious and we cannot take the report, the campaign or them seriously. Into the dustbin of history with them."
Many would sympathise with that sentiment. At a time when the major grocers are battling falling sales and squeezed share, and are letting go of staff in painful restructurings, is it remotely realistic to expect any movement on the Living Wage?
Yet it's clear these calls are not going to go away. The extent of the economic recovery and – crucially – whether ordinary people feel it or not, will be perhaps the most important battlefield in next year's election. It is an embarrassment to the industry when their staff report – as they have done in comments to thegrocer.co.uk – that they cannot afford to shop at their own employer. Staff, after all, are customers too – or, at least, they should be.
Moreover, campaigners for the Living Wage insist time and again it is good for business in the long term, boosting productivity, morale and staff retention.
It's easy to shrug our shoulders and say it'll never happen. But then no one expected Tesco to publish its figures on food waste, or to ditch sweets from checkouts. And no one thought the industry would get serious about reformulating products to cut salt and sugar.
It just takes someone to be the first.