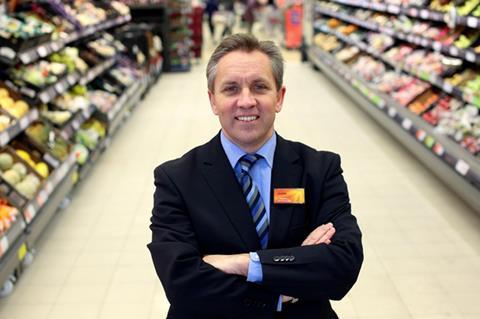 Top story
Former Sainsbury's CEO Justin King has been appointed as a senior advisor to retail property group Supermarket Income REIT.
King, who led the grocer for 10 years until 2014, will immediately take on the role as an advisor for Atrato Capital, the investment management arm of the AIM-listed group.
Prior to his tenure leading Sainsbury's growth, he was part of the leadership team at Marks & Spencer and previously held senior roles at Asda.
The group, which was the UK's largest purchaser of supermarket property in 2018, said King will "bring a wealth of experience of the grocery sector and a deep understanding of grocery property strategy".
King will continue to serve as vice chairman of Terra Firma Capital Partners, and continue roles on PwC's public interest body and on the M&S board.
On 1 January 2019 King was appointed as a non-executive director by M&S, where he was described as one of the pioneers of Simply Food.
"I look forward to joining the Atrato team and playing my part in investing in supermarket property forming a key part of the future model of UK grocery," commented King.
Set up two years ago, the group specialises in copper-bottomed supermarket assets. At present, the trust's portfolio consists of just six stores – four occupied by Tesco and one each by Sainsbury's and Morrison's.
Last week, however, the group announced plans to raise £25m from shareholders to drive a new wave of acquisitions.
Nick Hewson, chairman of Supermarket Income REIT, said: "Justin's appointment complements a best-in-class supermarket property advisory team at Atrato. He will be a great addition to a strong team."
Ben Green, principal at Atrato, said: "We are delighted that Justin has agreed to join us. It will be enormously valuable to have his experience, wisdom and insight at Atrato."
Morning update
Domino's Pizza Group (DOM), the fast food business led by former Tesco executive David Wild, has issued a statement to the stock exchange refuting claims in the Sunday Times that it has been misleading the City over its relationship with franchisees.
In a statement, the business stated that it "strongly refutes the reported allegations", published over the weekend.
"The company has been clear and transparent that it has been in commercial discussions with franchisees, which are continuing," it added in the brief statement.
Yesterday, the newspaper reported that Domino's received a letter from a group of angry store owners last week.
The letter warned that comments suggesting a resolution to an ongoing dispute could be found were "extremely misleading", because Wild and the board were "at total odds with the franchisees", according to the report.
It comes amid suggestions of a strained relationship between the plc and its entrepreneurial partners who have refused to open new stores until they are granted a greater share of its profits.
About 90% of the 67 store owners are members of the Domino's Franchisee Association, which says their share of profits has fallen from 61% to 50% over the past four years.
Elsewhere, brewing giant Fuller, Smith & Turner has announced the appointment of Adam Councell as finance director.
Councell joins the London-based pub operator after serving as the group finance director of Restore PLC, a document management and relocation business.
The appointment comes after the company announced plans to sell its beer business to Japanese brewing giant Asahi in a £250m deal in January.
"I'm really looking forward to joining Fuller's – especially at this pivotal moment in its grand history," commented Councell.
"Pubs play a crucial role in our social fabric – so I'm delighted to take on this challenge and add my contribution to Fuller's future success."
Chairman Michael Turner said: "Adam has a proven track record in quoted companies and is a strategic thinker. He will make a great addition to our board and my colleagues and I are looking forward to working closely with him in the future."
The FTSE 100 has jumped 0.5% to 7,262pts amid positivity about trading relations between the US and China.
Today's early risers include McColl's (MCLS), up 4.3% to 78.2p, Treatt (TET), up 3.1% to 423p, and Premier Foods (PFD), up 2.8% to 38.1p.
The early fallers include McBride (MCB), down 4.1% to 97.8p, Hilton Food Group (HFG), down 2.6% to 910p and Purecircle Limited (PURE), down 2.1% to 259.5p.
Yesterday in the city
One of the week's main highlights is Ocado's (OCDO) interim trading report on Tuesday, which will highlight the impact of the fire which destroyed the delivery operator's Andover fire.
Ocado has seen its share value continue to surge in recent months, after it benefited from securing a new trading agreement with M&S, to replace its current supply deal with Waitrose.
Elsewhere on Tuesday, Irish forecourt operator Applegreen will reports it full year results for 2018.
Tuesday will also see the ONS release its retail sales data for February. The following day will see the ONS reveal the retail price index and consumer price index.
On Wednesday, sports nutrition supplier Science in Sport (SIS) will reveal its full year figures, showing the impact of its recent £32m deal to buy PHD nutrition.
Old El Paso owner General Mills will also report its third quarter sales figures on Wednesday.
The rest of the week is expected to be quiet, with no major announcements expected in the sector.