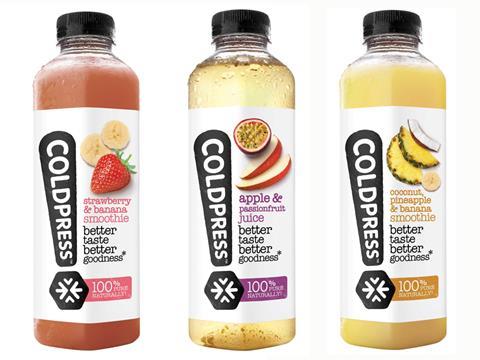 Juices and smoothies supplier Coldpress has hired Ian Hills as marketing manager, alongside two salespeople, as part of a strategy to double the business to £10m.

Hills took up the newly created role last week following a six-year stint as head of marketing for gluten-free cereal maker Nature's Path. His key responsibility will be "strategy for the brand", with his initial focus Coldpress' first ATL campaign, which will go live later this year, according to MD Andrew Gibb.

Having already worked with Coldpress on an ad hoc basis, Hills had a "thorough understanding of the business" and was a great permanent addition, said Gibb.

Hills would be joined by two salespeople with "significant UK experience" in the next couple of weeks, including the company's first sales director, Gibb added.

The duo, who will take the team to seven full-time employees, would initially be focused on growing the company's foodservice business, which currently made up just 10% turnover, said Gibb. The recruitment drive formed part of growth plans to double sales to £10m in the next year, he added.

Hills said: "Coldpress provides me with the perfect opportunity to work with a charismatic founder and a dynamic range that's re-energising a chilled juice category that's been image over substance for too long."

The appointments come two months after Coldpress rolled out new-look packaging and its first vegetable juices. Juicy Roots, Mean Greens and Pumpkin Power launched in 300 Tesco stores in January.