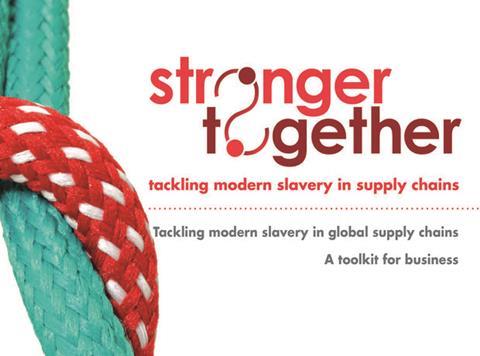 Stronger Together has produced a toolkit to help grocery firms tackle slavery in the food industry.
The business alliance, which is sponsored by the UK's nine largest supermarkets and supported by organisations including the British Frozen Food Federation, British Retail Consortium, British Growers Association and the Food and Drink Federation, is calling for all companies to mitigate the risks of modern slavery in their operations.

The best practice toolkit provides them with resources and training based on the UN Guiding Principles on Business and Human Rights and will help them comply with the Modern Slavery Act, which came into force on 31 March.

"We encourage every business in the UK to be proactive about mitigating the risks of modern slavery in their own operations and supply chain," said Stronger Together programme leader David Camp.

"Each one of the 45.8 million people currently in modern slavery is a man, woman or child with a face and a story. Registering on our website gives businesses of any size access, at no charge, to pragmatic resources to support them in eradicating human trafficking, forced labour and other forms of modern slavery from their businesses and supply chains."

The Modern Slavery Act requires all UK trading companies with sales of £35m or more to publish a statement annually on the steps they are taking to prevent slavery.
See also: Modern slavery - is grocery doing enough?

Independent anti-slavery commissioner Kevin Hyland said initiatives such as Stronger Together, which was providing resources from business itself, had the power to positively change culture and practice.

"We need to shift away from profit being viewed as the sole measure of success. Rather, success must be viewed through the lens of long-term sustainable growth, and the ethical treatment of workers is central to this," Hyland said.

"I encourage all businesses to see the Modern Slavery Act's reporting requirements as a catalyst for innovation and change and to use resources such as those provided by Stronger Together to help ensure that none of their profits are created at the expense of human lives."

As well as the toolkit, Stronger Together has also developed interactive workshops, led by labour rights experts from the retail sector, to support the toolkit while its sponsors - Asda, Morrisons, Tesco, Sainsbury, the Co-op, Waitrose, Marks & Spencer, Lidl and Aldi - have agreed 'common principles' for supply chain partners to adhere to.

"It demonstrates the commitment businesses have to end all forms of modern slavery wherever they may occur," commented Andrew Opie, director of food and sustainability policy at the British Retail Consortium."

Nick Hutter, responsible sourcing manager for BerryWorld UK, said the toolkit was "a good, clear step-by-step guide" that the complex issue needed.

The toolkit can be downloaded from www.stronger2gether.org.