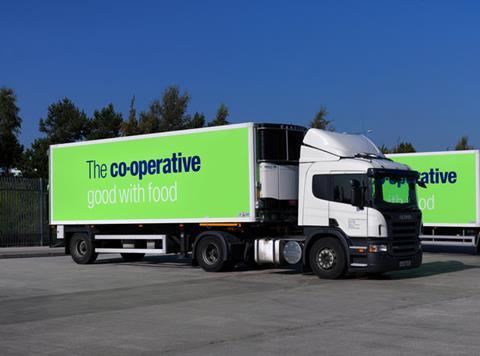 The Co-operative Group has written to all of its 1,000 UK drivers to reassure them about their futures after plans for a ballot on industrial action were announced by the Unite union. The retailer said it wants to reassure staff over its proposals to outsource trunking operations from its national distribution centre in Coventry to Eddie Stobart. Trunking operations are carried out by drivers who deliver to other Co-op depots.
The business is also looking at plans to outsource primary operations at its depot at Castlewood in north Derbyshire. Primary operations involve deliveries from suppliers to Co-op depots.
None of the outsourcing proposals involve deliveries between depots and stores.
Unite, which was involved in a lengthy dispute with Eddie Stobart after it took on 184 drivers previously employed by Tesco, said it was concerned The Co-op's plans could spread to Co-op depots nationwide.
As a result, it intended to ballot drivers at depots including Birtley near Newcastle, Carrickfergus in Northern Ireland, Newhouse in Lanarkshire, Plymouth in Devon and Thurrock in Essex.
But Andy Perry, The Co-op Group's director of logistics, said it was important that all its drivers were clear about its intentions.
"There are no plans to outsource either the other areas of transport operated by The Co-op or any of our warehouse functions," he said.
"This means that the drivers who have been asked to participate in a ballot at Carrickfergus, Newhouse, Dalcross, Birtley, Castlewood, West Thurrock and Plymouth can rest assured that there are no plans in place to outsource any of these operations.
"We have been engaged in a lengthy period of discussion with all of our recognised trade unions regarding the proposal to outsource the trunking and primary operations.
"Unfortunately, our current model cannot overcome the fundamental issue regarding the empty running of vehicles in both of these areas.
"This incurs a significant cost with no benefits. The proposed changes will allow us to re-invest and improve our core depot to store operations and as a result benefit customers and colleagues.
"We will continue to engage with our trade unions to allay their concerns and support our colleagues through this process."
Previously, The Co-op said a total of 85 drivers could be affected in Coventry and another 44 at Castlewood.
Unite said it was planning a consultative ballot to take the temperature for industrial action and expected to then move to a full industrial action ballot.