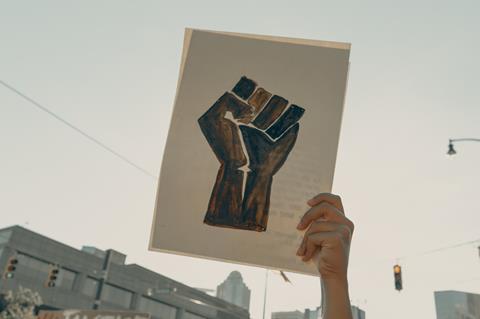 This week, I posted on social media a 1970s Marvin Gaye protest song: 'What's Going On'. The song calls out the injustice meted out to people of colour. What is striking and shameful is that not much has changed since then.
The killing of George Floyd some 50 years later has caused an outpouring of anger and frustration about the same prejudices that black people still have to suffer on a daily basis.
The Black Lives Matter campaign has now made it acceptable for black people to talk about colour and race without being regarded as "difficult" or "chippy".
As a black man, it is heartening to see Britain wake up to the idea that things will need to change – but my heart sinks when I see the lack of response from the grocery industry.
I have written on these pages before about the lack of diversity in our industry. I haven't seen much of an evolution since then or even a willingness to evolve.
Before Covid-19, when I went into the headquarters of any of the major food retailers or suppliers, the lack of BAME representation at senior level was clear to see. For me, it didn't sit well to see only white faces; as though I was entering a different world to the real one in which supermarkets were actually operating.
My fear is that, post-lockdown, the increase in people working from home could make the lack of BAME representation in organisations less visible. How can you call something out if you can't see it?
Transparency and a commitment from suppliers and food retailers is going to be essential to demonstrate they want to be part of the change.
The silence from our industry over the Black Lives Matter campaign is worrying because it suggests most have not understood that silence is not a good option. Silence is akin to saying there is no problem to be dealt with.
Suppliers and retailers are missing a hugely important moment in history to show where they stand on what is now recognised as a major issue in British society. At last, colour is now top of the agenda rather than at the bottom. Or it should be.
The industry should be following the lead of Co-op CEO Steve Murrells, who said last week: "We need to go further and faster. That will require some big actions from me [and] management…"
I am mindful that retailer executive teams might be preoccupied with managing the changes Covid-19 has demanded, but I would like us to have learned lessons from this pandemic.
What started off in a foreign land and was thought unlikely to impact our country has left us reeling and damaged. Due to our lack of preparedness, we have suffered one of the highest infection rates in the world.
Covid-19 has changed our way of life and things will never be the same. I am hoping the Black Lives Matter campaign will bring about the same sort of fundamental shift in our society.
The crucial question now for senior management is what can they do to bring about change? Many executives hide behind their HR departments, with their mastery of box-ticking, but that is not the way to make a real difference.
Change will happen when senior executives stand up and say "this is what I am personally going to do to make a difference and show my staff and customers that Black Lives Matter". If anyone is looking for ideas, I'm passionate about doing more to support Black History Month in October. If retailers got behind this event with as much vigour and focus as they gave to Christmas or Easter, it would go a long way to demonstrate to both staff and customers that black lives do matter.
Another favourite song of mine is by Sam Cooke, from almost 60 years ago. I hope the lyrics are not a dream but a statement of things to come. "A change is gonna come."