snapshot
Age: 44
Status: Single
CV: Spent 17 years at M&S, moved to Superquinn in 2006 as regional manager before being promoted to head of NPD and quality. Headhunted by Harrods in July 2010
Relax: I love to travel, and eat out
Last destination? Barcelona
Favourite meal: It changes all the time. My current favourite would be a piece of monkfish, or a dry-aged steak, with a nice pinot noir
Favourite restaurant? I love Hakkasan. And Andrew Edmunds in Lexington Street, Soho
If you could take one item from the Harrods Food Hall, what would it be? Our beef Wellington. It's made in-house by our incredibly talented chefs. And it's to die for
Harrods is the most famous shop in the world. Over seven floors of prime West London real estate, it sells wickedly expensive jewellery, luxurious clothing and hi-tech gadgetry. But it's in food and drink, in the store's magnificent food halls on the ground floor, where some of the greatest treasures are served up.
Sure, it sells Heinz Tomato Ketchup and Kellogg's Corn Flakes. But if a customer is craving an earthy poulet de Bresse chicken, a succulent slab of Japanese Wagyu beef, the forbidden pleasure of pan-fried foie gras or the saliferous splendour of Beluga caviar, they can find it all, and more, spread over 24,000 sq ft of the ground floor.
The abundance of premium-priced treats explains why the square footage of this epicurean epicentre is considered the most profitable in food and drink. And tasked with delivering those profits, as well as building on Harrods' reputation as an extremely pleasurable place to shop for groceries, is director of food, Bruce Langlands.
"Our vision is to be the food emporium of the world," he says, relaxing in his office on the top floor of the ­"terracotta palace" he arrived at in 2010. "That's what my team and I are going to create. And we have improved considerably over the last four years."
"We don't pretend to have fishmongers, we actually have fishmongers. And we can butcher anything to your exact specifications"
Putting numbers on that improvement proves tricky. As a private company, an apologetic Langlands is not prepared to throw open the books. However, he will say that sales are in "double-digit growth", there has been "buoyancy across the majority of areas" and that footfall has "increased". And although the key financials remain tantalisingly elusive, he does throw up other interesting numbers.
The store welcomes 42,000 customers a day and a "high percentage" pass through the food halls which, along with the 28 restaurants, "processes and sells 15 tonnes of fruit, veg and meat every week".
It stocks 16,000 individual SKUs, about 75% of which are own label. It also launches about 1,200 own-label lines a year, which puts it "hugely ahead" of the plan Langlands announced shortly after his arrival, which was aiming for up to 500.
The average basket size is five items. And he has 700 staff, 180 suppliers producing own-label products and about 600 branded suppliers.
"We work hand-in-hand with producers and growers and we demand a lot in terms of quality. We meet them five times a year and do blind tasting as a matter of course. And we are pretty ruthless. If a product is not good enough, we will move it out."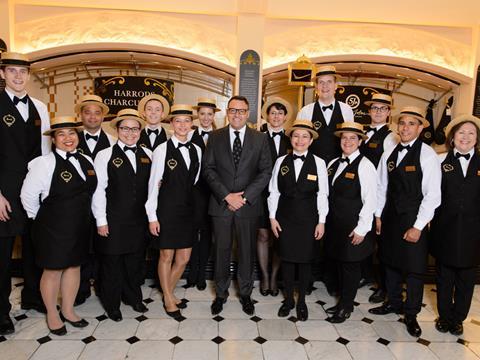 It also produces a great deal of fresh produce in house. "The store goes down nine levels, further down than the Piccadilly Line. In the depths we have two kitchens where we produce everything: the charcuterie, products for the restaurants, the patisserie, bakery, food to go and the desserts. There aren't many retailers with in-house suppliers. And unlike our competitors, we don't pretend to have fishmongers, we actually have fishmongers. Our beef is hand-selected and matured. We can butcher anything to your exact specifications."
After watching an in-house butcher rapidly break down an entire side of beef way down deep in the labyrinthine building earlier on, I don't doubt it. "It's what our customers expect," says Langlands.
Other personal touches he has introduced include the option to blend your own tea. "Harrods started as a tea merchant. You come in and tell us what you like, we custom blend it and add the details to a ledger, which is a leatherbound, handwritten ledger, not a PC, not a tablet. Then, when you come back, we look you up, and we have your unique blend for you."
That love of tradition and sense of old-fashioned service, as well as a quality product, has earned Harrods a "loyal and growing customer," says Langlands. "confectionery, tea, coffee, fresh meat, bakery, wine, spirits and gourmet grocery are the key areas where we want to be the best of the best. We are constantly looking at how we can improve."
And it needs to keep on its toes. Langlands is aware that over the past 10 years, "competition has grown significantly. There is a Little Waitrose, a Sainsbury's Local and an M&S down the road now."
Is he worried? "No, it's fantastic." Really? "Absolutely. If we were Tesco we might be scared of others coming here, but we are Harrods. I don't want people coming here to buy basics. You can go to a supermarket to do a basic shop then come here for a fantastic product."
Controversial
Certainly Harrods offers a wide range of products that aren't available in a typical supermarket, like foie gras, for example. "We have a demand for it, and I am very clear that if our customer requests something, then as a store we should offer it," says Langlands.
He agrees it's a controversial product, but he is "very clear" on his position. "I am a retailer. I am a grocer. And to be a successful grocer you listen to your customer. If a customer asks for something I produce it, and I give it to them. No debate."
Another differential between Harrods and the competition is that being the "third-biggest tourist attraction in London" means arguably more 'visitors' enter the store than actual customers. Does it present a challenge for staff, for instance, if a butcher is forced to transform into a tour guide for tourists instead of serving a wealthy investment banker eyeing up the Wagyu?
"I am a grocer. And to be a successful grocer you listen to your customer. And if a customer asks for something, I produce it. No debate"
"They are very important customers to us, and they want to take a little bit of Harrods home with them," he says. "Besides, every customer is an opportunity. You may have a customer who asks a question about a product with no intention of buying anything, but it's the skill of the team to turn a non-sale into a sale. If they ask a question, it's because they are interested. And we have a duty to fulfil that interest. That will either end up with the bonus of money going through the till, or the bonus of a customer leaving a little more educated and knowing that Harrods knows what they are talking about. And perhaps the next day, month, year they will come back…"
The other challenge the high footfall presents to a working food hall is to maintain availability and keep everything looking presentable because of the crowded floor space. "We are always ready at 10am for opening fully stocked. At peak times, or depending on the time of year, we replenish maybe three times. And we replenish in the evenings. It's a challenge, but I have an incredibly talented team that has been here for many years. It's not a till-and-fill operation. They don't stack biscuits, they paint a picture."
A heck of a week
It all makes Harrods "the most magical and amazing place" to work. "Yes it's tough, but I jump out of bed in the morning and walk to work with a smile on my face. It's an amazing building, and the areas I look after are the most beautiful part of the store. And my job is to make it even more successful, even more profitable and even more beautiful. It's one of the best jobs in food. I'm very, very lucky."
Even at Christmas? After all, Harrods is always busy, but at Christmas, it's rammed. Is it still an ­amazing place to work then? "It will be a heck of a week, but it always is."
Naturally, Harrods has a lot planned. "We've just launched 100 ambient lines for this year, 50% is new or upgraded from last year. We have an exclusive bronze Hockenhull turkey, which is so tender and succulent. We have hampers ranging in price from £90 up to £20,000. And nobody wants to work ­anywhere else during Christmas than in the food halls, because that's where the buzz is. It's a ­phenomenal place to be."
Like any canny retailer, Langlands also knows that means being right in the heart of the chaos, out there on the shop floor.
"If you don't want to be in the middle of the action you shouldn't be doing the job. Christmas is when you want to be part of it, spotting the ­problem areas, reacting to them, making sure the product is available for the customer. And it's a critical time for us. Because if you don't get it right at Christmas it can be a tough year. So this is the time to shine."