Snapshot
Age: 33
Status: Married, two children
Best career decision: Badgering Innocent
Worst career decision: I once tried to put spelt into a yoghurt drink
Career highlight: Going to the US. And we got a letter from a 13-year-old with dietary issues who had started eating again thanks to Graze. It was very moving
Career lowlight: I have many but I'll get other people into trouble
Best advice: Keep learning every day
Business mantra: Be curious. And hire curious people
Business idol: The Innocent founders. So much of my success comes from working there. It was an entrepreneur factory
Current book: Barbarians at the Gate. It's touted as the best business book ever written
Favourite music: I let Spotify do its thing
Bestselling Graze product: Lemon curd flapjack. It won't be in one month's time
Anthony Fletcher doesn't love food the way most people love food. Although he says he cooks to relax, when asked what his signature dish is, he's stuck for a reply.
"The story of my cooking is this," he says, eventually. "I want to cook something new and complicated, but I have little interest in actually eating it. It's the technical challenge I enjoy, using a new ingredient or a new technique. As a scientist I find how food works and fits together incredibly interesting. At the end of it, the meal itself is incidental."
Then he wolfs down a steak sandwich, suggesting he enjoys his food rather more than he is letting on. But it's easy to believe his passion for food lies in experimenting with it. The Graze CEO has a 1st class Masters in Chemistry from Oxford. And Graze, which posts millions of boxes filled with four punnets of snacks to customers every year (55 million to date) specialises in creating deliciously quirky combinations.
It also uses sophisticated algorithms to predict what its customers want to eat next, based on their likes and dislikes, which gives their boxes a surprise element. So perhaps it's not surprising this blend of fun, food and technology attracted Fletcher away from his role as innovations manager at Innocent.
"Hard times and good times," he says of his five years at the smoothie giant. "It taught me about bringing a product to market, then growing and scaling it. Then one day I saw a beta Graze box in the Innocent office."
His first thought was: "Wow. This was direct to the consumer, setting your own price, no asymmetries of interest between supplier and retailer, having a relationship with your customers, bringing products to market quicker, and your packaging doesn't have to compete on a supermarket shelf. I was so excited and intrigued I drove down to see them."
This was 2009. What he found was a collection of tech savvy entrepreneurs, including the founders of LoveFilm. "You interact on a website, something physical appears in your life. They were experts in this area. And I was aware of the limitations of the food industry, hence it was obvious to me how to meet those limitations."
"At Graze we can take risks. We have made dozens of products that bombed but it doesn't sink the company. You just learn and move on"
Hired as head of marketing, sales and innovation, in July 2011 he was promoted to chief marketing officer, then to MD five months later. In December 2012, he was made CEO. He describes Graze as "part brand, part retailer, with technology helping both. We can come up with a new product, manufacture one run, send it to our Grazers, get immediate feedback, then decide whether or not to scale it. It's completely different from the risk profile of a bluechip fmcg company. They have to do far more market research, go into all the grocers, and their above-the-line activity has to work. At Graze we can take risks, be instinctive and creative. We have made dozens of products that bombed but it doesn't sink the company. You just learn and move on. And we print our own packaging, so there is no risk of obsolescence when you remove a product."
This constant innovation means the product range is constantly evolving, and now includes broths, such as a Thai Tom Yum soup. "The market moves on, health trends change, people get bored. Four years ago a top 10 product was Korean chilli rice crackers. They were really cool. We don't sell them anymore."
Other products flopped for different reasons. "We used to send fresh cut pineapple, which was a triumph in that we learned you can send anything through the post if you are dogged and curious enough. It also taught us the customer is king and fresh fruit demands to be eaten when it turns up, which for whatever reason didn't always happen. So we tilted towards ambient."
A focus on health has also become more apparent, with nutritional info next to every punnet. "Graze can help you lead a healthier life," he says. "Some customers want to stop eating chocolate bars but want something like this," he says, picking up a punnet of Florentine, which is filled with Belgian dark chocolate, cranberries and pumpkin seeds (41g, 198kcal). "Others want the purest non-GMO, low calorie, raw ingredients. Because we cater to all of them, some say we are stuck in the middle; neither green smoothie nor triple chocolate cookie. But in the middle is a healthy place to be."
He believes the prices are healthy too. A box of four punnets costs customers £3.99 (Fletcher won't be specific on the margin Graze makes per punnet, but they have always been "higher than the 20% you would make through a supermarket"). "We have always been very aggressive on price and £1 is an appealing price point for a snack," he says. "And Graze makes a product that can't be bought elsewhere."
This point brings us on to direct sales, and the potential for brands to cut retailers out of the equation. It's not a new concept but - with the exception of Nespresso - it's yet to be embraced much by fmcg giants.
Recent conversations with "CEOs of the world's largest food and drink companies" suggests attitudes are shifting. He won't say which ones - "that would get me into trouble" - but "two years ago they would say 'I can't [send] my product through the post, it doesn't make sense'. Now they have changed. One sells babyfood and said 'this is the very definition of a marketing relationship… the mother who discovers the brand at the moment she is receptive to new ideas and wants to be educated'. That's when you can fill several years of a relationship: if you understand what that customer needs. That's the right way to think about direct sales."
And direct sales are good at Graze. Last September they rose 31% to hit £52.7m for the year to 28 February 2014, up from £40.2m the previous year - although Fletcher says profit has fallen on a group level. "We are always investing. Sadly, expanding into the US in 2013 wasn't free."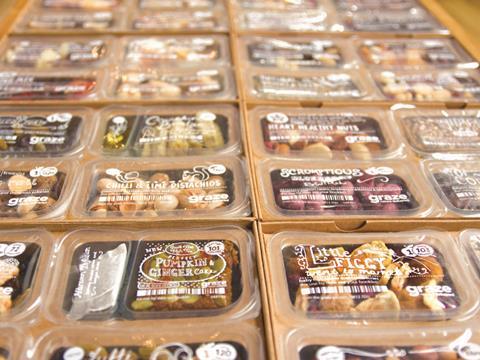 America
The first three years in the US will cost Graze £50m. "We are very excited," says Fletcher. "If you plot a graph of all the countries in the world and look at the size of the snack market there is a clear winner."
America was Fletcher's first and biggest decision as CEO and he had to win over a sceptical board. "The fundamental questions were 'Why not Europe?' and 'Are you sure we don't need enormous fundraising?' So we did a trial that produced data that de-risked some of the big questions. It also threw up a massive problem; the US is a very difficult country to get boxes from one end to another. We posted a box from New Jersey that took 14 days to get to Manhattan - and you could see the Manhattan skyline from where we were posting it. It was a headache that took us a year to crack."
An algorithm Graze developed called the 'Postal Brain' solved it. "We sent out 10,000 dummy packages and worked out when to post, when not to post, and in what way. So we got over the hump."
Graze has posted nearly seven million boxes in the US so far. "Normally it's really hard to succeed in America. You have to spend on marketing, the product has to be hyper-localised, the retail structure is often different and the market requires specialist knowledge. But our data, and the fact we can innovate quickly, means we can localise as we go along and correct our mistakes faster. And the UK business produces the cash to fund it all. So we are in a stable position."
So, what's next for Graze? America aside, "the major opportunity in the UK is to keep innovating. The next generation of success in retail will come from what we call the 'long nose', which is: how quickly can you smell out the next thing and respond to it? The future will be far more about innovation and responsiveness, rather than stocking every product on the planet."
Even further ahead, Fletcher is working on "optionality". "Have we created a brand where Graze could go into the supermarkets? Is Graze a brand creation machine? Or has Graze achieved a scale where it could be a logistics platform and create a marketplace for small food sellers to connect with the end consumer, like we are trialling with 'Climpson & Sons coffee brought to you by Graze'? There is no shortage of places to go."