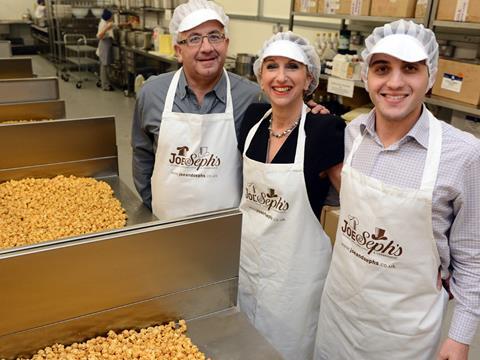 snapshot
Best career advice: Joseph: Friends telling me to turn popcorn into a business
Worst career advice: Adam: 'Go and work in the City, you will love it'
Business mantra: Quality
Advice for an fmcg startup? Joseph: Friends and family will always love your product. The only real proof is to take it to market. Words mean nothing if it doesn't sell
How is it working in a family business? There are far more ups than downs. We had major rows along the way as we adjusted and learned to work with each other. It took about six months. But we are all totally committed, no one is afraid to speak their minds, and we don't leave the office until we respect each other's opinion
How is dealing with an airline different from a supermarket? It's very different. The big challenge is that there are always two parties, the airline and the catering company, whereas at a supermarket the buyer just says 'yes' or 'no'. And you can't have one without the other. So it needs to work commercially and operationally
Joe & Seph's kitchen isn't technicolour but the smell is amazing: a dreamy combination of chocolate, sugar, oranges and butter.
And everyone is working quickly. Ex-pastry chef Karoline, previously of Grosvenor House Hotel, is juggling 30 bubbling saucepans filled with lava-like caramel. Prince is swiftly mixing big fat freshly popped 'mushroom' kernels by hand with a variety of indulgent ingredients using a homespun technique I'm forbidden to describe. (Suffice to say it's simple but ingenious and creates a delayed reaction in the mouth so multiple layers of flavour gradually reveal themselves for maximum impact.)
The kitchen used to be one-sixth of the size, but it has gradually been extended over the past five years to cope with sales that have doubled every year, as consumers around the world have fallen for Joe & Seph's riotous creations.
It's popcorn, but not as we knew it. Forget choosing between sweet or salty, Joe & Seph's offers more than 40 flavours, from Classic Caramel to Madras Curry with Black Onion Seed and Lime.
Creator Joseph (hence Joe & Seph's) Sopher, who co-founded the business with son Adam and wife Jackie, says he regularly wakes up from flavourful dreams at 4am and makes them reality there and then. "My wife gets up and says 'Look at the state of the kitchen!' and I say 'Look at this flavour of popcorn!'"
Joseph, a semi-retired electrical wholesaler, has been living the dream ever since he woke up one morning in 2010 and decided he wasn't ready to do nothing for the rest of his life. "We started with a £10,000 gamble," says the former electrical wholesaler. "That very quickly became £20,000 when we got our first listing with Selfridges."
So how does a fanciful idea by a semi-retired wannabe home cook turn into an operation with hundreds of domestic listings and an export operation that delivers to 17 countries around the world?
Unlike the speed with which fans cram the popcorn into their mouths, the answer is slow and steady.
Take the aromatic kitchen, for example. Based in Park Royal, it is part of a kitchen complex filled with other growing brands that opted to start small - although to begin with, Joe & Seph's started even smaller.
"We rented an equipped kitchen by the hour," says Joseph. "We stayed there six months, for cashflow reasons. Then we moved here. Working in flexible buildings meant we could grow at the pace we wanted to grow without the risk of renting a building that's either too small or too big. We keep wondering how big Joe & Seph's can be and every year we have no idea. We keep growing at a phenomenal rate, doubling in size every year."
"Without wishing to sound arrogant, there is popcorn and there is Joe & Seph's popcorn"
Can a product that sells itself as 'Handmade in England' keep up its artisan origins alongside that phenomenal growth? No doubt, says Joseph.
"We are paranoid about quality and paranoid about taste. And we are constantly revising the process. We just look at where the slowdowns are, what is causing the latest bottleneck: is it the mixing, the oven, do we need more people? And we improve that process."
Put together, he says the bit-by-bit approach "has got us to where we are. It's enabled us to grow fast enough to maintain and grow our market share but also look at the processes without suddenly finding we can't do it."
Gamble
Of course, there's no shortage of competition, including Julian Metcalfe's Skinny Topcorn and Tyrrells. But Joe & Seph's dominates in the super-premium stakes. Co-founder and son Adam estimates market share is "around 10% of the overall popcorn category and 90% of the luxury market".
"Without wanting to sound arrogant, there is popcorn and there is Joe & Seph's popcorn," adds Joe.
It's enabled the business to sell in Waitrose, Ocado, Amazon, hundreds of independents, hotels, airlines, cinemas, QVC, as well as its own online shop. But it's not in the big four.
"At the moment it isn't right for us, although we have had some great conversations. And there will come a time when we can't double in size without them, but at the moment we are managing to achieve it without needing to go to them."
Online sales account for about 7%, says Adam. "If we launch a new flavour a lot of regulars will be straight on to the website. The data we get from it is phenomenal. It still surprises me that so many brands give all their online operations to Amazon because the insight you can get from the data is phenomenal."
Although it can be a challenge keeping pace with it, adds Joseph. "Last Christmas we were doing 150 orders a day, so it can be an operational headache but the value to us is so much."
QVC is also "great", he says. "You can see key word reactions via the level of calls, so if you are talking about a brand new flavour and you see a spike, you know that it is a flavour that sparks consumer interest and people have the inclination to buy it. It's a great piece of market research. Plus they always want new flavours. And they demanded we give them jars of caramel sauce as well."
Premium
Flying popcorn around the world on British Airways, Virgin Atlantic and EasyJet is also a winner. "It's tens of thousands of people around the world trying the popcorn and then going on social media asking where they can get it," says Adam. "James Averdieck will always credit Virgin for making Gü the success it was. From our side it can make a brand. Airlines represent 15% of our turnover..
In total, turnover last year was £3m. And "apart from year one, the business has been profitable throughout" says Joseph. "We are a small company so we pay dividends rather than salaries, and post-dividend profit was around £300,000 for this year."
Manufacturing costs are relatively stable, he adds. "We use premium corn, which isn't as cheap as the less premium kind, but it's still cheap. It's 70p or 80p a kilo. One year there was bad weather and the price tripled, but then it came back down, although it's hard to tell because our volumes keep going up so the price we pay keeps going down.
"But the price per kernel is almost irrelevant. A lot of people just fry popcorn and add sugar. If that's the only ingredient you're using, sugar is 60p a kilo, you don't use much oil to pop the corn, that's your ingredients. Our product is very different. We go through tonnes of butter. Chocolate is having a price renaissance."
People "want to pay for quality" adds Adam. "There will always be a place for premium-quality brands, just like there always will be for a cheaper one or a healthier one. It's when you are somewhere in between and you don't have an identity that you might have a problem."
Still, challenges constantly present themselves. Five years on from its first transaction, with dozens of Great Taste awards and a Grocer Gold for Exporter of the Year in 2015, it still feels "exactly the same as it did when we started, just on a bigger scale," says Adam. "And every year it feels like we are starting again." For the Sophers, then, the dream is still very much alive.