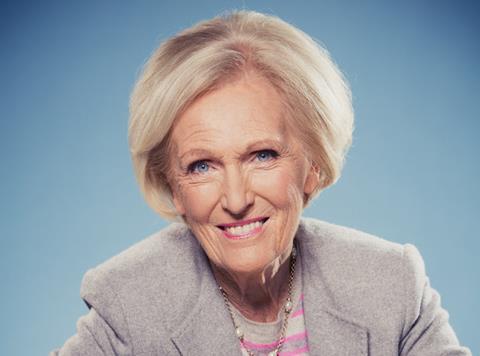 Snapshot
Marital status: Married to Paul with two children, Annabel and Tom and five grandchildren
Career highlight: Getting my CBE for services to food
What would you change about your career? I've enjoyed every aspect of my career and can't think of anything I'd change
What do you do to relax? I watch Downton Abbey. I play tennis. I used to enjoy walking holidays and now I've a new knee I might get back to it
What book are you reading? I've just finished Shoes for Anthony by Emma Kennedy. It's the most wonderful book about poverty in the mines, family and this little boy who had to wear Wellingtons.
What's your favourite tipple? I like a very, very chilled glass of white wine. Any nice dry white wine but I love it when it's so cold it's almost frosty on the outside - it's so tempting
Hand mix or machine mix? Machine mix every time. Anything that saves time and gives you the same result I will use
It's impossible not to like Mary Berry. "You're hands are so cold," she says as we meet, before proceeding to warm them up with her own. My heart melts, like my icy fingers, immediately.
A sprightly 80, Berry is the grandmother everyone wants, a loving matriarchal figure always on hand with an (un)healthy dose of cake and a twinkly-eyed smile.
She's no pushover, though. Underneath the cheerful attire ("I don't want to be a dowdy old lady") is a canny businesswoman who has "taken advantage of every little window of interest that has come along". Initially that meant cookbooks. Berry has written more than 70 cookbooks (including one with Iceland in 1985 that enthused about frozen food). But in 1994 she launched a successful grocery range, currently made up of salad dressings, sauces and chutneys, as a joint venture with her daughter Annabel.
The launch got off to a shaky start. Using a recipe provided by Berry, Annabel "pretty haphazardly" made up a batch of 500 bottles and headed off to sell them at the Royal Show. All was going swimmingly until a few days later, when the British Standards Institution knocked on the door.
"The man stood there and said 'You've been selling your dressing and the label doesn't comply,'" recalls Berry. "We hadn't put the ingredients on the bottle. Annabel just put 'secret recipe'," she giggles.
After a "good ticking-off" Berry revealed her secrets, and the brand has never looked back: more than two decades later, Mary Berry's salad dressings are listed nationwide in Asda, Morrisons, Sainsbury's, Tesco, Waitrose and independents, with sales of £3.4m last year, up 12% year on year.
Nagging
Berry actually sold the brand to RH Amar (her distributor for the past 10 years) last year for a cool £1m. And she admits the deal made her nervous. "It's quite terrifying when you sell a brand," she says earnestly. "I'm old and I wanted to make sure it was looked after."
She needn't have worried. "Nothing has changed," she smiles. "If I go into Waitrose and I see there's a great void I can just ring up and say 'have they got it? Are they short? Can we get them some?' I'm a real nagging person but the relationship is just as happy as it could be."
She's still involved on the NPD side too. And at £2.99 for a 260ml jar of her new mayonnaise, compared with £2 for a 600g jar of Hellmann's, it certainly isn't cheap. "It's a premium product at a good value price. They've started to put on some of my books 'in Mary we trust' and I honestly think readers do trust me. They know whatever I do I will use the best ingredients and give the best advice."
GBBO
But there is no question what she is most famous for. The Great British Bake Off was the most-watched show in the UK this year. "Bake Off is not like many of the shows, which are so noisy and hyped-up the judges cry," she says. "It's all very peaceful." And that isn't about to change, she adds. "We're obviously doing what the viewers want."

Not only has Bake Off made her a household name among a new generation, it also sent the sleepy home baking category soaring. In April, a poll of 2,000 shoppers for The Grocer found 42% of Brits were baking every week, with 13% directly inspired by GBBO. Supermarket buyers report double and triple-digit sales spikes of featured ingredients every series. Ahead of the 2015 show, Aldi tripled its range and Lidl quadrupled theirs. Both reported massive sales hikes. Meanwhile, baking brands including Betty Crocker and Dr Oetker released dozens of new lines.

Two years ago Berry launched a range of bakeware products in Sainsbury's and Lakeland. But to date she's resisted the temptation to launch a food-based spinoff. Now, with fellow judge Paul Hollywood launching a range of sweet and savoury artisanal baking mixes with a "thrilled" Premier Foods this month, will she follow in Hollywood's footsteps with her own cake range?

"We may well," she smiles. "But it takes a lot of research before we get it to the distributors as you have to be very careful with the BBC. I can't use any recipes from the programme. So you have to bring out something totally new."

Whatever she does decide, it will probably be impossible not to like it.