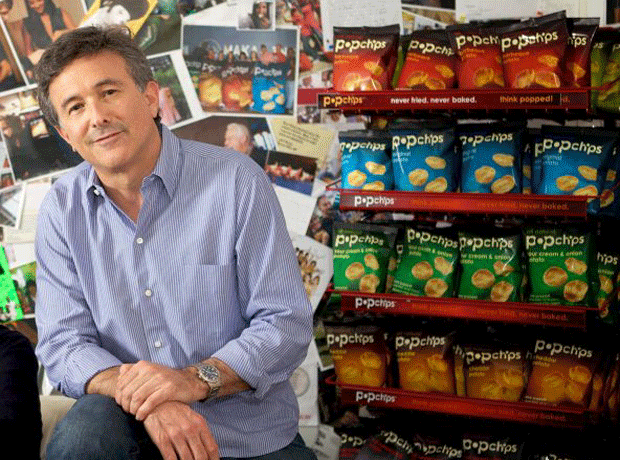 One snacker at a time. That's the maxim of Keith Belling, founder and CEO of healthy US snacking brand Popchips. Since launching the snack in San Francisco in 2007, Belling has been steadily winning over fans of the guilt-free popped chips 'one snacker at a time' and in the process amassed US sales of $30.3m [Nielsen 52 w/e to 24 December 2011]. Now he's got his sights set on growth this side of the pond after the product debuted in the UK in March last year.

Thankfully for Belling and co-founder Patrick Turpin, there was strong demand for Popchips even before the product was introduced to UK retailers, thanks in no small part to the endorsement of celebrities such as Ashton Kutcher and Katy Perry. "We got the feeling people were seeking us out already and that gave us lots of confidence of the product and brand," says Belling.

As well as the celebrity backing, Belling attributes interest in the brand to the growing consumer demand for better food and healthier products, not that the brand went to town advertising its health credentials. "If you try to hit people on the head with a health message on an indulgence product, they probably aren't going to try it," reasons Belling. "What we like to see is someone trying the product and then turning it over and seeing it is less than 100 calories per serving."
"If you try to hit people on the head with a health message on an indulgence product, they probably aren't going to try it"

Keith Belling, CEO
Unsurprisingly, retailers didn't need much convincing. The brand quickly picked up listings in Waitrose, Sainsbury's, Boots and Selfridges. It's also currently sold by some London salad bar chains, in Virgin Active gyms and, as of last month, in 800 Starbucks stores.

Although Belling is delighted with how Popchips are doing, the canny American is not complacent about the threat posed by own label and branded rivals like Special K, which launched a range of popped snacks last September. "We're really excited to have launched in the UK, but we still have a long way to go," he admits.

A key plank in Belling's growth strategy is to get consumers to sample the full "brand experience". Last year, the company handed out more than 200,000 bags of Popchips, in-store, via "pop-drops at cool companies", and even at London Fashion Week. "That's where we have a bigger impact," Belling says.

Better still, it doesn't break the bank. "People ask us how many millions we've spent, and we chuckle because we spend a fraction of that - but we are careful and thoughtful," says Belling. "It's important to do our marketing in a focused way."

Innovation is another priority, he adds. "It's important to execute innovation and continue to be the leader in the category. In the US, we've come out with popped tortillas, sweet potato and new popcorn chips, and those are things we expect to bring to the UK."

Indeed, this week sees the UK launch of Katy's Kettle Corn, a signature flavour developed by Katy Perry, the brand's high-profile investor and the face of the brand since last July.

Further down the line, Belling intends to expand into other European territories, but for the time being at least he's prepared to take thing slowly. "There is no great rush. We get lots of calls from people about new markets, but our focus is executing where we already are first," he says.

For something Belling claims is a "crawl, not a run kind of brand", Popchips is gaining ground in the UK pretty rapidly - one snacker at a time, of course.